Freeview reception - all about aerials

Brian Butterworth published on UK Free TV
Updated 8th January 2014.


Your ability of receive all the Freeview transmissions depends on the suitability of aerial
the design style,
the "group", and
its physical location.
Standard type - Yagi aerial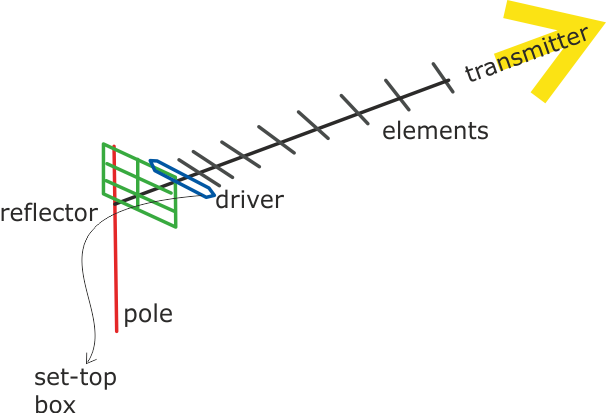 The
standard
type of TV aerial is known as the Yagi aerial. It is mounted on a pole, and consists of a rod with a reflector (shown green) at the back and many spiky elements (in grey) at the front. The connecting
cable
connects to the element nearest the reflector, known as the driver (shown in blue).
These Yagi aerials are directional and so pick up signals best from a
transmitter
that the rod points towards. The more elements the aerial has, the better it picks up a
signal
and becomes more directional.
A standard-type aerial is all that is required for
digital
TV
reception
in most places. These antennae have between 10 and 18 elements and a single reflector. These are recommended for new installations for good digital television reception, but will more often than not function perfectly in good reception areas.
Typically these aerials are designed to receive only some transmission frequencies - see "groups" below.
High Gain aerials

These aerials are designed for poor digital reception areas, and have two reflectors. For maximum signal strength, some digital high
gain
aerials have up to 100 elements. Since the
switchover
to digital-only transmissions back in October 2012, most UK households now have good
quality
digital TV signals.
A more expensive aerial is only required where the signal strength is low, but can often provide the whole Freeview reception where it might otherwise be impossible.
The CAI (that represents aerial installers) has four standards for digital TV aerials. The highest standard "1" is for homes on the fringes of coverage areas, intermediate standard "2" is suitable for use within the coverage area; minimum standard "3" is for good coverage conditions.
These aerials can be either
wideband
, or receive only selected frequencies - see "groups" below.
Grid

You may haved used a 'Grid aerial' for
analogue
reception, but as they are generally unsuitable for Freeview reception, they have now generally been replaced by the Yagi type. However in some places a Grid aerial installation may work for Freeview: otherwise replace with a standard Yagi aerial.
Indoor
Indoor aerials
are generally not suitable for Freeview reception. In areas of good signal strength it is often possible to receive some transmissions. Even where an aerial works, people often find that may get interruptions to their viewing (or recording).
Loft mounted
Loft
mounted arrivals are not generally recommended for Freeview reception, as the
roof
tiles and plumbing will degrade the signal. Some compensation for this loss of signal can be made by using
satellite
-grade cable to connect the set top box to the aerial.
Positioning
The best position for a TV aerial is mounted outdoors, as high from the ground as possible, pointing directly at the transmitter. The signal can be blocked by hills and tall buildings. It should be positioned away from any other aerials.
Horizontal or vertical?
The transmitter will either use vertical
mode
which requires the elements of your aerial to be up-down, or horizontal mode which requires them to be level with the ground.
Groups
Both analogue and digital television is transmitted the same group of transmission frequencies (known as
channel
21 through to 60). A coloured marking on the aerial shows the group.

To create the best possible analogue
picture
, TV transmissions from adjacent transmitters have been designated to several different groups of frequencies. By using an aerial that receives only the
channels
in the correct group, the analogue picture can be kept free from
interference
.
To receive Freeview transmissions from the same transmitter it has been sometimes necessary to use frequencies that are not part of the transmitter's normal group. When this has occurred, the aerial will need to be replaced with a "wideband" aerial (also known as group W) - one that covers every group.
As
Ofcom
is planning to move the TV frequencies again - perhaps as soon as 2018 - it may be wise to use a wideband aerial if you can to ensure you can keep viewing Freeview for many years to come.
Comments
Thursday, 24 March 2011
M
Mike Dimmick
3:24 PM
Reading

John Davenport: Digital UK's predictor suggests that Sutton Coldfield will be better for the PSB multiplexes, but The Wrekin will be better overall.

The Wrekin begins switchover in two weeks and completes two weeks later, but the commercial multiplexes will remain poor until the end of September. (You will need to retune on 28 September as the commercial muxes change channels on that date.)

Mike Dimmick's 2,486 posts
Mike's:
map
M's Freeview map
terrain
M's terrain plot
waves
M's frequency data
M's Freeview Detailed Coverage
Saturday, 26 March 2011

I have a topfield PVR, and I was receiving transmissions quite happily. Then the channels started dropping off (ITV channels first)until one day nothing. I tried to retune but there was no signal at the box. I tried another ariel which was known to be good as this worked on another television in another room, still nothing, so I returned the box to the agents and they bench tested for a week, returned and claimed no fault with the box. However I tried reconnecting and again nothing. Please can you advise how I can conclusively prove that there is a problem with the receiver in the box and nothing wrong with the ariel. many thanks Jon

JonV's 1 post
JonV's:
map
J's Freeview map
terrain
J's terrain plot
waves
J's frequency data
J's Freeview Detailed Coverage
Sunday, 27 March 2011

Hi there
I hope you can give me some advice. I have sky installed downstairs and a digital TV in my bedroom. I bought a Freeview box yesterday but could not get any channels (no signal).
I have lived here since 2003 and assume that the aerial is analogue. Does this mean that I will have to buy a digital aerial and if this is the case what is the average price to have one supplied and fitted please?
Hope you can help.

Sam's 1 post
Monday, 28 March 2011
J
Jack Hodgkiss
9:17 PM
Skipton

My Daughter lives in Gargrave, North Yorkshire BD23 3RS and got her terestrial signal from Skipton transmitter (not yet switched to digital). However whilst doing some work for her I noticed that some of her neighbours had their antenna pointing at Keighley so I changed her antenna and pointed it down the valley at Keighley, plugged the coax into her Samsung LED TV and tuned for digital signal. Bingo got 58 digital TV channels as well as various radio and data. 105 channels in total. However am not able to tune for the Freeview HD channels, BBC HD, ITV HD etc. Does anybody know why? I have been assured by Samsung support that the set supports HD Freeview.

Jack Hodgkiss's 2 posts
Jack's:
map
J's Freeview map
terrain
J's terrain plot
waves
J's frequency data
J's Freeview Detailed Coverage

Jack Hodgkiss: The Freeview HD service from both Keighley and Skipton begins on 21st September 2011. Your daughter might prefer to use Keighley after switchover as this transmitter will carry all six muxes. The Skipton transmitter will only carry the three PSB muxes, a Freeview Lite transmitter.

KMJ,Derby's 1,811 posts
Tuesday, 29 March 2011

I live 7 miles out of Ludlow, at SY8 3EH. Analogue reception has always been poor, we are focussed on Ludlow repeater transmitter, which is part of the Ridge Hill group. Currently we have a group b aerial, I expect we need to change aerials for digital switchover but not sure which type to get. We live between the 2 Clee Hills so seeing a different transmitter is almost impossible. Grateful for any advice.

Ian Beech's 1 post
Ian's:
map
I's Freeview map
terrain
I's terrain plot
waves
I's frequency data
I's Freeview Detailed Coverage

Ian Beech: Digital UK's predictor reckons your best bet is actually the Clun relay, 26km to your west. Clun requires a Group C/D aerial oriented vertically. This is a relay of The Wrekin, rather than of Ridge Hill.

You could just see how Ludlow works out - the predictor sometimes predicts no coverage but in practice it works out OK. The digital multiplexes will be using C45, C42 and C39, which are currently BBC Two, ITV1 and BBC One respectively. If you have a clear picture with no snow and NICAM stereo sound, and the tests on Ceefax/Teletext p284 are complete, you may be OK.

It looks like it's predicting no coverage from Ludlow because the SDN and Arqiva A multiplexes from Wenvoe (near Cardiff) will start using channels 42 and 45 from 27 April. Sutton Coldfield then starts using those channels from 21 September. Ridge Hill currently uses C45 for Multiplex D.

None of the relays transmitters will carry the commercial multiplexes. If you want those channels, you will have to look at Sky - most of them are not available via Freesat. The current list of Freesat channels is at Channels | Join Freesat (RG47SH)

Mike Dimmick's 2,486 posts
M
Mike Dimmick
5:18 PM
Reading

Sam: we really need a full postcode to figure out whether you're currently in coverage and when you can expect digital services to start, if not.

There is no such thing as a digital aerial. There are only UHF aerials, and your existing one may well be sufficient for digital services after switchover, though this depends on which frequencies are used before and after switchover by your local transmitter. However, they do have a limited lifespan, with exposure to the weather, and it might need to be replaced if it has deteriorated.

The price for an aerial and cabling replacement depends on exactly where the aerial is sited, what access to it is like, and what the signal levels are. It's really hard to even give a ballpark quote. You might expect to pay anywhere from £100-£200 - the majority of this is the installer's labour charge.

Mike Dimmick's 2,486 posts
Mike's:
map
M's Freeview map
terrain
M's terrain plot
waves
M's frequency data
M's Freeview Detailed Coverage

Hi All - My 84 mum got a new aerial fitted last august but picture pixelates. It transpires the aerial reflector block is damaged. The company say its storm damage and despite a 3 year guarantee, they say she will need a whole new aerial - Can this not be fixed???. She paid £182 which in my opinion is far too much and she cant afford this again.....Is a renewal necessary?????
Ps - Aerial is external

Fee's 1 post
Wednesday, 30 March 2011

Hello,

We have had sky for a few years,so the reception of our main tv downstairs is good however,we have recently bought our son a HD ready LCD/DVD TV and we are unable to pick up any of the digital channels and the analogue channels have very poor reception. Would we need to have separate digital aerial installed or would having an extra hd sky box in the room benefit?

Jon's 1 post
Select more comments
Your comment please