Freeview reception - all about aerials

Brian Butterworth published on UK Free TV
Updated 8th January 2014.


Your ability of receive all the Freeview transmissions depends on the suitability of aerial
the design style,
the "group", and
its physical location.
Standard type - Yagi aerial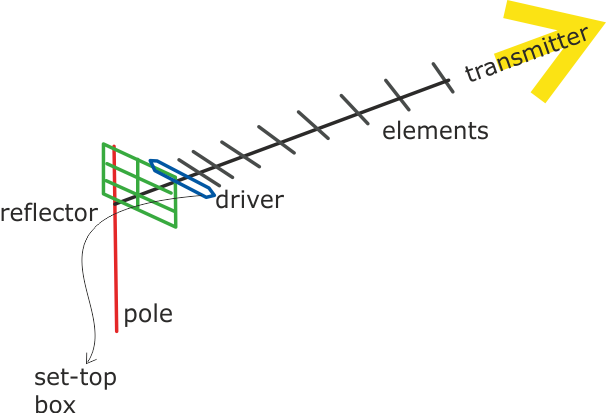 The
standard
type of TV aerial is known as the Yagi aerial. It is mounted on a pole, and consists of a rod with a reflector (shown green) at the back and many spiky elements (in grey) at the front. The connecting
cable
connects to the element nearest the reflector, known as the driver (shown in blue).
These Yagi aerials are directional and so pick up signals best from a
transmitter
that the rod points towards. The more elements the aerial has, the better it picks up a
signal
and becomes more directional.
A standard-type aerial is all that is required for
digital
TV
reception
in most places. These antennae have between 10 and 18 elements and a single reflector. These are recommended for new installations for good digital television reception, but will more often than not function perfectly in good reception areas.
Typically these aerials are designed to receive only some transmission frequencies - see "groups" below.
High Gain aerials

These aerials are designed for poor digital reception areas, and have two reflectors. For maximum signal strength, some digital high
gain
aerials have up to 100 elements. Since the
switchover
to digital-only transmissions back in October 2012, most UK households now have good
quality
digital TV signals.
A more expensive aerial is only required where the signal strength is low, but can often provide the whole Freeview reception where it might otherwise be impossible.
The CAI (that represents aerial installers) has four standards for digital TV aerials. The highest standard "1" is for homes on the fringes of coverage areas, intermediate standard "2" is suitable for use within the coverage area; minimum standard "3" is for good coverage conditions.
These aerials can be either
wideband
, or receive only selected frequencies - see "groups" below.
Grid

You may haved used a 'Grid aerial' for
analogue
reception, but as they are generally unsuitable for Freeview reception, they have now generally been replaced by the Yagi type. However in some places a Grid aerial installation may work for Freeview: otherwise replace with a standard Yagi aerial.
Indoor
Indoor aerials
are generally not suitable for Freeview reception. In areas of good signal strength it is often possible to receive some transmissions. Even where an aerial works, people often find that may get interruptions to their viewing (or recording).
Loft mounted
Loft
mounted arrivals are not generally recommended for Freeview reception, as the
roof
tiles and plumbing will degrade the signal. Some compensation for this loss of signal can be made by using
satellite
-grade cable to connect the set top box to the aerial.
Positioning
The best position for a TV aerial is mounted outdoors, as high from the ground as possible, pointing directly at the transmitter. The signal can be blocked by hills and tall buildings. It should be positioned away from any other aerials.
Horizontal or vertical?
The transmitter will either use vertical
mode
which requires the elements of your aerial to be up-down, or horizontal mode which requires them to be level with the ground.
Groups
Both analogue and digital television is transmitted the same group of transmission frequencies (known as
channel
21 through to 60). A coloured marking on the aerial shows the group.

To create the best possible analogue
picture
, TV transmissions from adjacent transmitters have been designated to several different groups of frequencies. By using an aerial that receives only the
channels
in the correct group, the analogue picture can be kept free from
interference
.
To receive Freeview transmissions from the same transmitter it has been sometimes necessary to use frequencies that are not part of the transmitter's normal group. When this has occurred, the aerial will need to be replaced with a "wideband" aerial (also known as group W) - one that covers every group.
As
Ofcom
is planning to move the TV frequencies again - perhaps as soon as 2018 - it may be wise to use a wideband aerial if you can to ensure you can keep viewing Freeview for many years to come.
Comments
Thursday, 28 April 2011

John - the Wolfbane predictor should show how significant height is.

But in terms of wobble, 10ft is three times as wobbly as 6ft.

Steve's 1,173 posts
Steve's:
map
S's Freeview map
terrain
S's terrain plot
waves
S's frequency data
S's Freeview Detailed Coverage

Unlucky or what! My loss of signal started happening again so I rushed out to the local aerial specialist shop and brought a new one. After installing the new one (lower again, so hardly any movement) there was no change - it was then I noticed a builder nearby operating a rotavator that obviously wan't supressed. Every time he switched off the picture returned to normal.
KMJ - I should have listened before rushing at it!
Anyone want a nearly new SLX 27985K !!
Thanks to you all anyway.

John's 29 posts
John's:
map
J's Freeview map
terrain
J's terrain plot
waves
J's frequency data
J's Freeview Detailed Coverage
M
Michael O'Pray
8:44 PM
Daventry

An "interesting" thing happened late this afternoon. Film4 was just about watchable at times(this is the channel along with ITV4 of which I have had problems all along).

I decided to try auto tuning instead of my manual retune which I had done previously.

When completed the whole range of poor reception channels just disappeared i.e. they could not be located by going through the channel +/- button.Those I could get were fine.

I then repeated the manual re-tune as per the instructions on the DigitalUK site exactly as before but this made no difference. The problem channels now cannot be located at all but as per the auto tune the channels I can get are all fine

It may not matter as it looks as if the problem channel range will remain a problem until Sept 14 when the required re-tune will place the poor reception channels from 67 to 48 as has been pointed out to me.

However I am curious as to what has caused the problem channels to suddenly disappaer altogether.

Any ideas?

Thanks

Michael O'Pray's 11 posts
Michael's:
map
M's Freeview map
terrain
M's terrain plot
waves
M's frequency data
M's Freeview Detailed Coverage
Friday, 29 April 2011

Michael O'Pray: Generally speaking, digital reception is "all or nothing". If you can perfectly decode the multiplex, you get everything, if you can't you get nothing at all.

So, if your signal is unstable there will be times when you get perfect reception and times when you get nothing.

Briantist's 38,905 posts

MO'P in addition to what Brian has said, I think there are two stages involved
A- identifying that a particular service channel is on a particular mux on a particular broadcast channel
B- receiving that channel

Until you retuned your system knew to look for Film4 on Mux whatever on Channel whatever

After you retuned it did not know it should be there


Steve's 1,173 posts
Steve's:
map
S's Freeview map
terrain
S's terrain plot
waves
S's frequency data
S's Freeview Detailed Coverage
M
Michael O'Pray
2:52 PM
Daventry

Thanks but none of this is making any sense to me. Why should my system previously know to look for Film4 on Mux whatever and on channel whatever but when I do the same re-tune it fails to find it or any of the channels between 0014 More4 and 0028E4

What had changed to make the system unable to find these channels and more importantly what do I need to do to restore these channels even if the reception there is very variable.

Thanks

Michael O'Pray's 11 posts
Michael's:
map
M's Freeview map
terrain
M's terrain plot
waves
M's frequency data
M's Freeview Detailed Coverage

When you originally tuned the signal was strong enough to be recognised and to set up the box.

When you retuned it was not. If you had done "Add new channels" the old one would still be there, but because you did total retune all old ones were deleted.

If you keep trying you may strike lucky again. That's why I suggested an amp.

Once you get the chnnel set up, it will try to find a signal and either succeed or say no signal.

Note that at both stages, because of the error correction used, the system will manage to work apparently perfectly until it suddenly fails.

Steve's 1,173 posts
Steve's:
map
S's Freeview map
terrain
S's terrain plot
waves
S's frequency data
S's Freeview Detailed Coverage
Saturday, 30 April 2011

Hi, done some reading & you seem quite wise so can you help me? My area is LLandudno, North Wales I have a booster box for the aerial,freeveiw box and a TV. currently we are getting nothing, few days ago 3/4 channels, yesterday nothing! watched Royal Wedding on a my daughters Laptop! Not too chuffed!! don't want Sky etc due to expense. What can I do,( please don't mention Scabble)or who can turn up the signal?? Thanks in anticipation!!

Julie's 2 posts
Julie's:
map
J's Freeview map
terrain
J's terrain plot
waves
J's frequency data
J's Freeview Detailed Coverage

Julie: The Digital UK postcode checker predicts good reception on all muxes from Llanddona. Aerial set for horizontal polarisation at 268 degrees. This would give over 100 channels including radio and text services. You should not need a booster unless you have a very long cable run or the signal is split between several tvs. You might even have too much signal! If it is a set back booster try removing it. However if it is a masthead type with a box close to the aerial and a power supply by the tv you would have to remove both boxes for signals to get through.Failure of either the power supply or mast amp results in no signal. Check your cables and connectors, also check that the freeview box is not on the list of equipment that does not support the 8k mode.If it is on the list you will need a new box.Do a factory reset to clear the channel list before scanning for channels.

KMJ,Derby's 1,811 posts

Julie - what KMHJ says!

But you do have a roof top aerial?

Have you spoken to your neighbours about their TV?

Steve's 1,173 posts
Steve's:
map
S's Freeview map
terrain
S's terrain plot
waves
S's frequency data
S's Freeview Detailed Coverage
Select more comments
Your comment please