Freeview reception - all about aerials

Brian Butterworth published on UK Free TV
Updated 8th January 2014.


Your ability of receive all the Freeview transmissions depends on the suitability of aerial
the design style,
the "group", and
its physical location.
Standard type - Yagi aerial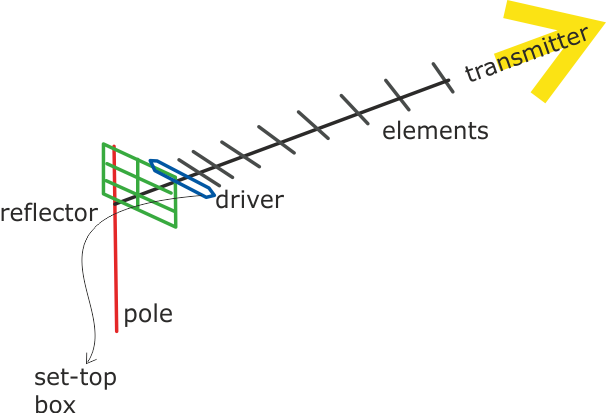 The
standard
type of TV aerial is known as the Yagi aerial. It is mounted on a pole, and consists of a rod with a reflector (shown green) at the back and many spiky elements (in grey) at the front. The connecting
cable
connects to the element nearest the reflector, known as the driver (shown in blue).
These Yagi aerials are directional and so pick up signals best from a
transmitter
that the rod points towards. The more elements the aerial has, the better it picks up a
signal
and becomes more directional.
A standard-type aerial is all that is required for
digital
TV
reception
in most places. These antennae have between 10 and 18 elements and a single reflector. These are recommended for new installations for good digital television reception, but will more often than not function perfectly in good reception areas.
Typically these aerials are designed to receive only some transmission frequencies - see "groups" below.
High Gain aerials

These aerials are designed for poor digital reception areas, and have two reflectors. For maximum signal strength, some digital high
gain
aerials have up to 100 elements. Since the
switchover
to digital-only transmissions back in October 2012, most UK households now have good
quality
digital TV signals.
A more expensive aerial is only required where the signal strength is low, but can often provide the whole Freeview reception where it might otherwise be impossible.
The CAI (that represents aerial installers) has four standards for digital TV aerials. The highest standard "1" is for homes on the fringes of coverage areas, intermediate standard "2" is suitable for use within the coverage area; minimum standard "3" is for good coverage conditions.
These aerials can be either
wideband
, or receive only selected frequencies - see "groups" below.
Grid

You may haved used a 'Grid aerial' for
analogue
reception, but as they are generally unsuitable for Freeview reception, they have now generally been replaced by the Yagi type. However in some places a Grid aerial installation may work for Freeview: otherwise replace with a standard Yagi aerial.
Indoor
Indoor aerials
are generally not suitable for Freeview reception. In areas of good signal strength it is often possible to receive some transmissions. Even where an aerial works, people often find that may get interruptions to their viewing (or recording).
Loft mounted
Loft
mounted arrivals are not generally recommended for Freeview reception, as the
roof
tiles and plumbing will degrade the signal. Some compensation for this loss of signal can be made by using
satellite
-grade cable to connect the set top box to the aerial.
Positioning
The best position for a TV aerial is mounted outdoors, as high from the ground as possible, pointing directly at the transmitter. The signal can be blocked by hills and tall buildings. It should be positioned away from any other aerials.
Horizontal or vertical?
The transmitter will either use vertical
mode
which requires the elements of your aerial to be up-down, or horizontal mode which requires them to be level with the ground.
Groups
Both analogue and digital television is transmitted the same group of transmission frequencies (known as
channel
21 through to 60). A coloured marking on the aerial shows the group.

To create the best possible analogue
picture
, TV transmissions from adjacent transmitters have been designated to several different groups of frequencies. By using an aerial that receives only the
channels
in the correct group, the analogue picture can be kept free from
interference
.
To receive Freeview transmissions from the same transmitter it has been sometimes necessary to use frequencies that are not part of the transmitter's normal group. When this has occurred, the aerial will need to be replaced with a "wideband" aerial (also known as group W) - one that covers every group.
As
Ofcom
is planning to move the TV frequencies again - perhaps as soon as 2018 - it may be wise to use a wideband aerial if you can to ensure you can keep viewing Freeview for many years to come.
Comments
Saturday, 30 April 2011

All neighbours have sky and they've had no problems. Will try all given suggestions. Yes we have a roof top ariel. Thanks for the help guys.

Julie's 2 posts
Wednesday, 4 May 2011

i need to get a digital tv aerial as i was getting signal from existing virgin connection,which i could run alongside satalite but they have done a rerun of cable so i only have sat now.my question is,as i have 4 tvs around the house that were all linked and people could watch there own thing,can i get a digital aerial that i can connect into my system to give me back all that i had.all tvs have built in free view thanks for any help.

malk's 1 post

malk - if your TVs have built in freeview tuners you just need to add an aerial. Try with any that you have got first as strengths vary. Plug your postcode in here for an aerial suggestion - but it is very conservative

UK digital TV reception predictor (LL145HD)

Steve's 1,173 posts
Sunday, 8 May 2011
K
Ken mellers
5:48 PM
Sleaford

Hello,
Just had to buy a new tv-so bought tv/dvd combo. Spoken to manufacturer and he said this has a smaller tuner in combos which is apparently why I can't get BBC1,2,3,Pick tv,Yesterday or film 4. Main tv works fine with all these channels. Will new high gain ariel like Labgear 450w make any difference please. Thanks

Ken mellers's 1 post
Ken's:
map
K's Freeview map
terrain
K's terrain plot
waves
K's frequency data
K's Freeview Detailed Coverage

Sounds very odd. Are you sure it has even GOT a digital tuner?

What can you pick up on new TV.?

If you put new TV in place of present one - same aerial etc. it should get all the same channels, unless you are VERY marginal for reception.

Steve's 1,173 posts
Steve's:
map
S's Freeview map
terrain
S's terrain plot
waves
S's frequency data
S's Freeview Detailed Coverage

Ken mellers: Could be you're on Waltham and have a Group A aerial, although that would be really weird because Waltham is Group C/D for analogue. It could have happened if the aerial used to point to Belmont and was moved around to point to Waltham.

Waltham should produce better results than Belmont after switchover, but you should get a wideband aerial. At switchover, five of the digital multiplexes move into the old analogue group - only Mux A/SDN stays down in Group A.

Mike Dimmick's 2,486 posts

Ken mellers: It looks like signals are already going to be pretty strong, I would go with a small- or medium-sized log periodic such as AerialsAndTV.com's DM Log or Log 40. Online TV FM DAB Aerial sales not assume bigger is better - if you use too large an aerial you could have too much signal after (or even before) switchover. Larger aerials are pushed harder by the wind, and will move more, can bend masts or even damage the brick-work that the mast is bolted to.

Mike Dimmick's 2,486 posts
Wednesday, 11 May 2011

how can i run another tele off my loft aerial we have 2 already and want to put freeview in the conservatory butwith aerial connected to bedroom one it wont pick up signal

pam's 1 post

pam - you need to be more explicit about what you are trying to do.

First get your new TV/box to work in a place where you already have kit that works. Then move it.

Depending on what signal strength you have you may need amplifier splitters. How do the wires run?

Steve's 1,173 posts
Steve's:
map
S's Freeview map
terrain
S's terrain plot
waves
S's frequency data
S's Freeview Detailed Coverage
Monday, 16 May 2011

hi ive just purchased a new lg tv with built in hd freeview,i want to split the freeview through the house to 4 other tvs,i a have already split my sky via a tv amplifier with no problems, however there is no tv out on the main tv,is it poosible to split the freeview and what cables would i need.

kevin jones's 1 post
Select more comments
Your comment please