Freeview reception - all about aerials

Brian Butterworth published on UK Free TV
Updated 8th January 2014.


Your ability of receive all the Freeview transmissions depends on the suitability of aerial
the design style,
the "group", and
its physical location.
Standard type - Yagi aerial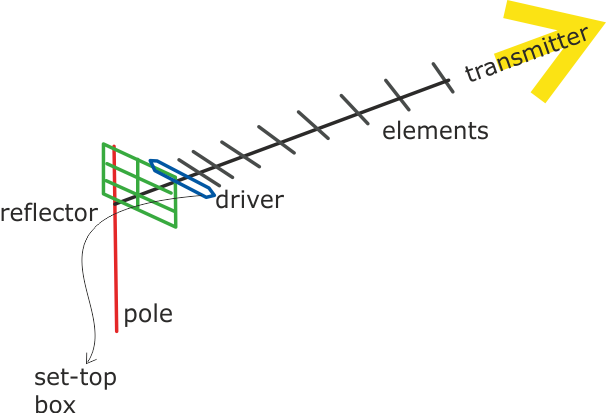 The
standard
type of TV aerial is known as the Yagi aerial. It is mounted on a pole, and consists of a rod with a reflector (shown green) at the back and many spiky elements (in grey) at the front. The connecting
cable
connects to the element nearest the reflector, known as the driver (shown in blue).
These Yagi aerials are directional and so pick up signals best from a
transmitter
that the rod points towards. The more elements the aerial has, the better it picks up a
signal
and becomes more directional.
A standard-type aerial is all that is required for
digital
TV
reception
in most places. These antennae have between 10 and 18 elements and a single reflector. These are recommended for new installations for good digital television reception, but will more often than not function perfectly in good reception areas.
Typically these aerials are designed to receive only some transmission frequencies - see "groups" below.
High Gain aerials

These aerials are designed for poor digital reception areas, and have two reflectors. For maximum signal strength, some digital high
gain
aerials have up to 100 elements. Since the
switchover
to digital-only transmissions back in October 2012, most UK households now have good
quality
digital TV signals.
A more expensive aerial is only required where the signal strength is low, but can often provide the whole Freeview reception where it might otherwise be impossible.
The CAI (that represents aerial installers) has four standards for digital TV aerials. The highest standard "1" is for homes on the fringes of coverage areas, intermediate standard "2" is suitable for use within the coverage area; minimum standard "3" is for good coverage conditions.
These aerials can be either
wideband
, or receive only selected frequencies - see "groups" below.
Grid

You may haved used a 'Grid aerial' for
analogue
reception, but as they are generally unsuitable for Freeview reception, they have now generally been replaced by the Yagi type. However in some places a Grid aerial installation may work for Freeview: otherwise replace with a standard Yagi aerial.
Indoor
Indoor aerials
are generally not suitable for Freeview reception. In areas of good signal strength it is often possible to receive some transmissions. Even where an aerial works, people often find that may get interruptions to their viewing (or recording).
Loft mounted
Loft
mounted arrivals are not generally recommended for Freeview reception, as the
roof
tiles and plumbing will degrade the signal. Some compensation for this loss of signal can be made by using
satellite
-grade cable to connect the set top box to the aerial.
Positioning
The best position for a TV aerial is mounted outdoors, as high from the ground as possible, pointing directly at the transmitter. The signal can be blocked by hills and tall buildings. It should be positioned away from any other aerials.
Horizontal or vertical?
The transmitter will either use vertical
mode
which requires the elements of your aerial to be up-down, or horizontal mode which requires them to be level with the ground.
Groups
Both analogue and digital television is transmitted the same group of transmission frequencies (known as
channel
21 through to 60). A coloured marking on the aerial shows the group.

To create the best possible analogue
picture
, TV transmissions from adjacent transmitters have been designated to several different groups of frequencies. By using an aerial that receives only the
channels
in the correct group, the analogue picture can be kept free from
interference
.
To receive Freeview transmissions from the same transmitter it has been sometimes necessary to use frequencies that are not part of the transmitter's normal group. When this has occurred, the aerial will need to be replaced with a "wideband" aerial (also known as group W) - one that covers every group.
As
Ofcom
is planning to move the TV frequencies again - perhaps as soon as 2018 - it may be wise to use a wideband aerial if you can to ensure you can keep viewing Freeview for many years to come.
Comments
Monday, 3 October 2011

Des C - glad you agree - but what with?

Steve P's 1,173 posts
Steve's:
map
S's Freeview map
terrain
S's terrain plot
waves
S's frequency data
S's Freeview Detailed Coverage
Tuesday, 4 October 2011

can I use a metal pole to fix the aerial to, it will be mounted out side on the chimney because the poles on offer are alloy

len craig's 1 post

alloy IS metal, as is steel, and both are used for aerials.

Unless long, does not matter. Pole wisdom:

TV Aerial and Satellite Poles, Masts & Brackets (LL145HD)

Steve P's 1,173 posts
Wednesday, 5 October 2011

Steve P- On BELMONT YOU COULD USE A GROUP 'A' AERIAL,WITH A GROUP 'C/D' TO GET ALL THE MUXES.ONE OR TWO PEOPLE AROUND WHERE I LIVE,HAVE HAD NEW AERIALS INSTALLED IN THIS WAY.

Des Collier's 171 posts
Thursday, 6 October 2011
G
Gloria
11:28 AM
Wellingborough

I purchased a oneforall SV9323 aerial for my bedroom tv. I get all itv chanels but cannot get bbc. My post code is NN8 5WE and on Sandy Heath transmitter. Apparently my aerial is 38db if I got one that is more than this will I get BBC channels?

Gloria's 2 posts
Gloria's:
map
G's Freeview map
terrain
G's terrain plot
waves
G's frequency data
G's Freeview Detailed Coverage

Your signal is too weak for an indoor antenna so you are lucky to get what you get. Have you triued with it outside the window? Pointing 120 degrees - 90 is East, 180 South, so 1/3rd of the way south from east!

OR if window faces north, try due north for Waltham channel 61 for BBC.

Steve P's 1,173 posts
Friday, 14 October 2011
M
Mark Fletcher
2:07 AM
Halifax

Des Collier.In the case of Belmont,diplexing a group A and a group C/D aerial is very effective although fr's 38-47 are not covered.But if it means getting higher gain signals especially the group A fr's 21-37,which are somewhat ineffective with group W wideband aerials,then so much the better.Grouped aerials A,B,C/D have equally highest signal gains,while semi-widebands group K (lower-middle band) and group E (middle-upper band) although slightly lower in gain,have a much higher gain than the group W wideband aerials,which have the lowest gains yet they are only satisfactory for the middle and more so higher frequencies (similar to group E bands) but quite poor on the lower group A frequencies with a low gain.There is no such thing as a high gain group W wideband aerial,but as far as Belmont is concerned diplexing a group A aerial with either group C/D or group E aerial (group W widebands only as a last resort though not really recommended) using satellite grade black (preferred) or brown cable and a brass co-ax plug,are highly recommended options.

Mark Fletcher's 673 posts
Mark's:
map
M's Freeview map
terrain
M's terrain plot
waves
M's frequency data
M's Freeview Detailed Coverage
Tuesday, 18 October 2011

Mark Fletcher:- Thanks Mark,my installation is wired up using PF100 sattelite cable,with the proper plugs etc,i use a VISION LOG 40
LOG PERIODIC AERIAL, and works well,but i'm not that far away from the transmitter,and get a decent signal.

Des Collier's 171 posts
Wednesday, 19 October 2011

Hello - I live in the Hanwell Fields area of Banbury postcode OX161AA, up to around 2 months ago I had perfect freeview reception on 3 TV sets using an arial in the loft, then all of a sudden the picture got worse and worse and now there is nothing.
I have tried to reposition the arial using a DVT device that i purchased that you plug directly into the arial cable and search for the best signal but there is no position that gives me a signal. Do i now need to look at mounting the arial outside or am I just in a really bad area.
Any advice would be appreciated.
Thankyou

Marc Budd's 1 post

... UK digital TV reception predictor

Shows you as having a very local repeater, which implies local problems. You can use same aerial but needs to be turned vertical. And shows only the "Main" Muxes.

If you plug your postocde in top right lots of other info clickable.

Are your neighbours having same problem?

Could it be a fault in your cabling?

Steve P's 1,173 posts
Select more comments
Your comment please