Freeview reception - all about aerials

Brian Butterworth published on UK Free TV
Updated 8th January 2014.


Your ability of receive all the Freeview transmissions depends on the suitability of aerial
the design style,
the "group", and
its physical location.
Standard type - Yagi aerial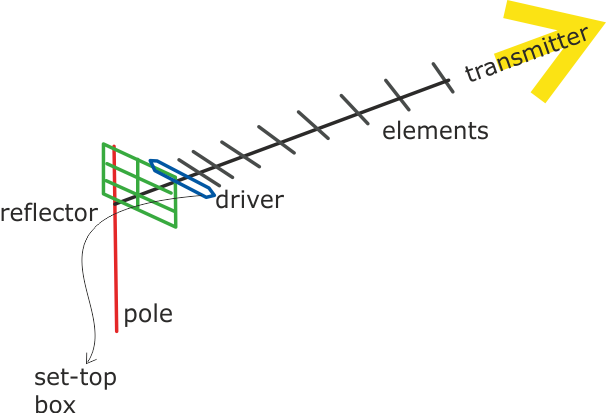 The
standard
type of TV aerial is known as the Yagi aerial. It is mounted on a pole, and consists of a rod with a reflector (shown green) at the back and many spiky elements (in grey) at the front. The connecting
cable
connects to the element nearest the reflector, known as the driver (shown in blue).
These Yagi aerials are directional and so pick up signals best from a
transmitter
that the rod points towards. The more elements the aerial has, the better it picks up a
signal
and becomes more directional.
A standard-type aerial is all that is required for
digital
TV
reception
in most places. These antennae have between 10 and 18 elements and a single reflector. These are recommended for new installations for good digital television reception, but will more often than not function perfectly in good reception areas.
Typically these aerials are designed to receive only some transmission frequencies - see "groups" below.
High Gain aerials

These aerials are designed for poor digital reception areas, and have two reflectors. For maximum signal strength, some digital high
gain
aerials have up to 100 elements. Since the
switchover
to digital-only transmissions back in October 2012, most UK households now have good
quality
digital TV signals.
A more expensive aerial is only required where the signal strength is low, but can often provide the whole Freeview reception where it might otherwise be impossible.
The CAI (that represents aerial installers) has four standards for digital TV aerials. The highest standard "1" is for homes on the fringes of coverage areas, intermediate standard "2" is suitable for use within the coverage area; minimum standard "3" is for good coverage conditions.
These aerials can be either
wideband
, or receive only selected frequencies - see "groups" below.
Grid

You may haved used a 'Grid aerial' for
analogue
reception, but as they are generally unsuitable for Freeview reception, they have now generally been replaced by the Yagi type. However in some places a Grid aerial installation may work for Freeview: otherwise replace with a standard Yagi aerial.
Indoor
Indoor aerials
are generally not suitable for Freeview reception. In areas of good signal strength it is often possible to receive some transmissions. Even where an aerial works, people often find that may get interruptions to their viewing (or recording).
Loft mounted
Loft
mounted arrivals are not generally recommended for Freeview reception, as the
roof
tiles and plumbing will degrade the signal. Some compensation for this loss of signal can be made by using
satellite
-grade cable to connect the set top box to the aerial.
Positioning
The best position for a TV aerial is mounted outdoors, as high from the ground as possible, pointing directly at the transmitter. The signal can be blocked by hills and tall buildings. It should be positioned away from any other aerials.
Horizontal or vertical?
The transmitter will either use vertical
mode
which requires the elements of your aerial to be up-down, or horizontal mode which requires them to be level with the ground.
Groups
Both analogue and digital television is transmitted the same group of transmission frequencies (known as
channel
21 through to 60). A coloured marking on the aerial shows the group.

To create the best possible analogue
picture
, TV transmissions from adjacent transmitters have been designated to several different groups of frequencies. By using an aerial that receives only the
channels
in the correct group, the analogue picture can be kept free from
interference
.
To receive Freeview transmissions from the same transmitter it has been sometimes necessary to use frequencies that are not part of the transmitter's normal group. When this has occurred, the aerial will need to be replaced with a "wideband" aerial (also known as group W) - one that covers every group.
As
Ofcom
is planning to move the TV frequencies again - perhaps as soon as 2018 - it may be wise to use a wideband aerial if you can to ensure you can keep viewing Freeview for many years to come.
Comments
Wednesday, 16 November 2011
C
Chrissy
3:53 PM
Gravesend

Hi, I am trying to install a freeview box in my downstairs front room (terraced house). I have bought a Labgear Digital TV Receiver (FV300) and a digiTop 'Amplified High Performance Indoor Aerial' (model 27769R). It's not working and I'm quite fed up!! My postcode is DA11 0LU. Could you tell me what I'm doing wrong? I've double-checked all the cable connections and I'm sure they are right. I've used old-but-OK coax cables for the RF loop etc, shall I buy new ones? I think I should be able to get digital reception here, but I can't tell if its supposed to be weak or strong? Is a downstairs room ok for the aerial, or do I need more height? When it's searching for channels am I supposed to wave the aerial around or just keep adjusting it every time a new search begins (I've tried both). Somebody please help!!! Thank you in advance :)

Chrissy's 3 posts
Chrissy's:
map
C's Freeview map
terrain
C's terrain plot
waves
C's frequency data
C's Freeview Detailed Coverage

I have Freeview in my bedroom and following the change over - I get all the channels I use to get with the exception of ITV3. I have to retune every time I switch on. My kids both have Freeview but they don't have any problems. Any ideas?

Maggie's 2 posts

Chrissy - You are unlikely to get digital where you are without a roof aerial. Do you get analogue OK?

Maggie - You mean you have to scan every time you turn on? Does not fit how the kit works. It keeps aware of channels even if no current signal.

Without your postcode can't say more.

Steve P's 1,173 posts
Thursday, 17 November 2011

Chrissy: Don't expect sparkling results; a rooftop aerial is generally best. Conversely, a low indoor aerial is not going to work as well.

That said, if you are going to try, then if you have a fixed aerial (or one you know works), take the new receiver to it and tune it in.

The issue you've got (I think you've worked this out) is that in order to tune the device you need an aerial that picks up the signal and in order to put the aerial in a suitable position to receive the signal you need your receiver tuned in. It's catch 22 (as there are two unknowns, as it were).

That is why I would always tune with an aerial known to be good (fixed/rooftop preferred).

Once your receiver is tuned, look where to site your aerial. You might need an extension if it works best on a high shelf, for example.

It needs pointing in the direction of Crystal Palace, which is west from your location (see the direction neighbours' aerials for a clue).

You need to site it where the signal is best. The more walls it has to go through, the weaker it will be. Ideally it wants to be at the side of the house that faces the transmitter, although neighbouring buildings will cause a shadow (thus weaker signal), which is why I said not to expect sparkling results.

As your area hasn't switched over to digital yet, it is probably easiest to tune with an analogue TV and analogue pictures act much more of a gauge as to where the signal is warmest in the room. You might find one general area of the room where signal is the best. That gives you a general idea of where your aerial will work best.

One final thing, be mindful that having the booster turned up full doesn't necessarily mean that you will be more likely to get the best signal (better than if it was lower).

Dave Lindsay's 5,724 posts
Dave's:
map
D's Freeview map
terrain
D's terrain plot
waves
D's frequency data
D's Freeview Detailed Coverage
Sunday, 20 November 2011
D
dave rutter
1:47 PM
Doncaster

hi, i have just done a retune on my humax fox because i was getting the low signal message on screen . now i cant get anything , as far as i can work out nothing at my end has changed, before the low signal message i had the full complement of channels hd included, help!!!

dave rutter's 2 posts
dave's:
map
D's Freeview map
terrain
D's terrain plot
waves
D's frequency data
D's Freeview Detailed Coverage
C
Chrissy
1:53 PM
Gravesend

Steve P: Thank you for your reply. Our rooftop aerial isn't much good, so we have cable tv. I thought this booster aerial (from its reviews) would magically get us reception in another room to save us the expense of a second cable box, but ho-hum!!

Dave Lindsay: Thanks for your really helpful reply. I will use a neighbours aerial to tune the box in and will try to get it working in an upstairs room. I think the back window may point west. If it still doesn't work, I'll keep them for a rainy day and get a second cable box after all.

Thanks for all your help guys, have a lovely day :)

Chrissy's 3 posts
Chrissy's:
map
C's Freeview map
terrain
C's terrain plot
waves
C's frequency data
C's Freeview Detailed Coverage
M
Maggie
1:56 PM
Buckingham

Hi - yes have to scan each time to find itv3 other channels are fine! Post code MK18 1GG

Maggie's 2 posts
Maggie's:
map
M's Freeview map
terrain
M's terrain plot
waves
M's frequency data
M's Freeview Detailed Coverage

dave rutter: Carry out this procedure:

My Freeview box has no EPG, is blank on FIVE, ITV3, ITV4, ITV2+1, has no sound or the channel line up is wrong | ukfree.tv - independent free digital TV advice

Then start the tuning process, but with the aerial unplugged and plug it in when it gets to 25%.

Dave Lindsay's 5,724 posts
D
dave rutter
5:02 PM
Doncaster

hi dave , did as you suggested and it has worked , sort of. i now have a selection of channels you can see and about a dozen that you cant, came up as unknown, but they are all in the 800 numbers and in a household with a young family some channels you dont need.i still havnt got the "common" ones bbc,itv,c4 and c5 etc. im in the doncaster area running off emley moor signal strength has never been an issue

dave rutter's 2 posts
dave's:
map
D's Freeview map
terrain
D's terrain plot
waves
D's frequency data
D's Freeview Detailed Coverage

dave rutter: I pulled up the instructions for the Humax HD-FOX T2:

http://www.humaxdigital.c….pdf

If this isn't your model, then perhaps the procedure is the same or similar.

To add the missing channels go to Menu > Settings > Installation > Manual Search. Where it says "Channel" you need to enter 47 for BBC channels from Emley. Then press "Search" and then "Save". Do the same again, but this time input 44 for ITV/C4/C5.

Dave Lindsay's 5,724 posts
Select more comments
Your comment please