Freeview reception - all about aerials

Brian Butterworth published on UK Free TV
Updated 8th January 2014.


Your ability of receive all the Freeview transmissions depends on the suitability of aerial
the design style,
the "group", and
its physical location.
Standard type - Yagi aerial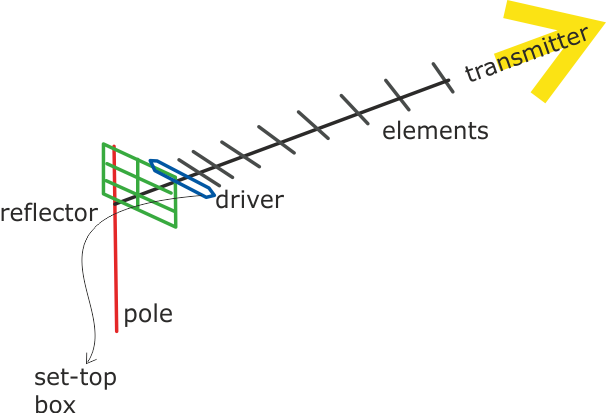 The
standard
type of TV aerial is known as the Yagi aerial. It is mounted on a pole, and consists of a rod with a reflector (shown green) at the back and many spiky elements (in grey) at the front. The connecting
cable
connects to the element nearest the reflector, known as the driver (shown in blue).
These Yagi aerials are directional and so
pick
up signals best from a
transmitter
that the rod points towards. The more elements the aerial has, the better it picks up a
signal
and becomes more directional.
A standard-type aerial is all that is required for
digital
TV
reception
in most places. These antennae have between 10 and 18 elements and a single reflector. These are recommended for new installations for good digital television reception, but will more often than not function perfectly in good reception areas.
Typically these aerials are designed to receive only some transmission frequencies - see "groups" below.
High Gain aerials

These aerials are designed for poor digital reception areas, and have two reflectors. For maximum signal strength, some digital high
gain
aerials have up to 100 elements. Since the
switchover
to digital-only transmissions back in October 2012, most UK households now have good
quality
digital TV signals.
A more expensive aerial is only required where the signal strength is low, but can often provide the whole Freeview reception where it might otherwise be impossible.
The CAI (that represents aerial installers) has four standards for digital TV aerials. The highest standard "1" is for homes on the fringes of coverage areas, intermediate standard "2" is suitable for use within the coverage area; minimum standard "3" is for good coverage conditions.
These aerials can be either
wideband
, or receive only selected frequencies - see "groups" below.
Grid

You may haved used a 'Grid aerial' for
analogue
reception, but as they are generally unsuitable for Freeview reception, they have now generally been replaced by the Yagi type. However in some places a Grid aerial installation may work for Freeview: otherwise replace with a standard Yagi aerial.
Indoor
Indoor aerials
are generally not suitable for Freeview reception. In areas of good signal strength it is often possible to receive some transmissions. Even where an aerial works, people often find that may get interruptions to their viewing (or recording).
Loft mounted
Loft
mounted arrivals are not generally recommended for Freeview reception, as the
roof
tiles and plumbing will degrade the signal. Some compensation for this loss of signal can be made by using
satellite
-grade cable to connect the set top box to the aerial.
Positioning
The best position for a TV aerial is mounted outdoors, as high from the ground as possible, pointing directly at the transmitter. The signal can be blocked by hills and tall buildings. It should be positioned away from any other aerials.
Horizontal or vertical?
The transmitter will either use vertical
mode
which requires the elements of your aerial to be up-down, or horizontal mode which requires them to be level with the ground.
Groups
Both analogue and digital television is transmitted the same group of transmission frequencies (known as
channel
21 through to 60). A coloured marking on the aerial shows the group.

To create the best possible analogue
picture
, TV transmissions from adjacent transmitters have been designated to several different groups of frequencies. By using an aerial that receives only the
channels
in the correct group, the analogue picture can be kept free from
interference
.
To receive Freeview transmissions from the same transmitter it has been sometimes necessary to use frequencies that are not part of the transmitter's normal group. When this has occurred, the aerial will need to be replaced with a "wideband" aerial (also known as group W) - one that covers every group.
As
Ofcom
is planning to move the TV frequencies again - perhaps as soon as 2018 - it may be wise to use a wideband aerial if you can to ensure you can keep viewing Freeview for many years to come.
Comments
Saturday, 17 December 2011

Bob Buckle: There are different uses for the word "channel".

Broadcast channels 21 to 37 are another way of denoting broadcast frequencies. These frequencies are known as "Ultra High Frequencies" which is often shortened to "UHF", hence these could be referred to as "UHF channels".

"Channel 1", as in pressing number 1 on your remote and getting BBC1 is not the same thing. In Freeview terms it is often referred to as LCN 1, meaning "logical channel number 1", so as to distinguish from UHF channels.

Dave Lindsay's 5,724 posts

<< The basic information I really need is can all freview programs be received by one aerial? (e.g. a group A aerial) >>

YES - provided that the aerial is of a group suited to receive whichever frequencies (broadcast channels) are used for all the Multiplexes in your area (A for you)

Traditional TV Channel numbers no longer have any link to broadcast channels.


Steve P's 1,173 posts

Bob Buckle: Sorry, I see Steve P's answered your question.

Yes, Crystal Palace broadcasts on Group A channels only.

If you're looking at DIYing, then I recommend looking at ATV Sheffield's site for loads of information:

Aerials, TV Aerial and Digital Aerial

ATV has put together a guide as to what aerial types to use for some of the biggest transmitters. Crystal Palace is here:

Crystal Palace Transmitter

Dave Lindsay's 5,724 posts
Monday, 19 December 2011

I use a Freeview Box that is OK with most stations, but since we have changed to Digital I am unable to get a satisfactory picture from Yesterday, Russian RT, Aljazera.
The pictures break down into small squares after a few minutes, then correct the error but it keeps reoccuring, spoilng the viewing.
Any ideas on a cure?

John Keen's 1 post

John Keen: Do we have to guess that you might be somewhere in Suffolk, Essex or surrounding area?

Dave Lindsay's 5,724 posts
Tuesday, 20 December 2011

Since digital switchover my bedroom TV loses all the scanned in channels apart from BBC1 and BBC2 every time it is switched off. What could be causing this please? (Other TVs within the house wired into the same aerial retain their channel list.).

Richard Fagg's 1 post
G
Geoffrey Dannell
8:49 PM
Peterborough

I live in the PE8 5EB area and get sound and picture interruption. Have have had new aerial installed - signal strenght good, but frequent interruptions.

Any ideas?

Geoffrey Dannell's 1 post
Geoffrey's:
map
G's Freeview map
terrain
G's terrain plot
waves
G's frequency data
G's Freeview Detailed Coverage

Geoffrey Dannell: Is this on particular channels?

I would confirm that all the multiplexes are tuned in to the right transmitter.

I assume that you're on Sandy Heath. SDN on Ch31 which carries ITV3 and others and is on low power until May, so you may have issues with it until then.

Dave Lindsay's 5,724 posts
Wednesday, 21 December 2011

Geoffrey Dannell: Your area can receive signals from both Waltham and Sandy (Anglia) so you really have to determine where you are receiving your signal from, i.e: whether your news service is East Midlands today / Central East or alternatively BBC Look East / Anglia West.

I am in the Stamford area and likewise receive signals from both sources and cant really say that I have noticed anything unusual recently, but as Dave Lindsay has mentioned some transmitters are on lower power (from both stations) and so you have to indicate which programmes you are having intermittent problems with.

Another factor exists concerning your locality that could also play a part in this type of problem, that being its nearly impossible to receive a signal from either station that doesn't have trees somewhere along its path, and this is another type of thing can cause problems, especially if the signal source is from one of the transmitters that's temporarily operating on lower power.

jb38's 7,179 posts
Select more comments
Your comment please