Freeview reception - all about aerials

Brian Butterworth published on UK Free TV
Updated 8th January 2014.


Your ability of receive all the Freeview transmissions depends on the suitability of aerial
the design style,
the "group", and
its physical location.
Standard type - Yagi aerial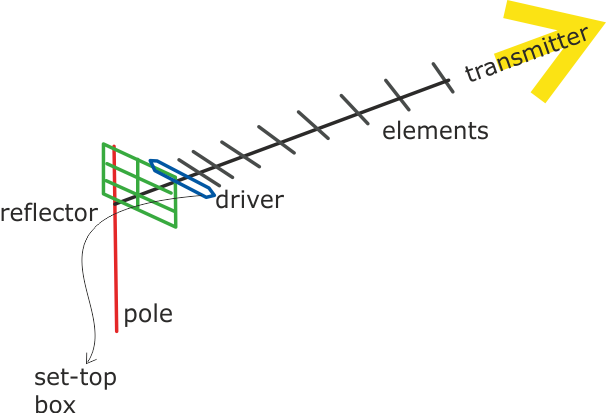 The
standard
type of TV aerial is known as the Yagi aerial. It is mounted on a pole, and consists of a rod with a reflector (shown green) at the back and many spiky elements (in grey) at the front. The connecting
cable
connects to the element nearest the reflector, known as the driver (shown in blue).
These Yagi aerials are directional and so
pick
up signals best from a
transmitter
that the rod points towards. The more elements the aerial has, the better it picks up a
signal
and becomes more directional.
A standard-type aerial is all that is required for
digital
TV
reception
in most places. These antennae have between 10 and 18 elements and a single reflector. These are recommended for new installations for good digital television reception, but will more often than not function perfectly in good reception areas.
Typically these aerials are designed to receive only some transmission frequencies - see "groups" below.
High Gain aerials

These aerials are designed for poor digital reception areas, and have two reflectors. For maximum signal strength, some digital high
gain
aerials have up to 100 elements. Since the
switchover
to digital-only transmissions back in October 2012, most UK households now have good
quality
digital TV signals.
A more expensive aerial is only required where the signal strength is low, but can often provide the whole Freeview reception where it might otherwise be impossible.
The CAI (that represents aerial installers) has four standards for digital TV aerials. The highest standard "1" is for homes on the fringes of coverage areas, intermediate standard "2" is suitable for use within the coverage area; minimum standard "3" is for good coverage conditions.
These aerials can be either
wideband
, or receive only selected frequencies - see "groups" below.
Grid

You may haved used a 'Grid aerial' for
analogue
reception, but as they are generally unsuitable for Freeview reception, they have now generally been replaced by the Yagi type. However in some places a Grid aerial installation may work for Freeview: otherwise replace with a standard Yagi aerial.
Indoor
Indoor aerials
are generally not suitable for Freeview reception. In areas of good signal strength it is often possible to receive some transmissions. Even where an aerial works, people often find that may get interruptions to their viewing (or recording).
Loft mounted
Loft
mounted arrivals are not generally recommended for Freeview reception, as the
roof
tiles and plumbing will degrade the signal. Some compensation for this loss of signal can be made by using
satellite
-grade cable to connect the set top box to the aerial.
Positioning
The best position for a TV aerial is mounted outdoors, as high from the ground as possible, pointing directly at the transmitter. The signal can be blocked by hills and tall buildings. It should be positioned away from any other aerials.
Horizontal or vertical?
The transmitter will either use vertical
mode
which requires the elements of your aerial to be up-down, or horizontal mode which requires them to be level with the ground.
Groups
Both analogue and digital television is transmitted the same group of transmission frequencies (known as
channel
21 through to 60). A coloured marking on the aerial shows the group.

To create the best possible analogue
picture
, TV transmissions from adjacent transmitters have been designated to several different groups of frequencies. By using an aerial that receives only the
channels
in the correct group, the analogue picture can be kept free from
interference
.
To receive Freeview transmissions from the same transmitter it has been sometimes necessary to use frequencies that are not part of the transmitter's normal group. When this has occurred, the aerial will need to be replaced with a "wideband" aerial (also known as group W) - one that covers every group.
As
Ofcom
is planning to move the TV frequencies again - perhaps as soon as 2018 - it may be wise to use a wideband aerial if you can to ensure you can keep viewing Freeview for many years to come.
Comments
Thursday, 29 December 2011

We used to receive all freeview channels. Now we are missing all in multiplex A. What can we do to get them back. Reading comments online looks like it happened along the same time as an upgrade at Crystal Palace. Could this be the reason. What do we need to do. We have tried resetting a few times on different days but still nothing.
After purchasing a built in freeview hd ready tv we are not happy.

Kelly's 2 posts
Friday, 30 December 2011

Kelly - where are you?

Steve P's 1,173 posts
Sunday, 1 January 2012

I live in Fareham Hants.and get Freeview via a rooftop aerial.My "full HD TV set" screen says I am receiving HD Freeview.This area doesnt switchover till March 2012 ,so am I getting analogue or HD freeview at the moment.Will I need a box or a HD freeview TV after switchover.

Harry's 2 posts
Harry's:
map
H's Freeview map
terrain
H's terrain plot
waves
H's frequency data
H's Freeview Detailed Coverage

Hi all. I need to place a new aerial , a digital aerial for bad reception area (Twickenham, Whitton area) I also need to have a split and a booster as we will need to connect it to four TVs. Does anyone know of a reputable company or a person in the TW3 area who will not con me and how much would I be expected to spend to get such work done. I appreciate your help and happy new year.

hani's 1 post

hani: The current Freeview signal is much weaker than it will be when switchover occurs in April. Thus, at present it doesn't reach as many places as the current analogue does.

The aim is that the coverage area of the digital signal will (come switchover) match that of the current analogue.

If you have a new aerial fitted now, in order to get this low-power digital, then (it is likely) a bigger aerial will be needed now, with a not so big aerial being needed after switchover. (I am speaking in very general terms here; I hope that this conveys the situation now and how it will change in April.

As such, with switchover three months away, I suggest that you leave your aerial as it is now because your current installation might be sufficient after switchover. That means that had you spent your money now it would only be of benefit for the coming three months. (I appreciate that once you've spent the money and changed your aerial, there is no way to see if the current aerial would work after switchover!).

If you still have issues after switchover, then look at having your aerial system looked at.

Dave Lindsay's 5,724 posts

Harry: If the specification for the TV says that the tuner can receive DVB-T2 then it is HD. DVB-T is what standard definition are.

Alternatively, if you post the make and model number, we can see if the specifications can be found in order to give an answer to your question.

Dave Lindsay's 5,724 posts

Harry: The easy way for anyone to know if they have picked up an HD signal is if anything is shown in the EPG list from 50 to 54, because as you obviously realise HD (from Rowridge) is not available in your area until March 21st and its very unlikely you will be picking it up from elsewhere unless through freak reception conditions.

That said though, if you did see anything in the 50 / 54 carry out a signal check whilst viewing it noting the Mux channel number shown associated with the strength bar and this can be cross checked with any possible sources.

jb38's 7,179 posts

Hi Dave Lindsay
Your reply 1.1.12 3.17pm
Model is LG 32LG3000

Harry's 2 posts
Harry's:
map
H's Freeview map
terrain
H's terrain plot
waves
H's frequency data
H's Freeview Detailed Coverage

Harry: Information on this model is here:

LG 32LG3000 Television - 32" HD Ready LCD TV - LG Electronics UK

It says that it is "HD Ready" which means that it can show HD pictures but does not have the means to receive them on Freeview. So in order to receive HD services on Freeview, you will need a separate receiver.

Dave Lindsay's 5,724 posts
Monday, 2 January 2012

I'm sorry if this is a silly question, but I'm hoping for some advice. Can I start by saying that I very rarely watch tv and have very little technical ability, hubby enjoys watching TV a lot and is very technically minded (he works in IT!)and neither of us has much in the way of DIY skills! We have a tv in the sitting room, which gives us freeview.I think it uses the outside aerial to get the picture, and I'm assuming the signal strength is ok, as hubby doesn't complain! We were given a new tv for the bedroom for Christmas, but can't get a picture on it as there isn't an aerial socket (if that is the right word?) up there. Hubby bought an rabbits ears antenna, which worked well and we got a good picture, but it looked hideous, took up too much space and kept falling off the chest of drawers, so had to go back. As most of my friends have several (working!) tvs in their homes and none with obvious aerials cluttering up the place, I naively assumed that tvs nowadays had their own internal aerial, but this obviously isnt the case. Can anyone recommend a solution please? Drilling holes in walls or ceilings isnt an option as we rent, and I dont want to run cables up walls or the stairs as that also looks hideous!

Jenny's 1 post
Select more comments
Your comment please