Freeview reception - all about aerials

Brian Butterworth published on UK Free TV
Updated 8th January 2014.


Your ability of receive all the Freeview transmissions depends on the suitability of aerial
the design style,
the "group", and
its physical location.
Standard type - Yagi aerial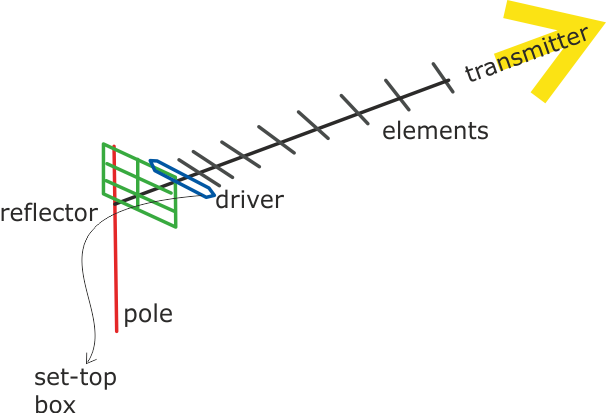 The
standard
type of TV aerial is known as the Yagi aerial. It is mounted on a pole, and consists of a rod with a reflector (shown green) at the back and many spiky elements (in grey) at the front. The connecting
cable
connects to the element nearest the reflector, known as the driver (shown in blue).
These Yagi aerials are directional and so pick up signals best from a
transmitter
that the rod points towards. The more elements the aerial has, the better it picks up a
signal
and becomes more directional.
A standard-type aerial is all that is required for
digital
TV
reception
in most places. These antennae have between 10 and 18 elements and a single reflector. These are recommended for new installations for good digital television reception, but will more often than not function perfectly in good reception areas.
Typically these aerials are designed to receive only some transmission frequencies - see "groups" below.
High Gain aerials

These aerials are designed for poor digital reception areas, and have two reflectors. For maximum signal strength, some digital high
gain
aerials have up to 100 elements. Since the
switchover
to digital-only transmissions back in October 2012, most UK households now have good
quality
digital TV signals.
A more expensive aerial is only required where the signal strength is low, but can often provide the whole Freeview reception where it might otherwise be impossible.
The CAI (that represents aerial installers) has four standards for digital TV aerials. The highest standard "1" is for homes on the fringes of coverage areas, intermediate standard "2" is suitable for use within the coverage area; minimum standard "3" is for good coverage conditions.
These aerials can be either
wideband
, or receive only selected frequencies - see "groups" below.
Grid

You may haved used a 'Grid aerial' for
analogue
reception, but as they are generally unsuitable for Freeview reception, they have now generally been replaced by the Yagi type. However in some places a Grid aerial installation may work for Freeview: otherwise replace with a standard Yagi aerial.
Indoor
Indoor aerials
are generally not suitable for Freeview reception. In areas of good signal strength it is often possible to receive some transmissions. Even where an aerial works, people often find that may get interruptions to their viewing (or recording).
Loft mounted
Loft
mounted arrivals are not generally recommended for Freeview reception, as the
roof
tiles and plumbing will degrade the signal. Some compensation for this loss of signal can be made by using
satellite
-grade cable to connect the set top box to the aerial.
Positioning
The best position for a TV aerial is mounted outdoors, as high from the ground as possible, pointing directly at the transmitter. The signal can be blocked by hills and tall buildings. It should be positioned away from any other aerials.
Horizontal or vertical?
The transmitter will either use vertical
mode
which requires the elements of your aerial to be up-down, or horizontal mode which requires them to be level with the ground.
Groups
Both analogue and digital television is transmitted the same group of transmission frequencies (known as
channel
21 through to 60). A coloured marking on the aerial shows the group.

To create the best possible analogue
picture
, TV transmissions from adjacent transmitters have been designated to several different groups of frequencies. By using an aerial that receives only the
channels
in the correct group, the analogue picture can be kept free from
interference
.
To receive Freeview transmissions from the same transmitter it has been sometimes necessary to use frequencies that are not part of the transmitter's normal group. When this has occurred, the aerial will need to be replaced with a "wideband" aerial (also known as group W) - one that covers every group.
As
Ofcom
is planning to move the TV frequencies again - perhaps as soon as 2018 - it may be wise to use a wideband aerial if you can to ensure you can keep viewing Freeview for many years to come.
Comments
Monday, 9 April 2012

Hello, I am in South East London about 3 miles from Crystal Palace. I live in a shared, rented house and there are 3 TVs upstairs, none of which have aerial points. Reception has always been good though because of proximity to the transmitter.

I bought a new TV and freeview box but the instructions say I need to plug in an aerial. Will an indoor aerial be sufficient? We won't be able to get a second roof aerial installed, so if not, we will all lose our reception in the bedrooms!

If an indoor aerial is the solution, can anyone recommend a particular type? I don't want to spend yet more unnecessary cash on something that doesn't work!

thanks!


Flora's 1 post
Wednesday, 11 April 2012

Hello. I have a 'naive' question. I have a white wire / cable coming into my flat from outside into the TV (with Freeview); I can watch Analogue.

I have tried to re-tune to Digital, but there is no signal.

What do you think it wrong? Some people say I need an aerial.

Nadia's 4 posts

Nadia: Without knowing your location (preferably in the form of post code or nearby post code) it is impossible to give an answer.

The only thing that can be drawn from what you've said is that you are in an area that has yet to switch to digital (due to the fact that analogue is still present).

It may be that you are not in an area where you can receive digital now or a different aerial may be necessary.

However, when switchover has happened, generally speaking current aerials (that function with analogue) will work fine, although in some cases upgrades will be necessary in order to receive Commercial channels.

If you provide your location a more specific answer may be possible.

Dave Lindsay's 5,724 posts

Dave, first of all, thank you for your response.

I live in W2 London, with Crystal Palace being the transmitter. I was re-tuning just yesterday.

And I do not need Commercial channels.

What do you think I should do next?

Kind regards, Nadia

Nadia's 4 posts

Nadia: Crystal Palace has undergone its first stage of switchover and will complete on 18th April.

You should be able to receive BBC standard definition services as they are now at full transmission power. You should not need to do anything with your aerial.

If there is a manual tuning or manual search function on the set, then you could try it and tune to UHF channel 23.

Have you received Freeview before at this location and using this aerial?

Dave Lindsay's 5,724 posts

No, Dave, I have not received Freeview before.

How do I manualy tune to UHF channel 23? E.g. go to DVB menu, manual setting,????

Nadia's 4 posts

Nadia: That sounds right, although I am surprised that auto digital tuning hasn't worked.

Dave Lindsay's 5,724 posts

I will try again tonight............

Thank you for your help.

Nadia's 4 posts
Thursday, 12 April 2012

Nadia: If by any chance you still haven't received anything then purely for a test try a manual tune on Ch34, the only reason for requesting being, that as its possible for you to be located at only about 7 miles or so from from the transmitter you might be receiving an excessively strong signal that is blocking your TV's tuner, although if this was the case then trying an auto-tune using a set top aerial would soon reveal if you are or not should the auto-tune prove successful.

jb38's 7,179 posts

Interesting statement on 1 April 2012 from Mazbar "the problem with this site is people like you who post thinking they know enerything and know very little you come accross as a radio ham or a spark two types of people who havent a clue about tv reception"
Not sure if I fit this category as I have been involved with designing and installing professional aerials since the mid 60's. I am also hold and amateur radio licence (don't like the term radio ham) since 1968 and I was also qualified as electrician until I retired.
By the way I get at BH21, 50-60 dbuv from Rowridge for Freeview but prefer to use Freesat.

Bob's 1 post
Select more comments
Your comment please