Whole house digital TV

Brian Butterworth published on UK Free TV
Here are some examples of how to make your home fully digital.
Sky+ with multiroom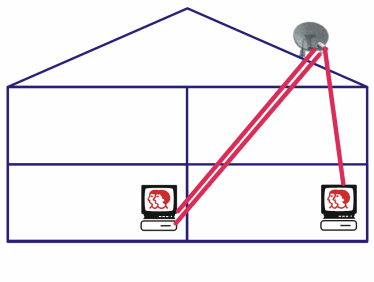 The device on the end of the "arm" of your
satellite
dish
is an LNB. Because the
digibox
sends
power
to the LNB, you can not just split the
cable
onto two input. When you buy a Sky+ package from Sky, it comes with a "quad LNB", which has four outputs. The engineer runs two cables from the dish to the Sky+ box.
You can then run one each to a digibox by up to four televisions. You can either do this though "Sky multiroom" (as shown, with Sky+ in one room and another digibox elsewhere), or by doing it yourself.
Sky+ boxes require a constant authorisation
signal
from Sky over the satellite path. The moment you disconnect the box from the satellite inputs or you stop paying Sky the 10 per month the Sky+ box will stop working as a
personal video recorder
, and act like a normal digibox. You can't use the box to record, playback or pause without a Sky
subscription
.
Freesat multiroom - no Freeview
It's not possible to use it to receive
Freeview
, but you can get the
Freesat
service. All you need is either a new DVB-S (digital video broadcasting - satelite) box, or an old Sky Digibox. You can use a Quad LNB to supply digital satellite signals to digiboxes in each room.
Sky and Freeview
It will always be better to use a higher classification
aerial
alone, rather than a less able one with an
amplifier
. With digital signals, it is far more important to get good
quality
reception
for the set-top box, rather than increase the signal's power as this will simply be ignored by the digital
receiver
.
For many people Freeview is used on the main and second TV, in addition to subscription Sky on the first.
Cable and Freeview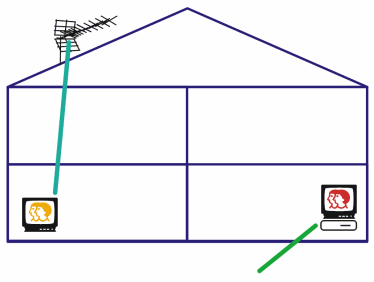 Or you might have NTL/Telewest cable on the main TV, with Freeview for the secondary televisions.
Sky with RF second TV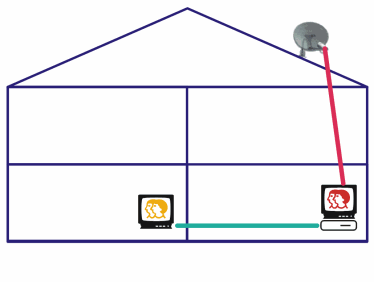 If you connect a second TV to a digibox by using the "
RF output
", this does not require a separate connection to the dish, but you can only watch the same channel from the digibox on both TVs. With Sky digiboxes, you can also use your remote control with a IR receiver by the second TV.
Freesat media center
The PC version of Sky+, such as Media Center:
you can buy as large a hard drive as you want
it's much better than Sky+
you've more chance of HD working
you can share the recorded channels to a local area network, play them on a Xbox360 and burn them to DVD
it records the digital signal, so the playback quality is perfect.
The specification for the Elonex Artisan LX, and it says it comes with the "Hauppauge WinTV Nova-T" cards. The "T" suffix denotes the DVB-T (digital
terrestrial
) version of the
card
. A
satellite version of the card
is available (Elonex may supply these instead of the "-T" cards)?
Wireless networks should be up to the job of sharing the recorded TV programmes to the local network, but it is my personal experience that they are not. You might find it works better by connecting your new Media Centre computer to the wireless router using a cat5 (twisted pair Ethernet) patch cable.
Freeview media center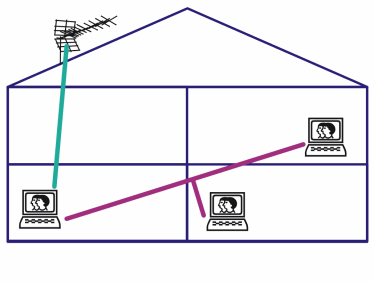 The Freeview media center is easier to setup, as you can just use a simple splitter to provide the UHF Freeview signals to two receiver cards (or a dual-headed card).
Once again the recorded programmes can be watched by using a simple file share, or by using an XBox360.
Freeview everywhere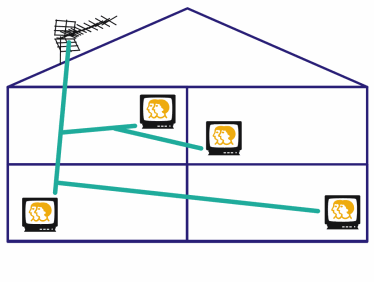 If the Freeview signal is strong, you can usually just split the aerial cable where convenient to supply a digital television signal to many digital televisions or set-top boxes.
Freeview and Sky everywhere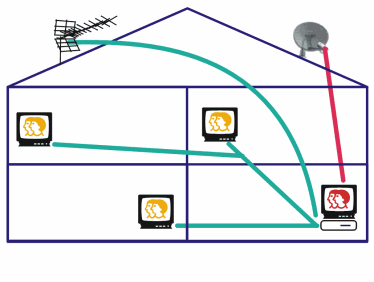 In good signal areas, it will be possible to feed the aerial signal first the the Sky digibox, and then on to integrated televisions or Freeview boxes, adding in the ability to watch one Sky channel around the home.
Freeview everywhere with masthead amplifier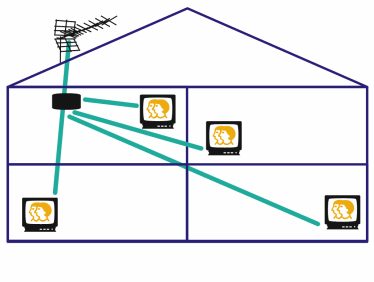 Another possibility is that you are passing the incoming aerial signal though some other device (such as a VCR) that is either filtering or producing it's own signal. If this is the case, see if plugging the aerial directly into one Freeview box will allow you to see these channels. If this works, then you can use a
masthead
amplifier to boost the signal for each digital television or set-top box.
Comments
Tuesday, 4 January 2011

I have just bought a Sony KDL32EX403U, which is specified as having a Freeview HD tuner. Living at 70 HD91UY the reception on BBC1 Freeview is shown as 100% Quality and 97% Strength from Emley Moor, other MUXs are similar. Despite this good reception I am not able to recieve any Freeview HD channels. The Analogue signal is (and always has been) very ghosty due to being out of direct line of site of Emley Moor.

Richard Hewitt's 3 posts
Thursday, 6 January 2011

Richard Hewitt: You are not likely to get a stable Freeview HD signal without a line-of-sight to the transmitter.

Briantist's 38,908 posts
Tuesday, 11 January 2011

I have just bought an all singing and dancing 42"tv and am having a new digital aerial fitted with 7 cable runs. My problem is the quotes that I have had, one for £250, and another for £612. This is to supply and fit 1 outside aerial, 1 x 6' mast and bracket, 1 x 8-way amplifier, 7 cable runs and 4hours x 2 labour plus vat. The house has some difficult rooms for the cable runs to get to but I am assured that this isn't a problem. What is the quote to go for without being penny pinching or being cheated. Please help.

Hazel Ditchburn's 1 post

Hazel Ditchburn: £612 for a few aerial cables does sound rather on the steep side. I would keep getting quotations until you get one you can live with.

Briantist's 38,908 posts
Monday, 17 January 2011

I have bought a 19 inch new tv digtal for my bedroom. I have tried indoor aerials of the ones available on the market but get lines across the pictures. We are going digital in April and I want to get a good reception in my bedroom how can I do it without too much expense

Una Heap's 1 post

Una Heap: You need to connect to a rooftop aerial for reliable Freeview reception. If you have an existing one to connect to, that is always the cheapest option.

Briantist's 38,908 posts
Saturday, 22 January 2011

Hving a bit of a nightmare with our tv a tecknika digital the reception in our area edinburgh west seem to lose bbc/itv when weather is bad also tv goes out of synche audio-picture when you change channels a friend told me could be ariel needs upgrading, please help.

john macmillan's 1 post

we have toshiba regza t v reception at certain times breaks up on freeview chanels,we have a roof ariel,and live in tn4 post code or tunbridge wells.

tony bent's 1 post

(john macmillan): Your problem is symptomatic of you receiving a low signal level from whatever Multiplex station your aerial is pointing at, as it can be either Blackhill or Craigkelly.

It should be said though that Edinburgh West, and especially anywhere around Corstorphine districts (should this apply) have always had pockets of problem areas, something which unfortunately will not really be rectified until after switchover.

As nothing is known about your aerial system you should have a look around the local rooftops to see what's used in your locality then you can use this knowledge to gauge whether or not yours appears to be deficient, if by any chance it does then that rather indicates a possible cure for your problem.

If however you can tolerate the occasional problem for the time being then its maybe best to hold out until switchover when you can then re-assess the situation when the Mux transmitters are operating at full power.

jb38's 81 posts
Tuesday, 25 January 2011

tony bent: Please see Freeview intermittent interference | ukfree.tv - independent free digital TV advice please.

Briantist's 38,908 posts
Select more comments
Your comment please