Whole house digital TV

Brian Butterworth published on UK Free TV
Here are some examples of how to make your home fully digital.
Sky+ with multiroom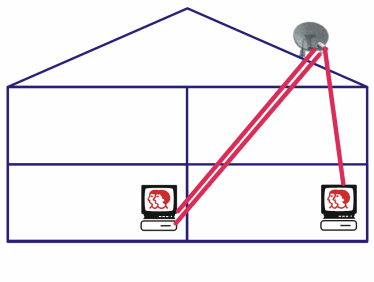 The device on the end of the "arm" of your
satellite
dish
is an LNB. Because the
digibox
sends
power
to the LNB, you can not just split the
cable
onto two input. When you buy a Sky+ package from Sky, it comes with a "quad LNB", which has four outputs. The engineer runs two cables from the dish to the Sky+ box.
You can then run one each to a digibox by up to four televisions. You can either do this though "Sky multiroom" (as shown, with Sky+ in one room and another digibox elsewhere), or by doing it yourself.
Sky+ boxes require a constant authorisation
signal
from Sky over the satellite path. The moment you disconnect
the box
from the satellite inputs or you stop paying Sky the 10 per month the Sky+ box will stop working as a
personal video recorder
, and act like a normal digibox. You can't use the box to record, playback or pause without a Sky
subscription
.
Freesat multiroom - no Freeview
It's not possible to use it to receive
Freeview
, but you can get the
Freesat
service. All you need is either a new DVB-S (digital video broadcasting - satelite) box, or an old Sky Digibox. You can use a Quad LNB to supply digital satellite signals to digiboxes in each room.
Sky and Freeview
It will always be better to use a higher classification
aerial
alone, rather than a less able one with an
amplifier
. With digital signals, it is far more important to get good
quality
reception
for the set-top box, rather than increase the signal's power as this will simply be ignored by the digital
receiver
.
For many people Freeview is used on the main and second TV, in addition to subscription Sky on the first.
Cable and Freeview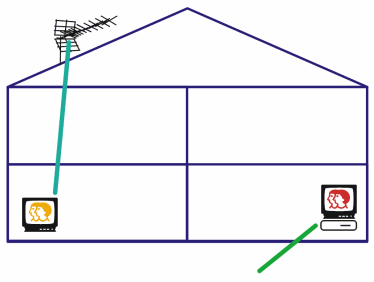 Or you might have NTL/Telewest cable on the main TV, with Freeview for the secondary televisions.
Sky with RF second TV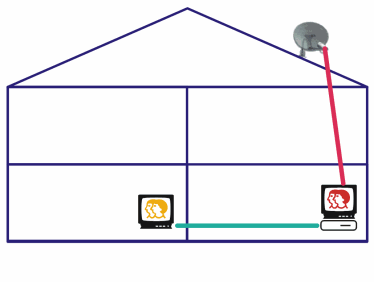 If you connect a second TV to a digibox by using the "
RF output
", this does not require a separate connection to the dish, but you can only watch the same channel from the digibox on both TVs. With Sky digiboxes, you can also use your remote control with a IR receiver by the second TV.
Freesat media center
The PC version of Sky+, such as Media Center:
you can buy as large a hard drive as you want
it's much better than Sky+
you've more chance of HD working
you can share the recorded channels to a local area network, play them on a Xbox360 and burn them to DVD
it records the digital signal, so the playback quality is perfect.
The specification for the Elonex Artisan LX, and it says it comes with the "Hauppauge WinTV Nova-T" cards. The "T" suffix denotes the DVB-T (digital
terrestrial
) version of the
card
. A
satellite version of the card
is available (Elonex may supply these instead of the "-T" cards)?
Wireless networks should be up to the job of sharing the recorded TV programmes to the local network, but it is my personal experience that they are not. You might find it works better by connecting your new Media Centre computer to the wireless router using a cat5 (twisted pair Ethernet) patch cable.
Freeview media center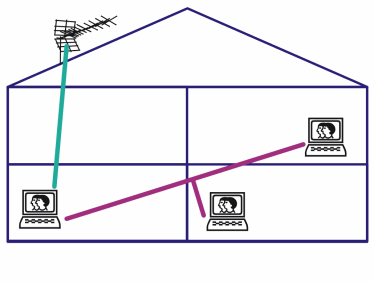 The Freeview media center is easier to setup, as you can just use a simple splitter to provide the UHF Freeview signals to two receiver cards (or a dual-headed card).
Once again the recorded programmes can be watched by using a simple file share, or by using an XBox360.
Freeview everywhere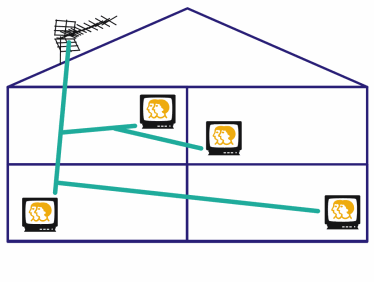 If the Freeview signal is strong, you can usually just split the aerial cable where convenient to supply a digital television signal to many digital televisions or set-top boxes.
Freeview and Sky everywhere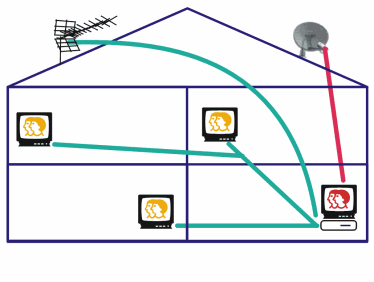 In good signal areas, it will be possible to feed the aerial signal first the the Sky digibox, and then on to integrated televisions or Freeview boxes, adding in the ability to watch one Sky channel around the home.
Freeview everywhere with masthead amplifier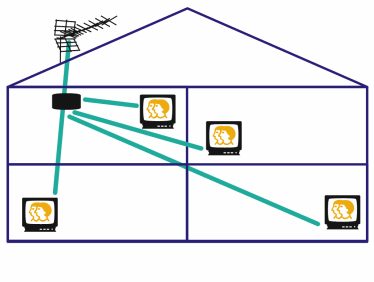 Another possibility is that you are passing the incoming aerial signal though some other device (such as a VCR) that is either filtering or producing it's own signal. If this is the case, see if plugging the aerial directly into one Freeview box will allow you to see these channels. If this works, then you can use a
masthead
amplifier to boost the signal for each digital television or set-top box.
Comments
Saturday, 18 June 2011

Hi i have 4 tv's running through a signl booster/ splitter. In poor weather conditions i can't receive any of the BBC channels ať all. In good weather everything is fine . The ariel is in the loft. If i use 1 tv without the booster it works fine , any ideas how to get the 4 tv's working together. Thanks

alan gordon's 1 post

alan gordon: You could have various factors affecting your reception, as if the poor weather you refer to also means the roof being wet at the time then that will kill some of the signal, that is unless the aerial is facing towards a gable end which doesn't get saturated in the same way as tiles.

You saying that one TV works OK without the booster could indicate that a fault exists with the booster or cabling to it, or that your signal is that strong that its overloading the inputs to the sets, this being why its always best to indicate your rough location or at least part of your post code, this to enable an estimate to be made of the strength of reception expected at that location.

If you come back on that further advice can be given, it would also be beneficial to know what the signal strength / quality is shown as being when viewed in the tuning menu area of your TV.


jb38's 7,179 posts
Saturday, 25 June 2011
A
Adrian Searle
3:39 PM
Derby

I have bought two new flat TVs to replace analogue CRTs, also replaced aerial. Have always had good reception on old TV's but lots of break-up on new ones, even on analogue channels. Have another Flat TV which works well but putting new ones on that aerial does not give good picture, but find it difficult to think that I have two dud new TVs??

Adrian Searle's 1 post
Adrian's:
map
A's Freeview map
terrain
A's terrain plot
waves
A's frequency data
A's Freeview Detailed Coverage

Adrain call a local aerial man he will get all you tv working how they should. It will cost you but it will be done right and less problems to you.
c and a aerials ormskirk lancashire

Mazbar's 384 posts

my pace digi box keeps sayin no channels found i know my signal is strong enough help please.

james's 1 post
james's:
map
J's Freeview map
terrain
J's terrain plot
waves
J's frequency data
J's Freeview Detailed Coverage
Tuesday, 12 July 2011

i have two flat screen digital televisions new ones, and i cannot get all the channels tuned in especially the music channels for my teenage daughters...the other digital tvs are fine...the signal says 72 per cent on them...i have a digital aerial and a strong signal on other tvs..

susan fuller's 1 post
Sunday, 17 July 2011

susan fuller: Can you see the suggestions on the Single frequency interference | ukfree.tv - independent free digital TV advice page?

Briantist's 38,899 posts
Saturday, 13 August 2011

whats the easiest way to get sky in my bedroom only hav it in living room just now what do i need plz

liz's 1 post
Sunday, 14 August 2011

liz: You need a length of cable, connectors and a 'magic eye'. All these are available as a kit from stores such as Maplin or on eBay. Best to also buy an extra remote control so that you don't have to take the one from living room. Make sure you get the correct control cos Sky, SkyPlus and SkyHD are all different.

An alternative to the cable set-up would be to buy a wireless transmitter/reciever - again from Maplin.
Holmfirthhewie

Holmfirthhewie's 3 posts
Select more comments
Your comment please