Whole house digital TV

Brian Butterworth published on UK Free TV
Here are some examples of how to make your home fully digital.
Sky+ with multiroom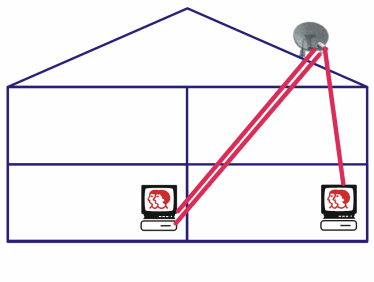 The device on the end of the "arm" of your
satellite
dish
is an LNB. Because the
digibox
sends
power
to the LNB, you can not just split the
cable
onto two input. When you buy a Sky+ package from Sky, it comes with a "quad LNB", which has four outputs. The engineer runs two cables from the dish to the Sky+ box.
You can then run one each to a digibox by up to four televisions. You can either do this though "Sky multiroom" (as shown, with Sky+ in one room and another digibox elsewhere), or by doing it yourself.
Sky+ boxes require a constant authorisation
signal
from Sky over the satellite path. The moment you disconnect the box from the satellite inputs or you stop paying Sky the 10 per month the Sky+ box will stop working as a
personal video recorder
, and act like a normal digibox. You can't use the box to record, playback or pause without a Sky
subscription
.
Freesat multiroom - no Freeview
It's not possible to use it to receive
Freeview
, but you can get the
Freesat
service. All you need is either a new DVB-S (digital video broadcasting - satelite) box, or an old Sky Digibox. You can use a Quad LNB to supply digital satellite signals to digiboxes in each room.
Sky and Freeview
It will always be better to use a higher classification
aerial
alone, rather than a less able one with an
amplifier
. With digital signals, it is far more important to get good
quality
reception
for the set-top box, rather than increase the signal's power as this will simply be ignored by the digital
receiver
.
For many people Freeview is used on the main and second TV, in addition to subscription Sky on the first.
Cable and Freeview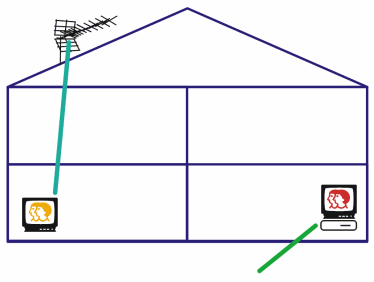 Or you might have NTL/Telewest cable on the main TV, with Freeview for the secondary televisions.
Sky with RF second TV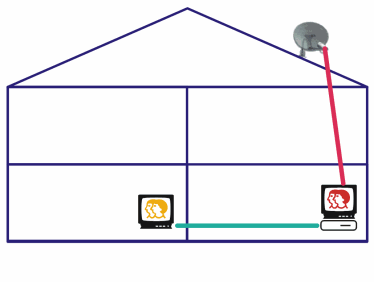 If you connect a second TV to a digibox by using the "
RF output
", this does not require a separate connection to the dish, but you can only watch the same channel from the digibox on both TVs. With Sky digiboxes, you can also use your remote control with a IR receiver by the second TV.
Freesat media center
The PC version of Sky+, such as Media Center:
you can buy as large a hard drive as you want
it's much better than Sky+
you've more chance of HD working
you can share the recorded channels to a local area network, play them on a Xbox360 and burn them to DVD
it records the digital signal, so the playback quality is perfect.
The specification for the Elonex Artisan LX, and it says it comes with the "Hauppauge WinTV Nova-T" cards. The "T" suffix denotes the DVB-T (digital
terrestrial
) version of the
card
. A
satellite version of the card
is available (Elonex may supply these instead of the "-T" cards)?
Wireless networks should be up to the job of sharing the recorded TV programmes to the local network, but it is my personal experience that they are not. You might find it works better by connecting your new Media Centre computer to the wireless router using a cat5 (twisted pair Ethernet) patch cable.
Freeview media center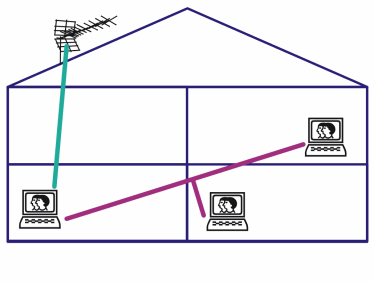 The Freeview media center is easier to setup, as you can just use a simple splitter to provide the UHF Freeview signals to two receiver cards (or a dual-headed card).
Once again the recorded programmes can be watched by using a simple file share, or by using an XBox360.
Freeview everywhere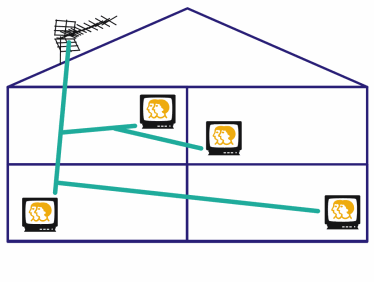 If the Freeview signal is strong, you can usually just split the aerial cable where convenient to supply a digital television signal to many digital televisions or set-top boxes.
Freeview and Sky everywhere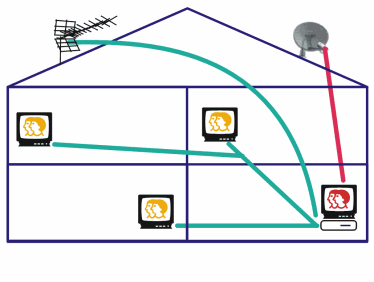 In good signal areas, it will be possible to feed the aerial signal first the the Sky digibox, and then on to integrated televisions or Freeview boxes, adding in the ability to watch one Sky channel around the home.
Freeview everywhere with masthead amplifier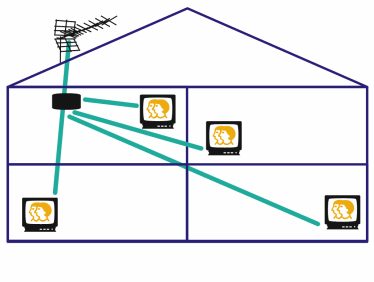 Another possibility is that you are passing the incoming aerial signal though some other device (such as a VCR) that is either filtering or producing it's own signal. If this is the case, see if plugging the aerial directly into one Freeview box will allow you to see these channels. If this works, then you can use a
masthead
amplifier to boost the signal for each digital television or set-top box.
Comments
Monday, 21 April 2014

Doug: If the TV's in other rooms are being fed from the Sky boxes RF1/2 output socket have you reconnected this lead?

jb38's 7,179 posts
Sunday, 28 September 2014

I have an LG flat screen digital TV with freeview. Talktalk have now sent me a youview box which they say is so that I can receive freeview in my talk talk Essentials package. Do I need to have this installed , I thought I had got freeview already ?

Ann Pedley's 1 post

Ann Pedley: If they are giving you the box, dont complain!

Actually, there are some good reasons for this, which will improve your viewing. The Talk Talk box is their version of a Humax Youview box. Plug it via ethernet into your broadband hub (or perhaps you those Powerline things if you need to), and you will get all for channels on demand, such as Iplayer, etc.

The box also has two Freeview HD tuners, so you can use it to get HD channels on your HD Ready (but not HD tuner equiped) TV. And of course it records in HD as well, so you can watch one channel in HD, while recording another. Since HD is far better than SD, using the HD channels is better for you.

If its Humax, the HDMI cable you'll need might be in the box, so just connect the box to the TV via HDMI, and plug the aerial into the back of the box, and then get a second aerial cable that goes from the out socket on the box to your TV .

MikeB's 2,579 posts

Ann Pedley:

the talk talk box will give you access to any addition programs which you subscribe to, it is also a PVR which will enable you to pause, rewind and forward live tv and also allow you to record programs via series link or onetime record, all recordings will be saved onto the youview box, you can also record one channel whilst viewing another.


jamie stevens's 207 posts
Wednesday, 3 December 2014

I live in an apartment.there are sockets for sky and aerial. There is also another socket which feeds my bedroom aerial, somehow. This is labels return. This gives me whateveviwing on my sky hd box, but i behave a smart tv in my bedroom, when I try to tune it it says no signal. Anyone help, please.

von's 1 post

von: If you have been informed that the socket referred to in the bedroom enables you to view the same programme as that on the Sky box in the living room, (if that's what you mean?) then the other end of this socket (in the living room marked return) would be connected into a Sky boxes RF2 output socket, the TV in the bedroom being set on "analogue" and auto-tuned to receive the signal being sent out by the Sky box, that is "if" your Sky box has an RF2 socket? as the latest types (silver sided with ventilation holes) don't!, a device called in I.O. port modulator having to be used.

Of course, this arrangement will only enable Sky to be viewed in the bedroom, and so in order to receive Freeview in both the living room and bedroom you will have to purchase a two way powered splitter, obtainable from such as Argos, you then use a jumper lead to connect the "aerial socket" in the living room into the splitters input, No1 outlet from the splitter being connected into the living room TV, the splitters No2 outlet being connected into the Sky boxes RF1.

This system enables the Freeview signal to pass through the Sky box picking up the boxes RF2 analogue signal in the process, with both Sky and Freeview then being fed into the TV in the bedroom, the bedroom TV being set on DTV (called terrestrial on some sets) and auto-tuned to pick up the Freeview station that covers your area, the analogue signal of the programme being viewed on the Sky box in the living room, having already been tuned in on the bedroom TV as explained in paragraph one.

As you have mentioned having a Smart TV, its assumed that you are already broadband connected with a router.?

jb38's 7,179 posts

von: By the way, should for the time being you prefer to just be able to view Freeview TV in the bedroom, then all you require to do is purchase the splitter referred to, connecting its input into the aerial socket on the wall plate, and with its No1 output going into the living room TV, its No2 output being connected into the socket marked return, this (hopefully) feeding the Freeview signal through to the socket in the bedroom, TV located in the bedroom being auto-tuned to load up the channels from the transmitter that covers your area. (unknown!)

The Argos item referred to is 108/0287, although it would assist to have knowledge of your location, post code or one from nearby, e.g: a shop / post office etc, as dependant on where you are located relative to that of the transmitter that covers your area, you "may" get away with using a simple "Y" piece splitter rather than a powered one.

jb38's 7,179 posts
Tuesday, 14 February 2017

i have cancelled my suscriptions to sky, i have a basic sky digibox in one room and at the minute a sky+ box in another room, i want to replace the sky+ with a freesat twin tuner box, my digibox is now effectivly a freesat box, will i be able to watch a different channel in the one room (multiroom)

william's 2 posts

william: Each channel you watch will require an LNB at one end, and a sat. tuner at the other.

So if you have 4 LNB's on a dish, and coax to each room, thats fine. But you'll still need a box of some kind at the other end, be it an old Sky box, a cheapish Freesat receiver (assuming you've the PVR with the twin LNB in the main room), or have a look in the back of your TV - LG's have had generic sat tuners for some years (as have Sony's), and have finally gone Freesat this year.

A fair number of Samsung's have had them for about 4 years, and oldish Panasonics tended to have them as standard.

MikeB's 2,579 posts

William:

If you have a quad LNB feeding two separate satellite boxes (or a sat equipped TV) each will work independently allowing you to view different programmes on each screen.



MikeP's 3,056 posts
Select more comments
Your comment please