Indoor aerials

Brian Butterworth published on UK Free TV
We have tested a number of indoor aerials, to investigate how well they work for Freeview reception.
Simple stick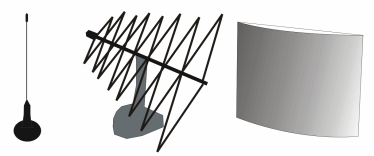 The first is a small 20cm high simple stick aerial, costing a few pounds. This was found to give adequate reception of (16QAM-
mode
) Freeview
channels
in strong
signal
areas, especially outside.
However, unless it can be placed in direct sight of the
transmitter
an only unsatisfactory signal can be received.
Indoor Yagi
The second form of aerial is of the Yagi design of around 30cm length, costing around 10.
This aerial was slightly better than the simple stick design, largely because it can be directed to point at the transmitter and be positioned horizontally or vertically as required.
However, in poor signal areas the
64QAM
channels were not received, and the aerial required good placement to get an uninterrupted Freeview signal.
Indoor Panel aerial
This was found to have around the same reception
quality
as the Indoor Yagi type, and cost around the same.
Indoor digital aerial with booster
Costing 25-30, the improvement of the signal provided by a modern internal TV aerial. Typically able to boost the signal by 36dB, this type of aerial when well positioned provided stable, uninterrupted Freeview reception on all channels.
Comments
Wednesday, 19 January 2011

bee: Yes, you can watch different channels on each set.

Briantist's 38,908 posts
Thursday, 14 April 2011

I have a portable humax tv in the kitchen which runs off an indoor ariel as there is no tv point. It is digital, we have just lost bbc 2, so I switched the tv from analogue to digital mode. We recieve perfect bbc channels including bbc freeview channels bout cannot get any itv, channel 4 or 5. The message is no signal or signal scrambled. What do I have to do to recieve all channels? Our other tv, also digital, runs perfectly in another room, but it is plugged into the main wall ariel socket. Thankyou for your help.

christine gibby's 1 post
Friday, 15 April 2011

christine gibby: You need a rooftop aerial.

Briantist's 38,908 posts
Wednesday, 20 April 2011

i have a portable tv using an indoor portable ariel now lost all channels due to switchover what o i need to do.

Rosie's 1 post

Rosie: A rooftop aerial is required for digital TV reception, and also a digital TV or a Freeview box.

Briantist's 38,908 posts
Sunday, 8 May 2011

i can not have a roof top aerial as we are not allowed them on our building any ideas


pam's 3 posts
pam's:
map
P's Freeview map
terrain
P's terrain plot
waves
P's frequency data
P's Freeview Detailed Coverage

pam: Are you able to install a loft aerial? Though not recommended for freeview reception you would usually have better results from a loft aerial than one placed in the room which is prone to signal variation caused by people walking about as well as being closer to interference sources in the home. On the plus side The Digital UK postcode checker shows a strong signal from the Keighley transmitter is expected at your location both now and after switchover. Remember to set any aerial for vertical polarisation (rods vertical) when using this transmitter.

KMJ,Derby's 1,811 posts
Tuesday, 10 May 2011

have a loft aerial for main telly in living room so may need to link in to it for daughters bedroom tv. we had no problems until they started to update the transmiter daughter was able to get all channels on her top box till then. thank you for your reply

pam's 3 posts
pam's:
map
P's Freeview map
terrain
P's terrain plot
waves
P's frequency data
P's Freeview Detailed Coverage
Saturday, 14 May 2011

I have a digital TV in my bedroom with built in freeview using an indoor aerial. I could get all the channels perfectly then the other morning they all disappeared saying no signal. I retuned the TV automatically and it recovered most of the channels except for ITV and channel 4 and 5 etc - has something changed in my area which is Nottingham? or do I need another aerial though the one I had was working fine before?

Julie's 1 post
Sunday, 15 May 2011

Julie: Generally speaking, indoor aerials are not suitable for reliable Freeview reception. You should really connect your set to a rooftop aerial.

Briantist's 38,908 posts
Select more comments
Your comment please