Indoor aerials

Brian Butterworth published on UK Free TV
We have tested a number of indoor aerials, to investigate how well they work for Freeview reception.
Simple stick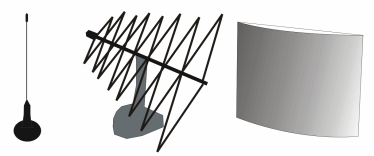 The first is a small 20cm high simple stick aerial, costing a few pounds. This was found to give adequate reception of (16QAM-
mode
) Freeview
channels
in strong
signal
areas, especially outside.
However, unless it can be placed in direct sight of the
transmitter
an only unsatisfactory signal can be received.
Indoor Yagi
The second form of aerial is of the Yagi design of around 30cm length, costing around 10.
This aerial was slightly better than the simple stick design, largely because it can be directed to point at the transmitter and be positioned horizontally or vertically as required.
However, in poor signal areas the
64QAM
channels were not received, and the aerial required good placement to get an uninterrupted Freeview signal.
Indoor Panel aerial
This was found to have around the same reception
quality
as the Indoor Yagi type, and cost around the same.
Indoor digital aerial with booster
Costing 25-30, the improvement of the signal provided by a modern internal TV aerial. Typically able to boost the signal by 36dB, this type of aerial when well positioned provided stable, uninterrupted Freeview reception on all channels.
Comments
Thursday, 15 September 2011

Hi, I have a samsung 932mw monitor that works as a tv, where i live both of the other tvs have indoor aerials and work ok, i would like to know what do i need to set it up n get freeview and if an internal aeria will do for it, thanks

Pow's 1 post
Saturday, 1 October 2011
A
Achilleas
11:58 AM
London

Good morning all. I live in Central London and receive of BBC1,BBC2, ITV1 and Ch4 but not Ch5. This probably means that the aerial looks at Crystal palace which from what I have gathered it does not transmit Ch5? I also do not receive any Freeview channels despite having a new tv. Its a Logik one with a build in freeview tunner. Is changing the aerial going to solve this problem or I can recieve freeview with boosted indoor aerial? a new tv will help? Thanks in advance

Achilleas's 1 post
Achilleas's:
map
A's Freeview map
terrain
A's terrain plot
waves
A's frequency data
A's Freeview Detailed Coverage

Achilleas: The trade predictor on your code indicates that you should be able to have good reception from Crystal Palace, unless that is you are in an area noted locally as being a black spot for reception.

What type of aerial are you using, or more importantly where is it installed?

jb38's 7,179 posts
Wednesday, 26 October 2011

just got our son a digital freeview tv and a digital indoor aerial, but cannot get any of the digital channels. Help?!

carole's 1 post
carole's:
map
C's Freeview map
terrain
C's terrain plot
waves
C's frequency data
C's Freeview Detailed Coverage

carole: As the article above, a rooftop aerial is required for reliable Freeview reception.

Briantist's 38,899 posts
Sunday, 30 October 2011

I have a rooftop digital aerial which works fine on the tv in conservatory. When I use the extension for the portable tv in bedroom I get no signal. I bought a neostar receiver and recorder and an indoor digital aerial but still get "no signal". Is it because the tv is an old portable or that the bedroom does not have an external wall. eing a pensioner I find these things a little difficult to understand!!! Any ideas would be greatly appreciated. Many thanks.

Derry Staples's 1 post

Derry Staples: I would verify that the Neostar adapter is actually working by using it (along with portable) connected straight into the aerial that's is used in the conservatory, as some of these adaptors can be quite iffy in operation.

If though your portable complete with Neostar adaptor works on the conservatory aerial, then it indicates there is a problem with your extension point.


jb38's 7,179 posts

Derry Staples: It would also have been of assistance to have knowledge of your post code, this to give an idea of whether or not there was any chance of an indoor aerial actually working at your location.

(This aerial being a separate issue)

jb38's 7,179 posts
Wednesday, 30 November 2011

I live in Felbrigg Norfolk and bought a SLX gold amplified high performsnce indoor arieal and cannot get any signal from this and my freeview box, any helpful suggestions?

Kayla's 1 post
Kayla's:
map
K's Freeview map
terrain
K's terrain plot
waves
K's frequency data
K's Freeview Detailed Coverage
M
Mark Fletcher
5:12 PM
Halifax

Kayla,Norwich.That aerial you mentioned is absolutely useless,did you buy it from Argos?If it does not work to your expectations and ya still have the receipt,send it back and claim a refund.Hard to say without a full postcode,yer best bet is to purchase a proper external antenna,if yer on Tacolneston and your aerial is mounted for horizontal polarisation,then either a Yagi 18E group E aerial,or X beam XB16E group E antenna,or even a group W wideband (OK on Tacolneston) will give satisfactory results,far better than the SLX gold internal aerial you stated earlier.

Mark Fletcher's 673 posts
Mark's:
map
M's Freeview map
terrain
M's terrain plot
waves
M's frequency data
M's Freeview Detailed Coverage
Select more comments
Your comment please