Indoor aerials

Brian Butterworth published on UK Free TV
We have tested a number of indoor aerials, to investigate how well they work for Freeview reception.
Simple stick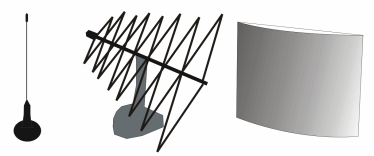 The first is a small 20cm high simple stick aerial, costing a few pounds. This was found to give adequate reception of (16QAM-
mode
) Freeview
channels
in strong
signal
areas, especially outside.
However, unless it can be placed in direct sight of the
transmitter
an only unsatisfactory signal can be received.
Indoor Yagi
The second form of aerial is of the Yagi design of around 30cm length, costing around 10.
This aerial was slightly better than the simple stick design, largely because it can be directed to point at the transmitter and be positioned horizontally or vertically as required.
However, in poor signal areas the
64QAM
channels were not received, and the aerial required good placement to get an uninterrupted Freeview signal.
Indoor Panel aerial
This was found to have around the same reception
quality
as the Indoor Yagi type, and cost around the same.
Indoor digital aerial with booster
Costing 25-30, the improvement of the signal provided by a modern internal TV aerial. Typically able to boost the signal by 36dB, this type of aerial when well positioned provided stable, uninterrupted Freeview reception on all channels.
Comments
Friday, 30 December 2011

jane: There is no simple answer to the question. Whether any aerial works depends on its location. If there is no signal in the air around it to be picked up, then it won't pick anything up.

A roof-top aerial is generally preferred. Set-top aerials can work, although generally speaking, don't expect it to work without the picture ever breaking up.

If you post your location (preferrably post code), we might be able to give you an idea of chances of success. The higher up you are, the more likely it is to work. Similarly, if the aerial is on the side of the building facing the transmitter.

Dave Lindsay's 5,724 posts
Saturday, 31 December 2011

Morning Dave, yep, tried moving it around and it works in some parts, so looking at the extension route.

One thing I have found quite bizarre is I can tune the TV fine in one part of the room, with the aerial one side, but if I move the actual TV and keep the aerial in the same place, I lose the tuning again?!

Surely moving the TV shouldn't make a difference? I'm hoping it's because the current extension isn't actually long enough and it is moving ever so slightly.

Carl Hudson's 3 posts

Carl Hudson: TV signals behave like light. So as you move around, you could be relfecting and refracting them or you could blocking a reflection which was aiding reception. These are why the roof-top is the best place for a TV aerial.

If you every tried using a set-top aerial with analogue TV you will have seen these effects. As people move around the room the picture changed.

The effect of these things on digital signals is that the picture is lost (or breaks up). Indeed, with digital most effects appear to manifest themselves as poor signal. So it might be that you have too many reflections at one particular point (i.e. with the aerial in one position) which means that the TV shows no signal. In the days of analogue, you might have had a picture that consisted of badly ghosted images which would have been something to go on.

Dave Lindsay's 5,724 posts

I have just received a new Freeview tv for my bedroom. Unfortunately I do not have an aerial point in my bedroom and need to get a portable aerial. Can anyone suggest a decent in door aerial.

Sharon's 1 post

Sharon: Whether or not you would get away with using an aerial such as you mention is totally dependant on your location in relation to the transmitter, with this aspect being something you haven't revealed.

Advice can be given in receipt of a post code, as this would then enable your reception possibilities to be checked on.

jb38's 7,179 posts
Sunday, 1 January 2012

Same as Sharon above , looking for the best way to overcome the problem , post code is RH6 - Horley in Surrey. Thanks in advance and HNY! - Mark

Mark's 3 posts

Mark: Unfortunately RH6 Horley areas are indicated as being at approximately 5 miles away from the Reigate transmitter and which is only rated at 200 watts output, therefore I could not really recommend a set top type of aerial to be used in these circumstances, as if a reasonable picture was obtained (which is doubtful!) it would be very susceptible to suffering from frequent glitches caused by movements within the room, as the slightest thing is liable to interfere with the signal.

If you managed to borrow one for a test then there is obviously nothing to lose, but I couldn't recommend that you purchase one as I feel that the results would not be satisfactory therefore a waste of money.

Cant you use a loft aerial?


jb38's 7,179 posts
Monday, 2 January 2012

Hello and many thanks for your reply. We have a partially converted loft so we only have a roof top ariel. Silly question but can we buy a loft ariel and run that as well as a roof top ariels?
We have Sky upstairs and downstairs so we have that ariel too! but there are no ariel sockets in the kids rooms, one of them being the loft room. Is the only solution to have ariel points professionally fitted?
regards

Mark's 3 posts
Mark's:
map
M's Freeview map
terrain
M's terrain plot
waves
M's frequency data
M's Freeview Detailed Coverage

Mark: You can have as many aerials as you like!

The thing with all this is that the only way to find out for definite whether it will work or not is to try it. All you can do beforehand is consider what might improve your chances and what might reduce your chances.

Generally speaking, the higher up the aerial, the better the reception is likely to be. It's going to be in the loft, so that potentially improves your chances, as compared with on the first floor.

Possibly not in your favour are the large trees that are in the way. A look on Google Streetview shows some largish aerials, although we don't know whether these have been put up in order to receive the weaker pre-switchover digital

The strength of the signals from Reigate will be increased in April when switchover occurs. So if you can't receive them now (using an aerial in the loft), you might be able to receive them then.

You could see what sort of reception you get on analogue channels in the loft from Reigate at this time. If they are good, then maybe the post-switchover digital ones will be as well.

The question you are really posing is: Is a set-top aerial in the loft sufficient? An absolute answer can only be arrived at by trying it.

Taking into account the topography only, you have clear line of sight:


Terrain between ( m a.g.l.) and (antenna m a.g.l.) - Optimising UK DTT Freeview and Radio aerial location

Obviously, there might be other obstructions such as buildings and/or trees.

Dave Lindsay's 5,724 posts

Mark if you do get a aerial man out he could get you freeview on all your tv's plus sky on all your tv's with magic eyes you could change the sky channels anywhere in your house. It isnt multi room but it is the next best thing hope this helps ps try to get a local man not one of those 0800 numbers what you save on the phone call you will pay a lot more on the final bill have a good new year.

Mazbar's 384 posts
Select more comments
Your comment please