Indoor aerials

Brian Butterworth published on UK Free TV
We have tested a number of indoor aerials, to investigate how well they work for Freeview reception.
Simple stick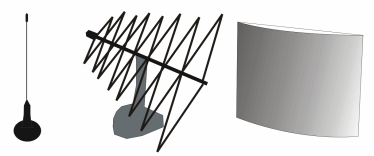 The first is a small 20cm high simple stick aerial, costing a few pounds. This was found to give adequate reception of (16QAM-
mode
) Freeview
channels
in strong
signal
areas, especially outside.
However, unless it can be placed in direct sight of the
transmitter
an only unsatisfactory signal can be received.
Indoor Yagi
The second form of aerial is of the Yagi design of around 30cm length, costing around 10.
This aerial was slightly better than the simple stick design, largely because it can be directed to point at the transmitter and be positioned horizontally or vertically as required.
However, in poor signal areas the
64QAM
channels were not received, and the aerial required good placement to get an uninterrupted Freeview signal.
Indoor Panel aerial
This was found to have around the same reception
quality
as the Indoor Yagi type, and cost around the same.
Indoor digital aerial with booster
Costing 25-30, the improvement of the signal provided by a modern internal TV aerial. Typically able to boost the signal by 36dB, this type of aerial when well positioned provided stable, uninterrupted Freeview reception on all channels.
Comments
Monday, 23 April 2012

Charlie: The licence fee funds the BBC. It doesn't fund any of the other services you can receive, or any of the ones you can't.

The BBC outsource licence fee collection to Capita. The service costs £124m, 3.4% of the money collected, a reduction from 3.5% the year before. Capita proposed moving jobs from Bristol to Darwen in Lancashire, I've no idea if it happened: 200 TV licensing jobs could move to Darwen (From Lancashire Telegraph) . £2m is not an unreasonable amount for relocating 200 jobs and making 150 redundant.

The TV licence fee is frozen for the next five years, while the government have offloaded a number of additional services which they used to pay for, like the Welsh language channel S4C, the propaganda BBC World Service, and the spying organization BBC Monitoring.

What you do get is four full-time TV channels (BBC One, BBC Two, BBC News and BBC Parliament), four half-time channels (BBC Three, BBC Four, CBeebies, CBBC), ten national radio stations and 51 local radio stations, plus a high-quality website.

Council Tax is set by your local council, plus the local police and fire authorities, but the percentage difference between the bands is standard across the country. It is widely considered to be a regressive tax, the reduction from Band D to Band A is far less than the difference in the value of the property: a Band A property pays 67% of the rate for Band D, but Band A properties were worth less than 59% of the lowest edge of a Band D property, 51.2% of a mid-band property. Meanwhile, on the other end of the scale, a Band H property would be worth at least 3.6x a Band D property (upper edge of Band D: more than 4.7x the lower-edge value) and yet only pays twice the rate.

There's certainly an argument for making the licence fee more progressive, based on the ability to pay rather than a flat rate, but the first argument to overcome is keeping the BBC in its current form at all.

Mike Dimmick's 2,486 posts

Charlie: The licence fee doesn't guarantee reception of any channels, let alone availability of BBC services over the air.

There are two main types of broadcaster in the UK: Public Service and Commercial.

The Public Service broadcasters are the BBC, regional Channel 3 licencees (ITV, STV and UTV), Channel 4 and Channel 5.

The Public Service broadcasters operate to provide a service. Per viewer, operation of the small "filler in" relay transmitters such as Wooburn and Marlow Bottom are greater than the main transmitters that cover large areas. We know this because that is why the Commercial broadcasters don't entertain them.

Unlike the Public Service operators, the Commercial ones' primary interest is to turn a profit. The Commercial broadcasters therefore operate using the free market model. Just like any business, they are free to decide where they wish to broadcast from. The same is true of any shop that is open for business; it will do so where it is likely to be the most profitable.


You have said that you think that you should pay less because you get less channels. In response I make some points and ask some questions:

1. The Licence Fee goes to the BBC and you have the BBC available to you as it is a Public Service broadcaster.

2. Why should the BBC receive less from you due to the decision by the Commercial broadcasters not to follow the "Public Service" lead?

3. Why should those who can receive the Commercial channels pay more to the BBC?


As you prefer the model of paying for what you get, you should in fact pay more. This is the free market model.

The cost per viewer of running your transmitter is higher, therefore you should pay more than those that receive from high power transmitters.

Democracy could then be introduced in that the local population could have a vote on whether they wish to have the Commercial operators broadcast from their transmitter. This, of course, would mean viewers in the area paying more for their licence so as to subsidise the financially unviable transmitter for Commercial operators (if the vote was in favour).


I think that the benefits of the "Public Service" mantra are clear to see. I would not attack it simply because the Commercial networks do not mirror them from a coverage point of view.

I sympathise and am concerned about the way in which things are going. There are similar issues in terms of coverage with telecommunications and postal services.

Dave Lindsay's 5,724 posts
Monday, 30 April 2012
P
Phil H
2:55 PM
Newcastle Emlyn

This may sound stupid but I am trying to find where I can buy a Conditional Access Module CAM, so I can view pay to view sports channels. I seem to be going round in circles.

Phil H's 1 post
Phil's:
map
P's Freeview map
terrain
P's terrain plot
waves
P's frequency data
P's Freeview Detailed Coverage

Phil H: If you mean via Freeview, through an aerial, see CI+ Landing

You will need a CI+ rather than CI compatible CAM slot. From the channels' perspective, traditional CI was a problem because the decrypted data stream was completely open and could therefore be recorded or streamed over the Internet. CI+ protects the decrypted data stream to prevent this.

Top-Up TV briefly sold CI-compatible CAMs for use with ESPN, but Sky would not permit their channels to be accessed via a CAM.

On satellite, Sky will not permit anyone else to use their decryption scheme. You have to have a Sky box and a Sky subscription.

On cable you have to use the cable provider's supplied box.

Mike Dimmick's 2,486 posts
Thursday, 7 June 2012

I've been trying for a year to get the freeview in my son's room and in my daughter's room to work. In my daughters room, it used to play cbeebies occassionally, but that stopped a few months ago. My son has built in freeview and it has never worked. He has a amplified indoor aerial, but nothing. What sort of indoor aerial will work?? I'm in Derby DE22 3SR. The tv in my room works fine, but i have an aerial point in there. Downstairs no aerial point but I'm on sky anyways. (52.9220,-1.4998)

SJ's 5 posts
Friday, 8 June 2012

SJ: Indoor aerials are hit and miss. Any aerial relies on being sited in a spot where it can get a signal and indoors (which is usually below the roof line where there are walls and other obstructions in the direction of the transmitter) is where the signal is less likely to be good.

The aerials in Jay Court point at Waltham, as do those on the main road.

I think that your chances of success with a set-top aerial aren't great because:

- There are three three storey (plus roof) buildings in the direction of Waltham, so they will be reducing the signal.

- The terrace that is parallel to Slack Lane is in the direction of the transmitter. Thus, the closer you live to the end where number 10 is, the more building you have in the way. Even a loft aerial is probably out of the question for the same reason. Conversely, the closer you are to the three storey buildings, the more you are in their shadow.

- If you live in the terrace that is at right-angles to Slack Lane, then you may have a greater chance for rooms that face the direction of the transmitter. Depending on the type of roof (whether it inhibits signal) you may be able to receive using a loft aerial.


All that said, I suggest that you look at extending the fixed aerial that serves your bedroom.

I would get proper stuff and not rely on the DIY kits. See A.T.V (Aerials And Television) TV Aerial, DAB Aerial, FM Aerial.

An unpowered splitter "may" work. Have a Plan B incase splitting the signal leaves you without sufficient. A solution in such circumstances may be a powered amplifier or perhaps feeding one outlet from another aerial and using the current one for only two outlets.

If you could receive Freeview using the fixed aerial before switchover last August, then you may be able to use a four-way non-powered splitter as the signal levels are now much higher.

With digital reception, signal strength isn't so much an issue; the objective isn't to get the signal strength bar as near 100% as possible. So long as the quality is 100%, then it the picture is as good as it will ever be. Different devices use different scales, so one's 50% strength is different to another's.

Dave Lindsay's 5,724 posts
Saturday, 9 June 2012
A
argyle_mikey
8:57 AM
Heathfield

Hello Brian - excellent site !

We live just half a mile west of Heathfield transmitter at TN21 0SS. I think that water has got into our rooftop aerial cable, which caused terrible break-up (bitrate error off the scale) during the footie last night, on BBC1 especially but also ITV1.

In desperation, I experimented with a simple stick aerial next to the freeview box and - hey presto - signal strength of 60-70% and just occasional minor break-ups. I reckon it would be even better next to a window, which is my project today.

I guess that we're just lucky living so close to a major transmitter. Would you think things will still be as good after DSO2 next week ? Should I be able to receive HD this way ?

Thanks

Mike

argyle_mikey's 4 posts
argyle_mikey's:
map
A's Freeview map
terrain
A's terrain plot
waves
A's frequency data
A's Freeview Detailed Coverage

argyle_mikey: Keep in mind though, that the BBC is presently on full power and with the other muxes joining it on high power on the 13th with the exception of SDN (ITV3 etc), as it will not be doing so until the 27th when it also changes its operating channel from Ch48 down to Ch42.

You should be able to receive HD OK with your stick aerial, although if you try any other superior type and the HD starts to break up then the signal is liable to be too strong, as it always affects HD first even although SD can appear as being OK, albeit that it will be running on the verges of being overloaded, so any rooftop aerial has to be fitted with an attenuator, preferably of the variable type.

jb38's 7,179 posts
Sunday, 10 June 2012
A
argyle_mikey
9:12 AM
Heathfield

Thanks JB. The cable from the rooftop is shot, but I appear to be in the fortunate position of not needing it anyway.

I eventually sat the stick aerial horizontally bewteen my amp and freeview HD box (!!!) which gives "signal strength" of 75-90%. Based on what I've read, I certainly don't want it any higher than that do I ?

Unfortunately my box does not have a "signal quality" meter. Break ups were minimal yesterday.

I shall report back later in the week !

Mike

argyle_mikey's 4 posts
argyle_mikey's:
map
A's Freeview map
terrain
A's terrain plot
waves
A's frequency data
A's Freeview Detailed Coverage

argyle_mikey: Yes, give an update when the event happens, although the thing to remember is that any rooftop aerial being used in circumstances such as yours demands that the aerial used be the smallest, simplest type possible, in other words just like a set top aerial having been placed on a roof, as if not your TV or boxes tuner will show signs of being overloaded, it always affecting HD first, the misleading aspect of this being that the symptoms experienced by the viewer are "exactly" the same as if the signal was weak, even to the extent of it indicating so on the signal check screen.

As I had previously mentioned its only BBC1 that's presently on full power, and that can sometimes cause problems by desensitizing the tuner to lower powered signals from the other muxes, but this will rectify itself when they are all move onto the same power level.



jb38's 7,179 posts
Select more comments
Your comment please