Indoor aerials

Brian Butterworth published on UK Free TV
We have tested a number of indoor aerials, to investigate how well they work for Freeview reception.
Simple stick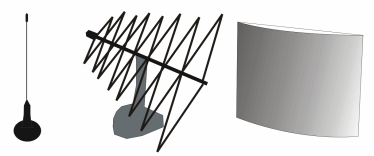 The first is a small 20cm high simple stick aerial, costing a few pounds. This was found to give adequate reception of (16QAM-
mode
) Freeview
channels
in strong
signal
areas, especially outside.
However, unless it can be placed in direct sight of the
transmitter
an only unsatisfactory signal can be received.
Indoor Yagi
The second form of aerial is of the Yagi design of around 30cm length, costing around 10.
This aerial was slightly better than the simple stick design, largely because it can be directed to point at the transmitter and be positioned horizontally or vertically as required.
However, in poor signal areas the
64QAM
channels were not received, and the aerial required good placement to get an uninterrupted Freeview signal.
Indoor Panel aerial
This was found to have around the same reception
quality
as the Indoor Yagi type, and cost around the same.
Indoor digital aerial with booster
Costing 25-30, the improvement of the signal provided by a modern internal TV aerial. Typically able to boost the signal by 36dB, this type of aerial when well positioned provided stable, uninterrupted Freeview reception on all channels.
Comments
Saturday, 1 January 2011

hi there

We have just bought two lcd tvs for our two children, one to go in each bedroom.

We have an ariel on the roof already and my husband wants to put an ariel in the attic and run the cable from there into the ceiling of the childrens bedroom, to save running a cable up the walls from down stairs to each bedroom, which he does not want to do as this will look messy having cables running everywhere.

The question we would like to ask you is, what type of ariel can you advice would be best to buy for the attic.

Also the way my husband sees in doing the job,would you reccomend doing it the same way or there another way ?


I look forward to your reply.

Happy New Year

Cheryl

Cheryl's 2 posts

Cheryl- The aerials listed at the top of the page are designed to be placed on or near the TV equipment.

As stated on this site, aerials ideally need to be placed on the roof, as high as possible to receive digital signals in pre-switch areas. However, a loft aerial should be OK if you live in a good signal area. You would need to input your postcode at the top of the page, in order to find out which type of aerial you need, group A, etc.

Hope this helps.


LutonFan's 382 posts

LutonFan: Thank you for getting back to us.

When I entered our postcode which is SO50 9GD it looks as though we could be a good area.

So going back to the way I mentioned earlier, would you say that by putting an arial in the attic, drilling a hole in each bedroom ceiling would be the right way to go about it, or would you reccommend a different way.


Cheryl's 2 posts
Cheryl's:
map
C's Freeview map
terrain
C's terrain plot
waves
C's frequency data
C's Freeview Detailed Coverage

Cheryl- I personally would go for the loft aerial. Check that your aerial is pointing south, towards Rowridge. If it does, obtain a group A aerial and fit. Before drilling any holes in the ceiling, connect the aerial to the set and tune to see if it is ok first.

My only concern is according to the DigitalUK site, you have an alternative transmitter, being Hannington. This would suggest you may receive problems with the signal, until your area switches. The roof tiles may attenuate the signal.

Therefore, the best advice I can offer is to contact a local aerial contractor for further information.

It really is your call.



LutonFan's 382 posts
LutonFan's:
map
L's Freeview map
terrain
L's terrain plot
waves
L's frequency data
L's Freeview Detailed Coverage
Sunday, 2 January 2011

Hi
Happy new year - I have moved 2 a one bed flat & tryin to get freeview in bedroom - I have my freeview box in lounge which I have now connected to the satellite point but I don't know what I need 2 do to get a signal to the bedroom - I think it's something 2 do with the return point in lounge but how do I do this? Any suggestions? Would be grateful 4 any advice...thanks
Danielle

Danielle's 1 post
Sunday, 9 January 2011

I live around 30 miles from Sutton Coldfield but in almost direct view. No problem with our main set run via a roof top aerial. A portable in the kitchen has a below par analogue signal using the suplied aerial (double telescopic). The digital tuner will not tune here but ave tuned it via the main aerial and can get a signal in the kitchen if I hold the aerial.
There is an RSJ close by. Will this effect performance? Will a modern indoor aerial help?

Jakco's 1 post

Jacko: Indoor aerials are very hit and miss and telescopic rods require very careful adjustment to the length to optimise performance. The RSJ could introduce reflections as can people walking about in the house. The signal would normally pass above and below the RSJ. If the signal is strong enough a modern indoor aerial might give acceptable results as long as the area is reasonably free of interference.If your tv is only used in one location it might be preferable to run a length of double screened coax from a splitter in the downlead of the rooftop aerial to the kitchen.

KMJ,Derby's 1,811 posts
Thursday, 13 January 2011

I am not very technical minded at all and really struggling. I bought a sony bravia 132v4000.

There is an aerial hole in my room that I simply thought plugging into would get the channels. The tv says there is no aerial connected. I even tried a new digital indoor aerial. Am getting frustrated that I cannot get any channels at all

what cables do I need and how do I simply connect up to the flats aerial or the digital one I bought, i tried swapping things around and tuning but cant do it anywhich way I try.

Stephanie's 1 post

Stephanie: I would suggest that you contact your management company. If you have a communal aerial system, they should be able to assist you with making it work.

Briantist's 38,899 posts
Friday, 14 January 2011

I get good freeview reception using old indoor aerial and booster EXCEPT IN WET WEATHER. How can wet weather problem be overcome?

Mel's 1 post
Select more comments
Your comment please