Freeview reception has changed?

Brian Butterworth published on UK Free TV
From time to time people find that their Freeview box, integrated set (idTV) or Personal Video Recorder (PVR) has lost many channels without any apparent changes.
There are a number of factors to consider
Freeview is broadcast on
digital
multiplexes. This means that, once broken down into a stream of bits, each television channel is combined into a single transmission of 1s and 0s. This means that
reception
is of the
multiplex
first if this is lost it affects all the channels in the multiplex in the same way.
The
signal
strength received by the box or TV for a particular multiplex from a given
transmitter
determines if the data can be received or not. So, a poor signal results in no data, an adequate signal in perfect data and a low signal in either none or all.
Poor digital signal levels do not result, as they do with old-fashioned
analogue
television, in a sub-
standard
picture or sound. Poor signals often result in a perfect data-stream, but are prone to periods of no reception. Sometimes this will be for hours, but can also be several times a minute when caused by induction from fridges, freezers, central heating systems, two-stroke scooters, baby monitors and so on.
If you have lost ALL your Freeview channels
First disconnect the
aerial
lead from the Freeview box or TV set and reconnect it and then follow
this reset procedure
to
scan
for channels again. If this does not result in
services
being restored, check the
Freeview transmitters page
to see if there are any
engineering
problems with your local transmitter.
How to check all cables, connectors and aerials
The RF connectors need to be in very good condition to work. There are two general types:
Factory-fitted connectors are very reliable as they cannot easily be taken apart, but they can be damaged by wear and tear. On the female-type the central section is often composed of two parts which can often be forced apart, resulting in a poor connection you can push them back together if this has happened with a pair of tweezers. On male connectors if the central pin is damaged, you will need a new
cable
. If there are any loose partials in the connector, remove them.
Another problem with these cables is that quite easy to sprain the connector at the back which causes little obvious external damage, but disconnects the internal connection. This happens often when a set-top box is pushed backwards into a cabinet.
Hand made cables can also suffer from similar problems to factory made ones and they are also prone to accidental damage from a cable being pulled. If such a connector is not firmly attached to the cable, the connector may need refitting.
Cables
Make a visual check of the cables. There are a few basic checks:
If the cable has been slashed or cut, it will not be very effective or reliable. If such a cable is fitted externally, this can allow rainwater to enter the cable and this will reduce the signal levels.
You can easily damage an RF cable by crushing it, for example in a door. If the outside of the cable has a permanent kink in the cable or has been very tightly looped, this could be the site of damage.
Aerial
For reliable and effective Freeview reception, a
rooftop aerial
is required. It is hard to make a visual check of such an aerial without putting yourself in potential danger.
You can make a visual check of the route between the aerial and the transmitter. Any form of obstruction will damage the digital signals. In particular trees coming into leaf, as these will leech the signal before it reaches your aerial. This applies to both trees adjacent to the aerial and at a distance.
Another common problem in cities is building work. A large crane will often change position many times during the day, and if this is between your aerial and the transmitter this can reduce the signal levels in an unpredictable way.
If your system uses a
booster
, the
power
may have failed. Check the fuse to the power to the
booster
.
Weather problems
There are two main weather problems that effect Freeview reception.
The
Inversion Effect
: please see
What is the Inversion Effect and why does it effect my Freeview TV reception?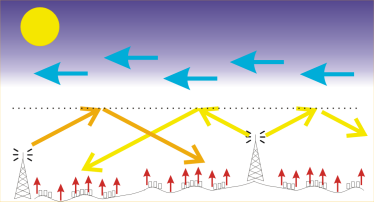 Wind: high winds sometime can dislodge the aerial this results in a poor signal.
Rain: poor or old cables can fill with water and this results in a poor signal. If this happens, the cables will require replacement.
Comments
Tuesday, 27 March 2018

I haven't had any TV channels since Saturday night (24th), now only have 2, channel 8 (London L|ive) and 81 (Talking Pictures TV), I keep retuning the TV and nothing happens, I do have a few other channels but are breaking up all the time and impossible to watch. All the TV channels came on suddenly yesterday afternoon, but went off after about 15 minutes so I'm back to watching 8 & 81. I found a website with 2,400 complains on it from people all over the South East (I'm in NW London), so it much be a general on going process if some transmitters and being worked on and change. One person said they haven't had any TV since last Monday (19th) who's in Hastings. .I have been on this website before with previously problems a year or so ago, I think you just have to sit it out and wait for the work to be finished. My postcode is HA2 0RS. One person said he even had a top of the range new all singing and dancing TV and ihe can't get anything on it!

Angela T's 15 posts
Angela's:
map
A's Freeview map
terrain
A's terrain plot
waves
A's frequency data
A's Freeview Detailed Coverage

Sorry about the mistakes in my previous post, I typed it very quickly, went back to read it through before posting but it had disappeared so my pointy thing on the screen must have touched "post comment" and it went through. It seems to have a mind of it's own and moves around the screen without me even touching it..

Angela T.'s 15 posts

Hi,
We are in Tunbridge Wells, Kent. We have a Samsung smart tv in the front room which doesn't pick up any HD channels and seems to be having trouble with the bbc channels (psb1 I believe) Sometimes the channels are watchable then they start to deteriorate and then go totally. Oddly the small 19" tv in the kitchen and the bedroom work fine.
Next odd thing is the bbc channel was fine when viewed through our Humax pvr. As soon as I turned it back to tv, the signal was lost.
Can the Humax act as a booster or something??
Thanks for your time

Rob Rose's 1 post

Just an update to my two previous posts of today, my channels, I only have Freeview, have all come back now after doing yet another scan. How long they will last is anyone's guess, but I really hope they don't disappear again after about 20 minutes as they did yesterday afternoon.

Angela T.'s 15 posts

Rob Rose: Check the signal strengths of the TV's and the PVR. It might be that the other TV's have:
a) tuned to the right transmitter, hence no problems, whereas the Samsung has not.

b) If they all have low signal strength (but are on the right transmitters), or only one does, then its a safe bet that there is a problem at some point in your system. If they are all low, then its a common problem and look for the the point where the signal is common to all feeds - the reason why the other feeds might look OK is simply that the tuner might be slightly more sensitive and therefore is just hanging on.

If its just one, then its that feed. The Humax might have a more sensitive tuner than the TV, hence the reception is fine (and yes, PVR's can 'boost' the signal on pass-through sometimes'. Check the cables/connection on that TV - could be no more than a loose connection on the pass through.

MikeB's 2,579 posts
Monday, 2 April 2018

I receive Freeview from the Midhurst transmitter. I have a new Panasonic HDD recorder and have found that I am unable to record HD channels although I can watch them live through the recorder tuner. I contacted Panasonic who said they are aware of the problem and it is not a fault on my recorder but an issue arising from the changes to the Freeview channels recently carried out. I am able to record SD channels and also BBC Four HD which the recorder picks up from the Isle of Wight albeit weakly. Panasonic said that they are working on the problem but I cannot see why I can receive the channels but am unable to record them. Has anyone any idea of the cause?

John Quinton's 2 posts
Friday, 4 May 2018

Why is it that itv3 can be received on my sony tv but not recently on my Humax fvp4000t box.
Also why is Gold radio not available on freeview in the south west on the Tv but is available on my DAB radio in the car.
And finally when is the Redruth transmitter being upgraded to get all HD channels.

Thanks

Alan Francis's 3 posts
Alan's:
map
A's Freeview map
terrain
A's terrain plot
waves
A's frequency data
A's Freeview Detailed Coverage

Alan Francis: ITV3 changed multiplex a few weeks ago, if you retune your Humax box it should be restored to your channel list. Gold is not broadcast on Freeview, this is a commercial decision by the broadcaster and has nothing to do with availability on DAB radio which is completely separate to Freeview. The extra HD channels you refer to are on the COM7 & COM8 multiplexes which are broadcast from 30 main transmitters covering around 70% of UK households. COM7 & COM8 are temporary services which are expected to close some time between 2020 and 2022 and will not have their coverage expanded to any further transmitters.

StevensOnln1's 3,569 posts
Friday, 18 May 2018

Hi there. I live in Brighton, East Sussex, and receive my Freeview from the Isle of Wight transmitter,and also from the Brighton transmitter (Whitehawk) as a back up.
I was hoping to watch PBS America from the I. O W, when I retuned my Humax box, but
nothing seems to be available (on channel 94)
Can you help please?

Mr T Brown's 1 post

Mr T Brown: You most likely have a Group A aerial which is not designed to receive the higher frequencies now used for COM7 & COM8 at the Rowridge transmitter. If you don't have satellite or cable you may be eligible to have a replacement wideband aerial fitted free of charge, which can be arranged by contacting the Freeview Advice Line (see link below).

Important changes to Freeview TV signals | Freeview

StevensOnln1's 3,569 posts
Select more comments
Your comment please