The new Freeview prediction system - includes Freeview HD

Brian Butterworth published on UK Free TV
The new Freeview prediction system - beta - is here. Finally!

If you visit Freeview reception - UK Free prediction you now get a much more detailed page to help you with any reception issues.

As before you can see this page with a postcode, the system will shortly also allow the input of national grid references, or latitude/longitude references.

Firstly, you can get a prediction for any number of dates by selecting the appropriate tab at the top.


Five different views
There are five different views
By direction: this will show the various directions your aerial might point and the services you can receive from the transmitters in that direction.
Received signal strength: this shows the information ordered by signal strength, to help you find the strongest signals.
By frequency: this lists broadcast frequencies from C21 to C68, showing the services on each. This view can be used to find potential interference or to help with digital region overlap areas.
Service names: this lists the services that you can receive, each ordered by the strongest signal.
Transmitter names: and finally an alphabetical list of the transmitters with the services listed by broadcast frequency.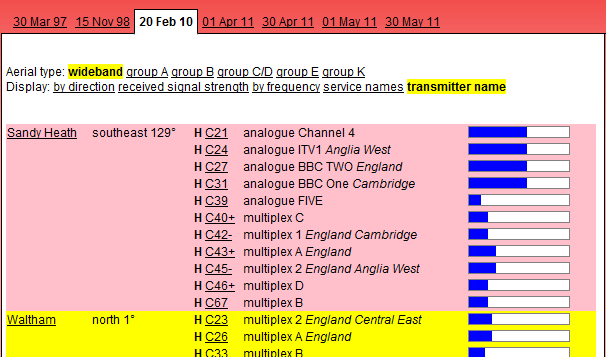 Aerial group choice
When you first visit the page you will see the services received by a "
wideband
" aerial, now you can also select the other aerial groups to see how that will effect reception.
Issues
For the moment it is not possible to resolve postcodes in Northern
Ireland
(BT) or the Isle of Man.
Apologies
for that.
Try it now
Try the new UK Free TV Freeview reception - prediction system now
.
Comments
Friday, 23 September 2011

Hi I have a Wharfedale tv and recently it is coming up with 'NO SIGNAL' can anyone help please

ola's 1 post
ola's:
map
O's Freeview map
terrain
O's terrain plot
waves
O's frequency data
O's Freeview Detailed Coverage
Sunday, 25 September 2011
S
Smokes
2:26 PM
Scarborough

I have a tv with built in Freeview, and a tv with a Freeview box. Both are not recieving a good signal, despite only being half a mile away from the Oliver's Mount transmitter. The reception is intermittent and pixellating & loss of sound. I want Analogue back!

Smokes's 2 posts
Smokes's:
map
S's Freeview map
terrain
S's terrain plot
waves
S's frequency data
S's Freeview Detailed Coverage

Smokes: Its possible to get your type of problem if the signal is too strong as well as being too weak, as an over powerful signal will overload the tuners input.

You haven't mentioned what type of aerial you are using, but if you have any form of amplification on it you must remove it.

If though you don't have a booster fitted, then you will likely require to use an attenuator in line with your TV / boxes aerial socket.

For a test, if you have any type of set top aerial around try that!

jb38's 7,179 posts
K
kenneth wilson
3:58 PM
Birmingham

dear sir i have a sony bravia telivision i retuned my telivision as advised on the 7th of september reception was good with no problems i retuned telivision again as advised after 25th september i now have inferior reception picture goes blank and also picture breaks up when viewing i have tried retuning without aerial plugged in to remove previous tuned epg so no channels are stored so as to start from afresh and also reset telivision to factory settings to remove previous tuning so the only thing that has changed is that you have changed transmision signal so can you please explain why i now have problems with my viewing that i did not have previously nothing has changed from my receiving end i live in great barr birmingham my post code is b42 2jr and can you also explain why after retuning my telivision on the 7th i had no problems and now i do what was the difference between the 2 dates because i did exactly the same things on both dates so there has to be some difference the only change is at your end the recption i receive is from the suttoncoldfeild transmitter

kenneth wilson's 4 posts
kenneth's:
map
K's Freeview map
terrain
K's terrain plot
waves
K's frequency data
K's Freeview Detailed Coverage
Monday, 26 September 2011
L
lyn spencer
11:56 PM
Cirencester

I retuned my tv on the 14th september, but still cannot get ITV or channel 4 and 5 am I ever going to get them..??

lyn spencer's 1 post
lyn's:
map
L's Freeview map
terrain
L's terrain plot
waves
L's frequency data
L's Freeview Detailed Coverage
Tuesday, 27 September 2011

Could you explain why some channel frequencies have + or - next to them? For example C40+,C42-.

Nicholas's 15 posts
Nicholas's:
map
N's Freeview map
terrain
N's terrain plot
waves
N's frequency data
N's Freeview Detailed Coverage

kenneth wilson: As you are only five miles away from Sutton Coldfield its very likely that your signal is too strong and is overloading the tuner in your TV.

If you have any booster fitted it must be removed, should you not though, then you will have to purchase a simple attenuator to place in line with your TV's aerial socket, as that should instantly cure the problem.

If you have a set top aerial around, just for a test you should try that.

jb38's 7,179 posts

lyn spencer: Your post code indicates Cirencester as being poor for reception, Mendip and Oxford being far superior.

As switchover stage two is taking place at Oxford tomorrow as well as a re-tune event at Mendip, I would wait until later on in the day before altering anything, then carry out a factory reset / retune.

The problem you might experience is that Oxford and Mendips channels are interwoven between the two stations, so you may have to use manual tuning to get what's required, info on procedure will be given if this be required.

jb38's 7,179 posts

Nicholas: The + or - indicate that the centre frequency of the transmission is +167 kHz or -167 kHz from where it would normally be. There's enough margin either side that it stays within the 8 MHz bandwidth.

As to why they do it - before switchover, it was to keep the transmission further away from an analogue signal that could interfere.

After switchover, offsets are used to keep those transmissions further away from neighbouring frequency bands. C21 usually gets a + to keep it away from anything below (e.g. emergency services TETRA radio).

Originally, C62 was going to be the top channel, but C61 and C62 are now going to be released so C60 becomes the top channel and gets a - offset. C31-C40 were going to be released too, so C30 gets a - and C41 a +. However, C39 and C40 are now retained (in place of C61 and C62), so C39, the new band edge, gets a + where it's used.

If one channel has to have the offset at a transmitter, an adjacent channel might also have one, to keep the inter-channel spacings. In extreme cases, all channels get an offset. For example, at Caldbeck, where 9 channels are required for all multiplexes as it carries Scottish and English versions, the lowest channel is C21 and gets a +, which causes C22 to need a + offset, which causes C23 to need one, and so on.

Low-power relays are generally allowed to have more emissions out-of-channel anyway, so typically don't have offsets.

Mike Dimmick's 2,486 posts
Select more comments
Your comment please