The new Freeview prediction system - includes Freeview HD

Brian Butterworth published on UK Free TV
The new Freeview prediction system - beta - is here. Finally!

If you visit Freeview reception - UK Free prediction you now get a much more detailed page to help you with any reception issues.

As before you can see this page with a postcode, the system will shortly also allow the input of national grid references, or latitude/longitude references.

Firstly, you can get a prediction for any number of dates by selecting the appropriate tab at the top.


Five different views
There are five different views
By direction: this will show the various directions your aerial might point and the services you can receive from the transmitters in that direction.
Received signal strength: this shows the information ordered by signal strength, to help you find the strongest signals.
By frequency: this lists broadcast frequencies from C21 to C68, showing the services on each. This view can be used to find potential interference or to help with digital region overlap areas.
Service names: this lists the services that you can receive, each ordered by the strongest signal.
Transmitter names: and finally an alphabetical list of the transmitters with the services listed by broadcast frequency.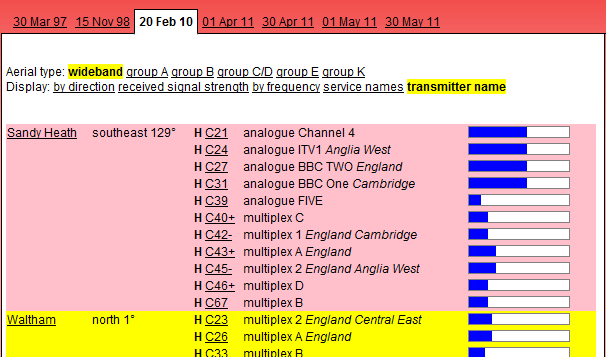 Aerial group choice
When you first visit the page you will see the services received by a "
wideband
" aerial, now you can also select the other aerial groups to see how that will effect reception.
Issues
For the moment it is not possible to resolve postcodes in Northern
Ireland
(BT) or the Isle of Man.
Apologies
for that.
Try it now
Try the new UK Free TV Freeview reception - prediction system now
.
Comments
Friday, 30 September 2011

Hi all,

I'm trying to sort out my freeview and I'm certain I used this site before to find a map that showed you the direction line on a map to the best transmitter to get freeview. But for some reason I can't seem to find it. I'm not that good on a compass lol. Post code LS12 5BU I'm trying to get Emley Moor. Cheers

Andy's 3 posts
Andy's:
map
A's Freeview map
terrain
A's terrain plot
waves
A's frequency data
A's Freeview Detailed Coverage

Andy: Emley Moor is 12 miles away from you on a bearing of 189 degrees, so if you see any Sky dishes around then your aerial should be roughly facing the same direction as them but a little to the right.

(Obviously simulating your own back being against the wall!)

jb38's 7,179 posts
Sunday, 2 October 2011

Brian,

Brilliant work as ever. I enjoy the updates.

Your beta does not display the Hastings transmitter that I currently use when I search on my post code BN21 2JU ? Is there a reason for this.

Roy

Roy's 6 posts
Roy's:
map
R's Freeview map
terrain
R's terrain plot
waves
R's frequency data
R's Freeview Detailed Coverage
Wednesday, 5 October 2011
M
Michael Lyons
4:06 AM
Wirral

The reception predictor does not seem to work for CH62 5EL.


Michael Lyons's 1 post
Michael's:
map
M's Freeview map
terrain
M's terrain plot
waves
M's frequency data
M's Freeview Detailed Coverage
Tuesday, 11 October 2011

Witney signal strength is poor even with a booster??
Especially on channel 4 or itv, never had this problem with analog. Can the signal be boosted.

Craig's 1 post
Craig's:
map
C's Freeview map
terrain
C's terrain plot
waves
C's frequency data
C's Freeview Detailed Coverage

Craig: You should carry out a signal check noting the Mux channel number shown, this to ensure that your TV or box hasn't picked up the lower multiplex channels used by Hannington whereby pushing Oxfords channels up into the 800 ranges, as the reception of Hannington is shown as being possible on your code, albeit in an inferior fashion to Oxford.

Oxford using (BBC)Mux Ch53 / (ITV1 etc)Mux Ch60, whereas Hannington is (BBC)Mux Ch50 / (ITV1 etc)Mux Ch43.

If it has, then blank out anything stored by scanning without the aerial, then after re-connecting manually enter the channels given, finally using the "add channels" (or whatever your device calls it) to obtain the remaining multiplexes.

jb38's 7,179 posts

Craig: Boosters are typically no use whatsoever. They are only of any use if the receiver is particularly noisy, and most Freeview boxes will actually be less noisy than an added booster.

The prediction at your address is 100% across the board, suggesting that the problem is actually too *much* signal. See Freeview signals: too much of a good thing is bad for you | ukfree.tv - independent free digital TV advice .

Mike Dimmick's 2,486 posts
Thursday, 13 October 2011

Roy: The Hastings transmitter is not within reception range at the postcode location. Freeview on Hastings TV transmitter | ukfree.tv - independent free digital TV advice shows the transmitter.

Briantist's 38,907 posts

Michael Lyons: I will look into that.

Briantist's 38,907 posts
Tuesday, 18 October 2011
B
Brian Springthorpe
6:29 PM
Carnforth

We were in Kirkby Lonsdale for a few days last week on a walking holiday.

We needed to crash out in front of the telly of the evening, (knackered!), but found we had only a very limited channel list.

No Dave, no Film4, in fact there were loads of Freeview channels that we take for granted back in North Wales that we could pick up, for some reason or another, despite retuning and checking if someone had messed around with the parental controls, (which were switched off as it happens).

So, is that the story in KL - if you want a full listing, you have to go satellite?

We are going back in April, will it have improved by then?

Brian Springthorpe's 76 posts
Brian's:
map
B's Freeview map
terrain
B's terrain plot
waves
B's frequency data
B's Freeview Detailed Coverage
Select more comments
Your comment please