The new Freeview prediction system - includes Freeview HD

Brian Butterworth published on UK Free TV
The new Freeview prediction system - beta - is here. Finally!

If you visit Freeview reception - UK Free prediction you now get a much more detailed page to help you with any reception issues.

As before you can see this page with a postcode, the system will shortly also allow the input of national grid references, or latitude/longitude references.

Firstly, you can get a prediction for any number of dates by selecting the appropriate tab at the top.


Five different views
There are five different views
By direction: this will show the various directions your aerial might point and the services you can receive from the transmitters in that direction.
Received signal strength: this shows the information ordered by signal strength, to help you find the strongest signals.
By frequency: this lists broadcast frequencies from C21 to C68, showing the services on each. This view can be used to find potential interference or to help with digital region overlap areas.
Service names: this lists the services that you can receive, each ordered by the strongest signal.
Transmitter names: and finally an alphabetical list of the transmitters with the services listed by broadcast frequency.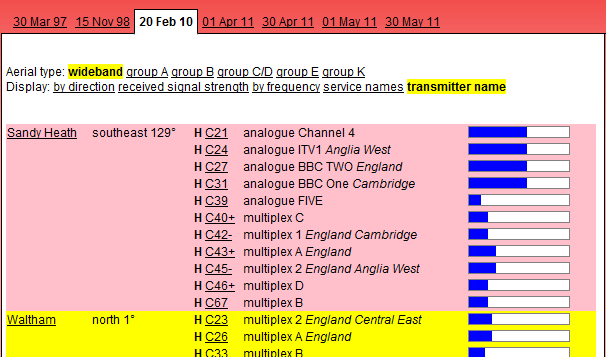 Aerial group choice
When you first visit the page you will see the services received by a "
wideband
" aerial, now you can also select the other aerial groups to see how that will effect reception.
Issues
For the moment it is not possible to resolve postcodes in Northern
Ireland
(BT) or the Isle of Man.
Apologies
for that.
Try it now
Try the new UK Free TV Freeview reception - prediction system now
.
Comments
Tuesday, 17 January 2012
T
Trevor Lord
11:34 AM
Jedburgh

I live just south of Jedburgh. For the last 3 nights I've had poor reception on freeview channels, last night (16/1/12) being particularly bad when I turned on at 10pm. My daytime reception (I've just checked now) is perfect. 2 nights ago I strted watching a film only for it to become unwatchable later.

Why? And why am I paying my TV licence? I don't watch daytime TV.

Trevor Lord's 1 post
Trevor's:
map
T's Freeview map
terrain
T's terrain plot
waves
T's frequency data
T's Freeview Detailed Coverage

Trevor Lord: Digital UK's predictor gives a poor prediction from the only option available to you, the Selkirk mast. This means that for you, variable reception is expected a lot of the time. I would expect that the analogue picture quality before switchover was poor.

You would probably be better off getting satellite or cable. You can get satellite TV without a subscription through Freesat, paying a one-off cost for the box and the dish installation. Or you can get a free service from Sky, which has a slightly larger range of channels, but you can't have PVR functions without taking a subscription - the box will also list all the subscription channels in the programme guide, so it can be hard to find what you want to watch. You also have to pay up-front for 'Freesat-from-Sky'. To compare the available channels, go to Compare Freeview and Freesat TV | ukfree.tv - independent free digital TV advice .

If you take out a Sky subscription, the box is free. However, a year's basic subscription at £20 per month would pay for a very good Freesat box, with a substantial amount left over!

Mike Dimmick's 2,486 posts
Sunday, 22 January 2012
J
john POynter
9:02 PM
Norwich

post code nr24ea signal strength only 86% picture pixalates and goes off signal coming from Tacolneston any ideas please

john POynter's 1 post
john's:
map
J's Freeview map
terrain
J's terrain plot
waves
J's frequency data
J's Freeview Detailed Coverage

John Poynter: In general terms, 86% signal strength is ample and receivers work perfectly fine with much less.

Perhaps your receiver has tuned to Norwich Central for BBC and ITV1/C4/C5 which would explain the breakup in picture.

Confirm that it is tuned to Tacolneston. Go to BBC One and bring up the signal strength screen and it should say 55 for Tacolneston. If it's 46 then you are receiving the signal from Norwich relay.

And for ITV1, it is 59 whereas Norwich is 43. If you have a HD receiver, HD services from Tacolneston are on Ch62 whereas Norwich is Ch52.

Dave Lindsay's 5,724 posts
Thursday, 26 January 2012
B
Bob Powers
4:21 PM
Braintree

I have lost itv4 & film4
Post code CM77 8AW

Bob Powers's 1 post
Bob's:
map
B's Freeview map
terrain
B's terrain plot
waves
B's frequency data
B's Freeview Detailed Coverage
Friday, 27 January 2012

It is now friday 27th January 2012 TV signal gone 00:50am. Just checked on the web because we did not and never do get any warning when they are going to be doing any so called work on it EMLEY MOOR. I thought we were going to be getting a better quality tv reception without any problems (seems we get nothing but problems this is the second time in less than 6 months they've been doing work on it.)ANY CHANCE OF A TV LICENSE REBATE.

Mr Smith's 1 post
Mr's:
map
M's Freeview map
terrain
M's terrain plot
waves
M's frequency data
M's Freeview Detailed Coverage
Saturday, 28 January 2012

Bob Powers: Please see Single frequency interference | ukfree.tv - independent free digital TV advice .

Briantist's 38,905 posts

Mr Smith: The transmitter has undergone engineering works, this is perfectly normal.

Briantist's 38,905 posts
Sunday, 29 January 2012

Please help I have lost bbc channels. I even bought the freeview box but cant get any bbc channels or any group A channels. Is there any problem in Lincolnshire area?

Arti's 1 post
Arti's:
map
A's Freeview map
terrain
A's terrain plot
waves
A's frequency data
A's Freeview Detailed Coverage

Arti: I have just carried out a BBC1 signal check on both transmitters that cover your area, namely Waltham and Belmont, and both are OK with me down in the Stamford area.

jb38's 7,179 posts
Select more comments
Your comment please