The new Freeview prediction system - includes Freeview HD

Brian Butterworth published on UK Free TV
The new Freeview prediction system - beta - is here. Finally!

If you visit Freeview reception - UK Free prediction you now get a much more detailed page to help you with any reception issues.

As before you can see this page with a postcode, the system will shortly also allow the input of national grid references, or latitude/longitude references.

Firstly, you can get a prediction for any number of dates by selecting the appropriate tab at the top.


Five different views
There are five different views
By direction: this will show the various directions your aerial might point and the services you can receive from the transmitters in that direction.
Received signal strength: this shows the information ordered by signal strength, to help you find the strongest signals.
By frequency: this lists broadcast frequencies from C21 to C68, showing the services on each. This view can be used to find potential interference or to help with digital region overlap areas.
Service names: this lists the services that you can receive, each ordered by the strongest signal.
Transmitter names: and finally an alphabetical list of the transmitters with the services listed by broadcast frequency.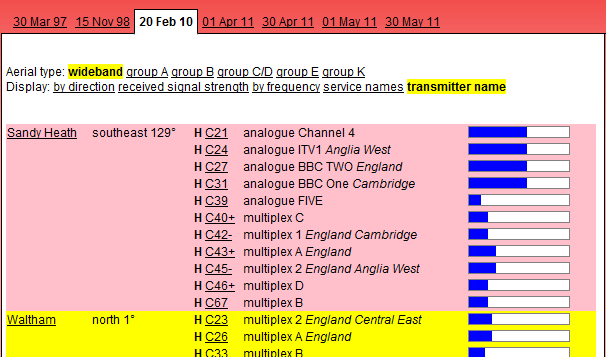 Aerial group choice
When you first visit the page you will see the services received by a "
wideband
" aerial, now you can also select the other aerial groups to see how that will effect reception.
Issues
For the moment it is not possible to resolve postcodes in Northern
Ireland
(BT) or the Isle of Man.
Apologies
for that.
Try it now
Try the new UK Free TV Freeview reception - prediction system now
.
Comments
Wednesday, 19 October 2011

In Ross-on-Wye, we have currently not had any Multiplex 6 (ITV4, Film4, Yesterday etc) for some 24 hours. No previous problems.

Is this a known issue?

Ben's 2 posts
Ben's:
map
B's Freeview map
terrain
B's terrain plot
waves
B's frequency data
B's Freeview Detailed Coverage
Thursday, 20 October 2011
Tuesday, 25 October 2011
R
Rachel
11:13 AM
Greenhithe

Hi, please help! I live in Greenhithe, as of Sunday 23 October I have not been able to receive ITV, Channel 4 and 5, plus a wide variety of the freeview channels! When TV was switched on there was a prompt to retune it, so I did so! That's when problem started! Have tried everything but to no avail!! Also, have no signal what so ever in the bed rooms - even though TVs have freeview and correct aerials? Why is this and what can I do? Thank you.

Rachel's 1 post
Rachel's:
map
R's Freeview map
terrain
R's terrain plot
waves
R's frequency data
R's Freeview Detailed Coverage

Rachel : Please can you see Freeview reception has changed? | ukfree.tv - independent free digital TV advice ?

Briantist's 38,907 posts
Thursday, 27 October 2011
D
Dave Chappell
10:58 AM
Cardigan

Hi, I'm not sure whether I've found a minor hiccup in the freeview prediction page when I put in an Aberporth postcode SA43 2EP. The location is identified but there appear to be no transmitters in South & West Wales. (Yet if I pan West from my home postcode in Gloucestershire I can see the transmitters which serve Wales on the map)

Dave Chappell's 10 posts
Dave's:
map
D's Freeview map
terrain
D's terrain plot
waves
D's frequency data
D's Freeview Detailed Coverage

Dave Chappell: Thanks for that, I will have a look at why you get no results as it clearly should show Blaenplwyf and Arfon.

Briantist's 38,907 posts
Tuesday, 1 November 2011

Brian
I know I have mentioned this before DSO:
The predictor for my postcode WR4 does not mention Bromsgrove. Since DSO power increase this transmitter is now considered the second most receivable after Sutton Coldfield for the north side of Worcester.
Doing a quick straw poll by looking out of my upstairs windows at the aeriaIs on my neibours roofs I see 12 on Sutton (V),5 on Bromsgrove (H)2 on Malvern (V), and 2 on Wrekin (H)

Kind Regards

ps : I have been a great fan of your site for many years and find it a great source of information. I read your updates most days.

Sid's 33 posts
Sid's:
map
S's Freeview map
terrain
S's terrain plot
waves
S's frequency data
S's Freeview Detailed Coverage

Sid: Thanks for that. Yes, there is a problem with Bromsgrove showing up as underpowered.

I am currently working on re-working the whole database to deal with several problems, but it takes many days to do the predictions for the whole of the UK.


Briantist's 38,907 posts
Thursday, 3 November 2011

Redruth Cornwall is our transmitter. Yesterday and today have lost most channels - message is that there is a poor quality/too low level of signal Aerial and cables all seem OK - no change from Tuesday when all channels received! Predictor also says no problems with transmitter. Any ideas

Anne's 1 post
Anne's:
map
A's Freeview map
terrain
A's terrain plot
waves
A's frequency data
A's Freeview Detailed Coverage
Select more comments
Your comment please