Should I buy Freeview HD for Christmas?

Brian Butterworth published on UK Free TV
What are the benefits?
Four high definition channels
Everyone gets:
BBC HD. All the programmes on this channel are in high definition, and comprises of simulcasts of BBC TWO, BBC three and BBC FOUR shows, narrative repeats of these shows (rebroadcast within the first week of showing on a main channel) plus some high definition BBC classics.
BBC One HD. This channel shows high definition versions of most programmes on BBC One, with a commitment to move towards 100% high definition output over the coming years.
ITV1 HD (or STV1 HD or UTV1 HD). As with BBC One HD, this is a high definition version of the most popular commercial channel.
Plus one of:
Channel 4 HD. Again, a simulcast of the main Channel 4 channel in high definition, but again where available, and not in Wales.
Clirlun (S4C HD). In Wales, a high definition version of the Welsh language channel S4C.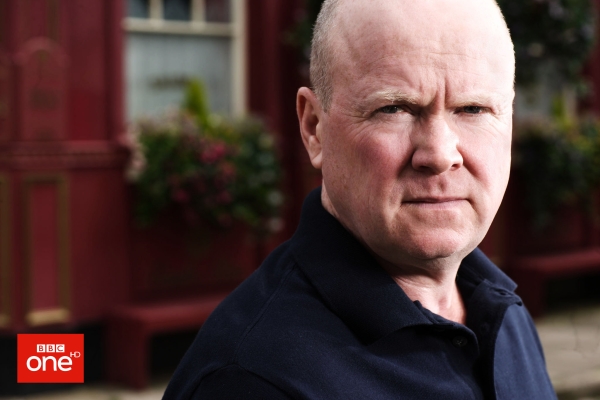 Christmas Day EastEnders will mark the first broadcast of the BBC soap in high definition.
Better pictures for sport
One of the main improvements in high definition is the ability to provide much better motion for sport compared to
standard
digital
television.
Clearer pictures for documentaries and drama
Many of the most popular high definition shows are documentaries and
drama
where the clarity of the
picture
gives a distinct edge to the viewing experience.
Movies
As movies have always been created on 35mm film (rather than videotape), this means that any movie created since the 1920s can be shown in high definition.
All existing Freeview services
In addition, you also get all of the existing
Freeview
channels
.
Better overlap handling
Another benefit of
Freeview HD
boxes is that they deal much better than standard boxes when you live in an area served by more than one
transmitter
. These boxes now prompt you to select your BBC and ITV
region
, older boxes just guess.
Christmas Day installing
Freeview HD is very, very easy to
install
. All you will need is:
A high definition television set. Any set with "HD Ready" or "Full HD Ready" markings will work. A limited number of very old high definition sets may not have these markings, so you may have to check for the presence of an HDMI input socket.
Your EXISTING aerial connection. A rooftop aerial is already required for reliable Freeview reception, so as long as normal Freeview (or Freeview light) is being received, Freeview HD will normally work (see coverage below, however). YOU DO NOT NEED A NEW AERIAL TO USE FREEVIEW HD.
A power point.
An HDMI cable. This will normally come with the box, but if you are hoping to install the set-top box on Christmas Day you might want to ensure that the cable is there. Remember that, as HDMI is a balanced high-speed digital connection, there is no benefit paying more than a few pounds for a cable as screening (or gold connectors) will made no difference whatsoever to the quality of picture transferred. As with most digital components, it will work - or not.
Recording and live pausing with Freeview+HD

As well as the basic Freeview HD boxes, you can also purchase Freeview+HD boxes, which contain a hard disk drive (as found in computers) and two digital tuners. This allows, much like the popular
Sky
+ and Freeview+ boxes you to:
Record a whole series of a show with a single button press
Record one show whilst watching another one live
Record two shows while you watch a recording from the drive.
Set a show to record by pressing a button when you see a trailer for it.
Freeview record/play/pause devices DO NOT require a special aerial to work.
Where will it work?
It will definitely work in any region that has switched off the
analogue
signals and replaced them with digital only, which is:
South West England (the old ITV WestCountry area, mainly Cornwall ,Devon and the Dorset coast)
Granada-land (Greater Manchester, Merseyside, Lancashire, Cheshire and the Isle of Man)
Border England (Cumbria)
The old ITV Grampian area (Perthshire, Angus, Kincardineshire, Aberdeenshire, Banffshire, Morayshire, Nairnshire, Inverness-shire, Cromarty-shire, Ross-shire, Sutherland, Caithness, Argyll)
The West region (Bristol, Gloucestershire, Wiltshire, Somerset).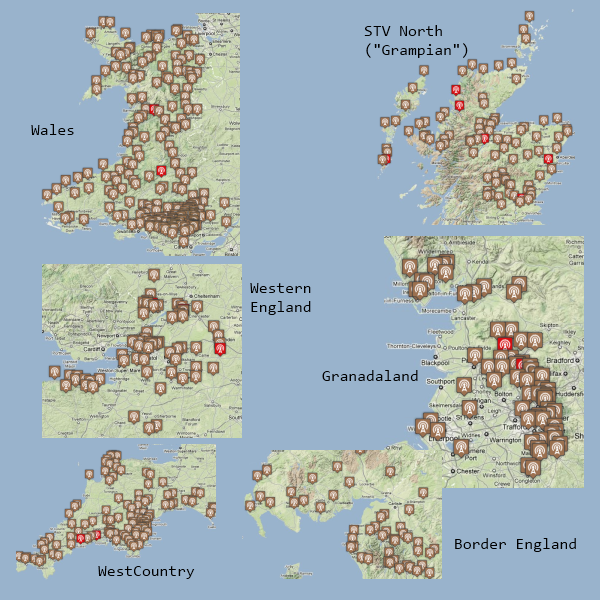 There is also a pre-
switchover
service from a few main transmitters: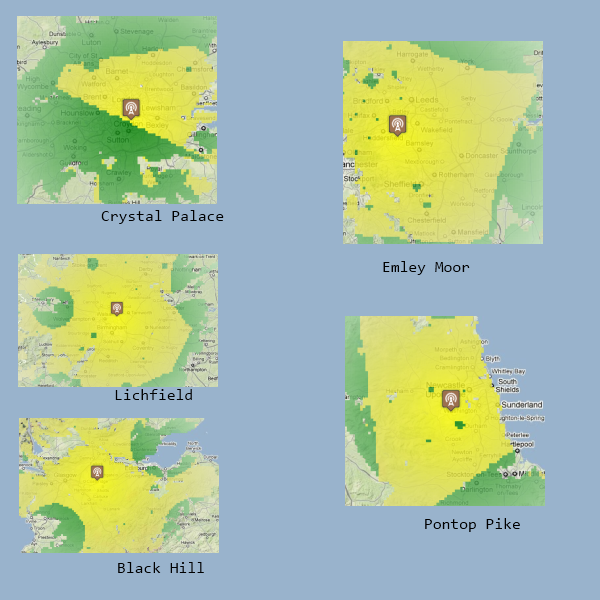 In the above cases the service is not provided from any
relay
transmitters, and the lower
power
levels provide service only to the core transmitter area.
Comments
Wednesday, 22 June 2016
R
Richard Cooper
9:14 PM
Norwich

jb38: Sorry - one more question. Would you know which uhf channel number is used for the rf output from the Woolworths 'Worth-it" 256 set top box? You cannot adjust this - you can only switch the antenna supply on or off. The reason I'm asking is that the SCART input socket on my tv is playing up. so I may have to revert to allowing the stb to modulate its output on to a particular uhf channel. Should the tv be able to carry out an analogue autotune to find the output frequency of the set top box if we don't know the channel number for doing a manual tune? I'm guessing it will have been set to around ch 35, but you would probably know, going by how much you knew about my old Sharp box!!! Hear from you again soon! Thanks, Richard, Norwich.

Richard Cooper's 466 posts
Richard's:
map
R's Freeview map
terrain
R's terrain plot
waves
R's frequency data
R's Freeview Detailed Coverage
Thursday, 23 June 2016

Richard Cooper: Re query on Woolworths Worth-it 256 box, I'm afraid you've stumped on this one!, as the only info I have on these Worth-it boxes refers to a PVR, and although the box offers the usual aerial in/out RF loop through facilities, no mention is made of the box being fitted with an RF modulator, therefore I would be most interested in the result of the analogue autotune scan on your TV you had referred to.

With regards to you being connected into a communal aerial system, its extremely unlikely that anyone would ever experience problems associated with an excessive signal level when connected into this type of system, as the maximum levels fed into the various apartments / properties are carefully set by the installation engineers at time of installation. Of course things can go wrong with any system, but generally not of the nature referred to.




jb38's 7,179 posts
R
Richard Cooper
6:05 PM
Norwich

jb38: Hi jb38. Thank you for your prompt replies. Using the Woolworth's stb, the tv, which is an old Wharfedale L1911W-A will only pick up signals on the channels between 39 and 59 on which Tacolneston transmits its most powerful digital muxes, so this is loop-through, isn't it? At a cost of 16.99 in 2009 for the Woolworths stb, I could hardly expect it to have a built-in rf modulator really, could I? Fortunately the Topfield PVR 5800 does, so if the SCART input to the tv fails, I can give the tv a modulated signal from the PVR using a simple aerial lead connection from the PVR to the tv. I can choose the modulating channel and i've chosen 53 because Tacolneston doesn't use that one. So this set-up will do me as long as the Topfield PVR lasts!!!

As far as the communal aerial system is concerned, would the engineers have adjusted the signal strength to be optimal at some 'sampled' flats, or would they have erred on the side of a 'lowish signal strength? What do you think? Richard, Norwich.

Richard Cooper's 466 posts
Richard's:
map
R's Freeview map
terrain
R's terrain plot
waves
R's frequency data
R's Freeview Detailed Coverage
Select more comments
Your comment please