ITV1+1 11 January 2011 (at last)

Brian Butterworth published on UK Free TV
It was first expect that ITV1+1 would come to Freeview during the 30 September 2009 Freeview retune, but this did not happen due to last minute rights issues.

When ITV plc, which runs the official channel 3 services in England and Wales, was created from the merger of two companies, Carlton and Granada, the Competition Commission imposed conditions, which are called the Contract Contracts Rights Renewal (CRR) remedy.

Almost all the other channels that have "+1" time shift channels are single national broadcasts. It is straightforward to create ITV2+1, for example. The output of the channel is fed into a "black box" that re-outputs the content an hour later, and used for a national broadcast.

As the streams for UTV+1, and STV+1 are now on satellite, we can be confident that the ITV+1 service will run throughout the UK.


Channel 4 plus one
It was a little more complicated for
Channel 4
. This commercial channel has no local or regional editorial content, but does have
six regions for advertising
:
London
, Southern England+Wales, Midlands, North England, Scotland, Northern
Ireland
.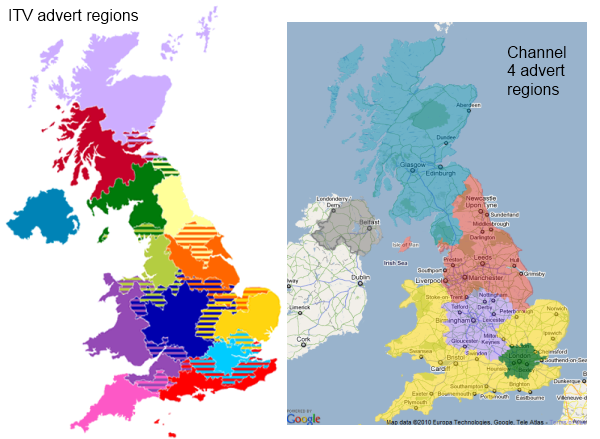 To create Channel 4+1, the corporation needed to use six "black box" devices, to ensure the correct advertisements are seen.
Channel 3 plus one
Back at channel 3, the ITV1 channel has many advert regions. STV, which runs the channel in Scotland, divides into four:
UTV operates only a single service in Northern Ireland (covering Belfast,
Londonderry
,
Ballycastle
,
Castlederg
). ITV plc has the following
advertising regions
:
TTTV Pontop Pike: Sunderland, Newcastle Upon Tyne, Gateshead, Berwick-upon-Tweed
TTTV Bilsdale: Whitby, Darlington, Hartlepool
Granada: Manchester, Liverpool, Blackpool, Lancaster
YTV Emley Moor: Bradford, Leeds, York, Doncaster
Wales: Cardiff, Swansea, Aberystwyth, Llandudno
WestCountry: Plymouth, Exeter, Torquay, Truro, Penzance
Central West: Birmingham, Stoke-on-Trent, Shrewsbury, Coventry
Central East: Nottingham, Leicester, Derby
Central South: Oxford, Swindon, Cheltenham, Gloucester
Anglia North: Kings Lynn, Norwich, Great Yarmouth
Anglia South: Ipswich, Felixstowe
Anglia West: Milton Keynes, Cambridge, Peterborough
London: Guildford, Woking, High Wycombe, Dartford
Meridian Kent: Canterbury, Dover, Folkestone
Meridian Sussex: Brighton, Eastbourne, Worthing
Meridian Thames Valley: Basingstoke, Andover
This requires, for each
region
, a separate "black box". These "black box" devices must feed the hour-delay
signal
back into
Multiplex
2 (also known as multiplex PSB2) as only this multiplex has the correct regions.

ITV1+1 on screen graphic.
Latest ITV multiplex allocations
The slot on PSB2 currently used for the ITV2+1 will be used for ITV1+1. ITV2+1 will move to the slot on multiplex A (aka COM4 or SDN) currently used for the "ITV Preview". As this slot timeshares with the
CITV
children's channel, ITV2+1 will only operate during peak hours.

Public service transmitters
As the public service transmitters carry only the PSB1, PSB2 and PSB3 (HD) multiplexes, this means that ITV1+1 will be carried to all UK homes, and ITV2+1 will only be available to those with the full Freeview service.
Free to air satellite
Freesat
users will see ITV1+1 (or STV+1 or UTV+1) on channel number 112. For ITV1+1
fSfS
and Sky use channel number 131, ITV2+1 moves to 179.
On satellite
transponder
53 (10.891 H) has UTV+1, ITV1 Central West+1, ITV1 London+1; transponder 54 (10.906 V) has STV West+1, ITV Granada+1, ITV 1 Merdian South+1.
Channel 5 plus one?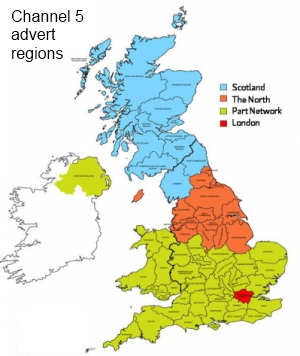 So, what of FIVE+1? The channel has
four advert regions
: Scotland, Northern England, London and "
Network
". However, there is no space on multiplex 2 (PSB2) for such a channel, and no other multiplex has the correct divisions.
Contact information
Any further questions, please contact ITV on 0844 881 4150.
On Virgin Media ITV1+1 is 114.
Comments
Wednesday, 12 January 2011
A
alan clark
11:30 AM
Eastbourne

Briantist: After failing to get ITV1+1 last night, I switched on this morning and it asked if I wanted to retune I agreed and now all is ok! not sure why a retune didn't come up last night,maybe postcode played a part as it was displayed on sreen?

alan clark's 24 posts
alan's:
map
A's Freeview map
terrain
A's terrain plot
waves
A's frequency data
A's Freeview Detailed Coverage

alan clark: I'm not sure why you had to wait for this morning, but at least you have it now.

Briantist's 38,907 posts

George Buchanan: Is the channel just "there" an not yet in the EPG. I guess this must be some Sky EPG contractual issue, rather than a rights one.

Briantist's 38,907 posts

ITV1 digital terrestrial, here in PE11 is Anglia West, ITV1+1 is Meridian South East.
Freesat= Anglia East and ITV1+1 is Meridian South East.
ITV1 in PO19 is Meridian South and ITV1+1 is Meridian South East.
Looks like Kent and East Sussex advertisers will get a huge boost to their advertising potential.

Russ's 48 posts
Russ's:
map
R's Freeview map
terrain
R's terrain plot
waves
R's frequency data
R's Freeview Detailed Coverage

I don't have any epg to speak of on the FS4400. I have the channel and that's all that matters as I wouldn't be interested in the epg if it were there. If Freesat and Sky systems are preventing this channel being viewed that seems a negative to me. The epg, such as it is, does show a single programme 'Loose Women' against 10255. STV only shows a single programme also - 'May the best house win'

George Buchanan's 15 posts

Russ, There are only 6 ITV1+1 channels on satellite, so guess you will get the nearest region.
George Buchanan, ITV1+1 was added to Sky EPG somewhere between 5pm and 7:30pm yesterday (12/01/2011)

Briantist
On Sky if you live out of London then your ITV1 region is on 103 and ITV1 London is on 993.
I have my local ITV1+1 channel on 131 but no ITV1+1 London in the 900's. EG. 997
So still have to select (10155 = ITV1+1 London) manually.

Mark A.'s 374 posts
Mark's:
map
M's Freeview map
terrain
M's terrain plot
waves
M's frequency data
M's Freeview Detailed Coverage
Derek Brice
9:09 PM
Gillingham

I have never used FreeSat but I would like to ask a question. How do they broadcast all the various BBC news regional variations?

Derek Brice's 6 posts
Derek's:
map
D's Freeview map
terrain
D's terrain plot
waves
D's frequency data
D's Freeview Detailed Coverage

Derek Brice- Freesat shows all regional variations, from channel 950(BBC1 London) to 967(BBC1 EYrks&L). You can even view BBC2 NI,Scotland and Wales.

LutonFan's 382 posts
Thursday, 13 January 2011

Derek Brice - There is a different satellite channel for each variety of BBC1.

Whereas with restricted number of channels on Freeview you are stuck with those local to you.

steve's 1,173 posts
Select more comments
Your comment please