Upgrading from Sky+HD to Freesat+HD

Brian Butterworth published on UK Free TV
You might get a glossy magazine every month, but what do Sky really think of your custom?

"Give me a f**king name on a direct debit and it's mine for life,"
- Sam Chisholm, former boss of BSkyB.

Perhaps you responded to an offer like the one blow that promised a gratis Sky+HD box (for new customers taking their first Sky+HD package) with free standard set-up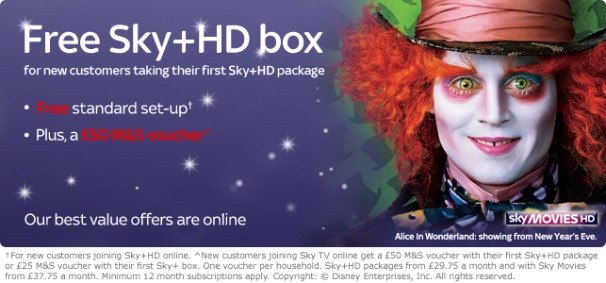 But you were so excited with the thought of a £50 M&S voucher that you didn't think to follow each of the little daggers and little stars to quite read all the terms and conditions:




So, your twelve months of commitment are over and, for reasons of budget (or politics) you have decided you want to keep all the features of Sky+ - live pause, high definition, extended electronic programme guide, series record, and recording two programmes at once whilst you watch another - but don't want to fork out every month on top of your TV Licence - and you still get hundreds of free TV channels

Here's what you can do.

First you need to buy a Freesat+HD box. There are many on the market, and can be bought from Argos, Currys DIGITAL, John Lewis, Comet and online at Amazon, as well as other stores.

When you use a Freesat+HD box NO SUBSCRIPTION HAS TO BE PAID. NONE. NOT A PENNY TO ANYONE.


Installing
This will take no more than ten minutes. First you will need to disconnect the Sky+HD box
mains
from the wall socket.
Then you will need to disconnect the cables from the back of the Sky+HD box.
Pull out the mains
power
connection (1), carefully unscrew the
satellite
dish
links (2) and (3), and then take out the HDMI lead (4) to your HDTV. If you have an "
surround sound
"
amplifier
, you may also have a
digital
audio connection (5).
Remove the Sky+HD box and put the Freesat+HD box back in the same position.
Then reconnect the cables: the mains power
cable
(1) - but not to the wall just yet, screw the two satellite dish links (2) and (3) and connect the HDMI cable (4) to your HDTV. If you had one, reconnect the digital audio connection (5).
If you have an Ethernet router, you can connect it to the Freesat+HD box at this point (5).
With everything in place, turn on the mains power and power up the Freesat+HD box.
The TV screen first displays
the box
's logo
The first set-up screen allows you to select the TV type, widescreen
mode
and resolution:
Next the box checks for the satellite
signal
:
Then there is a check for updated software:
Then you enter your postcode and the box checks it:
The next step is a
scan
for
channels
. This takes about 30 seconds:
And that's it. You can now view
channels
, like 108 for
BBC HD
:
Or press the GUIDE button for the EPG:
And that's it.
Comments
Wednesday, 25 April 2012

MARI: Yes, but what model of Technika do you have? an did you receive the BBC immediately before the 18th?

jb38's 7,179 posts
Wednesday, 16 May 2012

Hi, i have a Sky+HD box and want to stop paying my monthly subs, i'm no longer tied to any contract. Can i use my Sky+ HD box to view sky free sat and also can I still use the record function on the box.

Jen Pettitt's 1 post

Jen Pettitt: The answer to the first part of your question is YES! although its not actually Freesat by Sky's "free to view", but though the answer is NO! to the second part as Sky permanently retains access to the recording side of the box, and that also includes the playback of anything previously recorded.

jb38's 7,179 posts
Tuesday, 5 June 2012

I subscribe to Sky for a full HD package at home. I have a Free Sat from Sky card and old non-HD box which I use in France. I would like to upgrade to HD in France and have to use a dish.
1. As an existing Sky customer at home would I avoid the £10/month charge to retain Sky+ functionality in France?
2. If I buy a Sky HD box with hard drive, do I need to buy another Free Sat card from Sky (£20) in order to view HD channels on a different box (ie not the same box the current acrd is registered to)?
3. I have a single LNB on my dish. I would need to buy a double lead LNB if I am able to watch and record to the HD box hard drive. Is there anything else I would need to do (contact Sky to get new box connected)?


J Penhale's 1 post
Tuesday, 12 June 2012

J Penhale:

1. No, the recording capability goes along with the viewing card, and the free card is not part of the subscription.
2. You should be able to use the existing card with the new box.
3. No, the new box would plug straight in.

To be honest, I doubt Sky would actually sell you a box to use in France. I'd just go with a Freesat+HD box, rather than a Sky box. Some channel numbers are different between the Sky and Freesat services, but otherwise there are only a tiny number of differences in the channel line-up. See Compare TV | ukfree.tv - independent free digital TV advice for the differences. You would need a Sky box if you wanted to later upgrade to a subscription for that box (perhaps get a multiroom subscription in the UK, then take the box abroad!)

Mike Dimmick's 2,486 posts
Saturday, 7 July 2012

Can you tell me if the bilsdale transmitter signal strength
Will be increased for the digital switchover.

Terry's 1 post

Terry: Yes. After switchover the PSB muxes will increase to 100kW, the COM muxes will transmit at 50kW.

KMJ,Derby's 4 posts
Thursday, 12 July 2012
D
david parkinson
10:37 AM
Sandhurst

Hi
I have a bush hd pvr with two inputs on the back.
The builder only put one co ax which is cemented in.
Timer record will not work unless both receivers are live.
Could I use a splitter from a well known electronics retailer to plug in to both. Fooling the pvr.
I think that I will not be able to watch differrent programs whilst recording
The machine says no start signal when timing but will record on one touch.
thankyou

david parkinson's 1 post
david's:
map
D's Freeview map
terrain
D's terrain plot
waves
D's frequency data
D's Freeview Detailed Coverage

Hi all

I have an Amstrad DRX890 model Sky HD box which has not been used for some time.

When plugged in it starts "Sky HD please wait" then fairly quickly goes into "UPDATING SYSTEM SOFTWARE Do not disconnect.... /may take up to 10 mins"

And stays there forever, occasionally reverting to the first screen for a few moments.

I have tried with and without a valid sky card. No phone connection.

Any suggestions?

Is there a better place for the question?

Stephen P's 1,173 posts

PS Using SCART into an analogue TV.

Stephen P's 1,173 posts
Select more comments
Your comment please