New Astra 1N satellite to offer more UK-focused capacity - and soon

Brian Butterworth published on UK Free TV
SES Astra, the Luxembourg-based company that owns and operates the Astra satellite fleet used in the UK by Sky and the free-to-air broadcasters behind Freesat, has successfully launched the 5300kg ASTRA 1N satellite from Kourou, French Guiana on 6th August 2011.

This satellite will be moved into the 28.2 degrees east orbital position above the equator, where it will join the Astra 2 satellites. This position will allow its transmissions to be received by anyone who uses Sky or Freesat.

This additional capacity will increase the number of satellite transponders by 104.

Of particular note to free-to-air TV satellite viewers, the satellite has a "UK spot beam", which mirrors that of the Astra 2D satellite.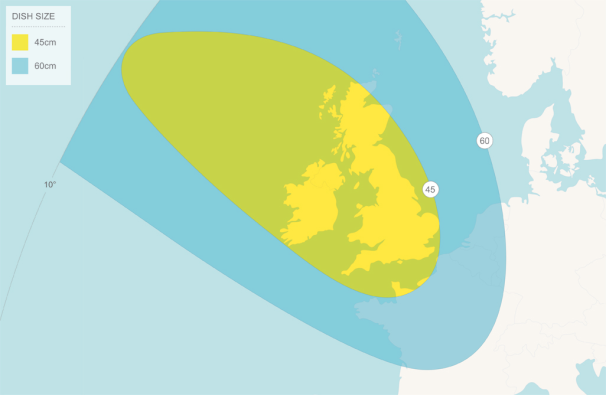 Whilst it can be argued (see Karen Murphy scores against the Premier League and Sky) that EU Television Without Frontiers directive allows public service broadcasters to carry their services on pan-European satellite, international rights holders prefer free-to-air channels to use the tight beams to restrict the coverage to a target country.

As all the Astra 2D transponders have been full for some years, the extra capacity on Astra 1N will allow for expansion.

Speculating, this might include:


Space for BBC TWO HD, which will require four HD stream to provide the English, Welsh, Scottish and NI variations.
Space for Channel 5 to move to have all of their advertising regions free-to-air, and perhaps 5* and 5USA.
Space for all ITV1 HD news regions to be on Freesat.
Comments
Saturday, 27 August 2011

Iain Davies: It's a feed for Freesat/Sky, the Freeview HD service is distributed terrestrially.

Briantist's 38,900 posts

Iain Davies: That is strange, that it's broadcast free-to-air but not in either EPG. Perhaps STV are having trouble getting ITV plc to agree to share or regionalize channel number 178 on Sky and 119 on Freeview - I notice ITV1 HD isn't actually available at 178 in Sky's web version of the EPG if you set it for Scottish West. Or, perhaps Sky are yet again being glacially slow in adding the Freesat EPG data - Lyngsat shows it as a Sky transponder rather than Freesat.

STV HD *does* have a backup satellite feed for Freeview HD as it's on a BBC multiplex - this backup feed, of all FTA channels and services carried on BBC Freeview multiplexes, is carried on Intelsat 907 at 27.5°W, on 11495V.

Mike Dimmick's 2,486 posts

Same problem exists in Northern Ireland, but the situation is worse here in that we don't even have UTV HD on Sky or Freesat in the add channels feature.

UTV simply doesn't exist on any satellite platform/ but only on Virgin media,

There also appears to be some doubt as to whether or not it will appear on Freeview HD in the province post DSO as Digital UK only lists 3 Freeview HD channels post DSO in NI, which is odd.

Thankfully, I get reasonably good reception from Cambrett Hill.

Peter Henderson's 25 posts

Iain Davies: Thanks to all of you for your answers!

Iain Davies's 351 posts
Tuesday, 13 September 2011

Hi all, just a random question, I live in west
Wales where we receive a certain amount of Freeview channels due to reception being relayed from transmitter to transmitter. Will
this problem be rectified at a later date ? so
then we can receive all the Freeview channels.
Will be very interesting if this happens or will we be forgotten because we are in Wales.
Regards

John H Williams's 13 posts
KB Aerials Sheffield
10:12 PM
Sheffield

John - if your on a freeview lite transmitter - go for freesat to get the channels you will miss

Keith

KB Aerials Sheffield's 274 posts
KB's:
map
K's Freeview map
terrain
K's terrain plot
waves
K's frequency data
K's Freeview Detailed Coverage

John H Williams: Yes, indeed - see Compare Freeview Light and Freesat TV | ukfree.tv - independent free digital TV advice

Briantist's 38,900 posts
Monday, 19 September 2011

Briantist: Astra 1N has now completed its testing at 1.8 degrees East and is now on its way to 28.2 degrees East. It should become opperational sometime in October.

NottsUK's 345 posts
Tuesday, 20 September 2011

NottsUK: That's excellent news, let's hope it avoids all that space-junk...

Briantist's 38,900 posts
Select more comments
Your comment please