Switchover starts in the East Midlands

Brian Butterworth published on UK Free TV
This week sees the first stage of the digital television switchover for 813,298 homes in the East Midlands.

From 6am Wednesday 17 August 2011, you must to a perform a "first time installation" retune (sometimes "Factory Reset" or "Shipping Condition") on your Freeview box or television set if you use the Waltham full service Freeview transmitters. This is because the old "multiplex 1" BBC service will be replaced by the BBCA multiplex on the old analogue ITV-1 frequency, C61. Analogue ITV-1 moves to to C64 for two weeks.

If you use the Ambergate, Ashbourne, Ashford in the Water, Belper, Birchover, Bolehill, Darley Dale, Eastwood, Leicester, Little Eaton, Matlock, Parwich, Stamford, or Stanton Moor relay transmitters from mid-morning on Wednesday 17th August 2011 you will be able to receive the BBC Freeview services (with the exception of HD) for the first time, and you will no longer be able to view BBC TWO on analogue.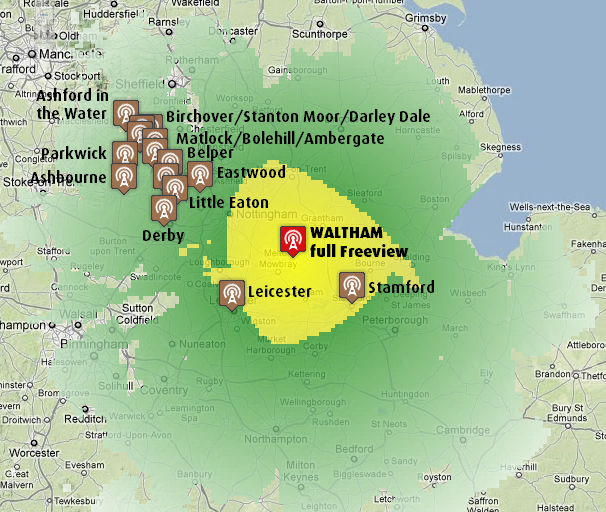 You MAY find that old equipment will no longer work - see TVs and boxes that do not support the 8k-mode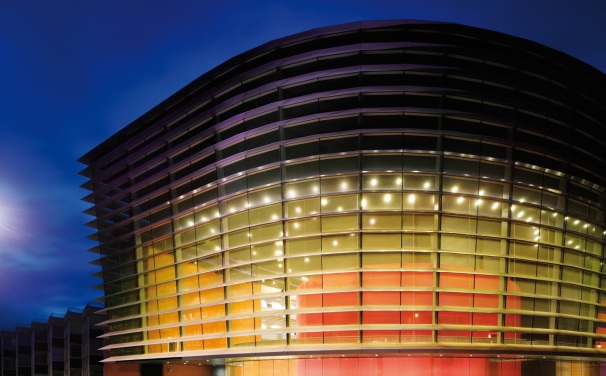 On Wednesday 31th August 2011 will see the second stage of switchover, which provides the final Freeview configuration, including Freeview HD for all transmitters in this region.

On this date, you will need, once again, to do a "first time installation" as indicated above. If you are over 75, you should aleady have been supplied new equipment by the Switchover Help Scheme.
Comments
Tuesday, 16 August 2011

Was in 2 locations last week in East Midlands. Chesterfield and Crich and both got the now powerful Belmont BBC programs, just like at home in West Yorkshire.
Driving home yesterday had local radio on and the top man was on explaining things, he was stressing Virgin and Sky will not be effected, he said it more than once with never mentioning Freesat.
How strange he does not know Freesat exists is this the general view of Freeview Digital UK people?

David's 306 posts
kB Aerials Sheffield
12:49 PM

whats the "top Man"?

kB Aerials Sheffield's 274 posts

You will *not* be able to get high-power BBC digital from the Derby transmitter from the 17th. This transmitter is an oddity, it relays BBC One East Midlands and ITV1 Central East from Waltham to an area that is otherwise perfectly served by Sutton Coldfield. It is therefore horizontally-polarized. Because it doesn't transmit BBC Two, and the available frequencies are so tight in this area, there will be no changes here on the 17th.

Instead, on the 31st, BBC A replaces BBC One on its current channel (its final location), and D3&4 replaces ITV1 on its current channel. HD will not start up yet.

A retune event is scheduled for 5 October, when the HD multiplex will start up and D3&4 will move to its final location.


ITV1 analogue takes over BBC Two's slot, at all relays except Derby, so that the BBC A multiplex can start up on ITV1's old frequency. This means that ITV1 will appear on button number 2 on most analogue TVs. This has no effect on the TV's digital tuner or set-top box.

Mike Dimmick's 2,486 posts

So sorry Mike/Brian, I am now totally confused as to what the alterations are on 17th August. I use PC tuner DVB-T cards which I tune as individual frequancies. IE I need to know which idividual Muxs I have to re-tune - not a complete re-tune as for a Digi-box.

It seems to have changed yet again from what was read last week. I understood the Mux 2 carrying ITV1, was to move to C62, where it will reside temporarily until October (at a lower power until October) when it will move again. The afore mentioned Mux 1 change appears to be completely new! Where exactly does Mux 2 end up on 17th, does it still carry BBC ONE/TWO/THREE/CBBC, and the 301 service, plus the new HD service, and will all this be at the higher power?

Does ITV1 Mux2 move as well, and or how long?

I am, of course, refering to the main Waltham transmitter (as I reside in East Nottingham, diectly overlooking the Trent Valley).

Thank you so much in anticipation of clearing up my confusion, and sorry for my inability to get the answer for myself.

Regards,

Tim.

timonthenet's 38 posts

Will I be able to receive ITV 4 and ALL Freeview channels on Hagg wood repeater transmitter!

H Allen's 1 post

timonthenet: Best bet for you is Postcode Checker - Trade View .

This shows that the *only* change at Waltham, for a digital tuner, is Mux 1 closing (from C49) and being replaced with BBC A on C61. No offset is given so this will be 794000 kHz. The new mode for BBC A will be 64QAM, FEC 2/3, 8K carriers, 1/32 guard interval.

Mux 1 carries: BBC One, BBC Two, BBC Three, CBBC Channel, BBC News, BBC Red Button (105) and 301.

BBC A will carry all of the above, plus: BBC Four, CBeebies, BBC Parliament, and the radio channels, BBC Radio 1, BBC R1X, BBC Radio 2, BBC Radio 3, BBC Radio 4, BBC R5L, BBC R5SX, BBC 6 Music, BBC Radio 4 Ex, BBC Asian Net., BBC World Sv.

For the two weeks between the 17th and 31st of August, those channels new to BBC A will continue to broadcast on Mux B as well.

The HD channels will start up on the new BBC B multiplex on the 31st, replacing Mux B which closes. All four, including the ITV1 and Channel 4 HD channels, are on the same multiplex. This broadcasts using DVB-T2, 256QAM FEC 2/3, 32K carriers, 1/128 guard interval. You may need a new tuner card or stick to get them. They will also be compressed with MPEG-4 AVC, aka H.264, not MPEG-2.

On the 31st, Mux 2 closes and is replaced by D3&4 on C54- , 738 MHz with -167kHz offset so 737833 kHz. Mux C closes and is replaced by Arqiva A on C56, 754000 kHz. Mux D closes and is replaced by Arqiva B on C57, 762000 kHz. All of these will use 64QAM 2/3 8K mode with 1/32 guard interval.

Sky Sports 1 and 2 move from Mux B to Arqiva B (former Mux D) at switchover. 303 closes.

Mux A stays on its current frequency and mode setting until 12 October, when it changes to 'SDN', switching to 8K mode to match the other four SD multiplexes. It will remain on the same frequency.

Mike Dimmick's 2,486 posts

H Allen: All relays are 'Freeview Light' until further notice. The operators of the commercial multiplexes, which carry ITV4, refused the offer to broadcast from more sites than they already do, saying it was too expensive.

If they ever do, they are likely to choose large relays that cover a lot of population. Hagg Wood covers around 1,200 homes and I believe that is gross population, the number that *could* get a service from the transmitter, not those that *have* to.

Do check with Digital UK's postcode checker to see whether you could use a main transmitter after switchover.

Ofcom are consulting on the renewal of the licences for Arqiva's two multiplexes. See Ofcom | Television Multiplex Licence Renewals - it closes on Friday.

Mike Dimmick's 2,486 posts

Sorry, Thursday.

Mike Dimmick's 2,486 posts

Mike Dimmick: Apologies for pasting the Derby transmitter in the list, I have removed it.

Briantist's 38,844 posts

Hi Mike.

Thank you so much for the info. - It really has been a 'minefield' of informatio tryng to piece everything together, so thank you for making things a lot clearer.

What I cannot understand, is Mux A not moving again, as I understood in October it would have to move to it's final resting place, accompanied by the power increase (currently kept at present levels through DSO this August).

I also take it, BBC2 Analogue doesn't disappear from Waltham until 31st, which is different from a while back when it was thought to go on 17th.

Thank you once again. Regards,

Tim.

timonthenet's 38 posts
Select more comments
Your comment please