Will there ever be more services on the Freeview Light transmitters?

Brian Butterworth published on UK Free TV
The digital terrestrial service that is known today as Freeview, started life in Parliament as the Broadcasting Act 1996.

Part I act gave the regulator, then the Independent Television Commission, the authority to establish digital terrestrial television services in the UK, and paved the way for a "six multiplex" service. One multiplex was reserved for the BBC, a second jointly between the "Channel 3 licence holder", Channel 4, Gaelic programming in Scotland plus Teletext UK as the "national teletext provider"

One half of the third multiplex was passed to Channel 5 and the S4C Corporation, with the remaining three and a half being put up for a public auction. The ITC duly awarded the remaining three multiplexes to "British Digital Broadcasting" in 1997, which was a combination of two big ITV companies at the time, Carlton and Granada.





On Sunday 15th November 1998, the services was launched under the name "ONdigital", a mixture of free-to-air and pay services, and rather dwarfed by the launch six weeks earlier of the much superior Sky Digital service.

ONdigital renamed itself ITVdigital on 11th July 2001, but the woollen monkey toy in the adverts proved more popular than the service, and the service closed on 1st May 2002.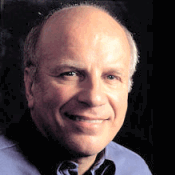 It became clear (especially to BBC director-general Greg Dyke, pictured right) that the digital terrestrial service was popular with viewers, but it was unsuitable as a pay-TV platform.



ITVdigital handed back three multiplex licences to the ITC, and the ITC then re-awarded one to the BBC and the other two to Crown Castle International, a company formed when the BBC's engineering division was sold off.

A company, DTV Services, formed to publicise the new service, which was now called Freeview.

Sky joined in, and purchased slots on the new service (from CCI) for Sky News, Sky Sports News and Sky Travel. Also there from the start of Freeview was Flextech Television "ftn", music channel TMF, UKTV's UK History and UK Bright Ideas, and shopping channel, QVC


Digital switchover process
When it was decided that the
analogue
television signals would be turned off, the BBC, as it funded by a universal fee decided that it must provide the two multiplexes of services to all homes.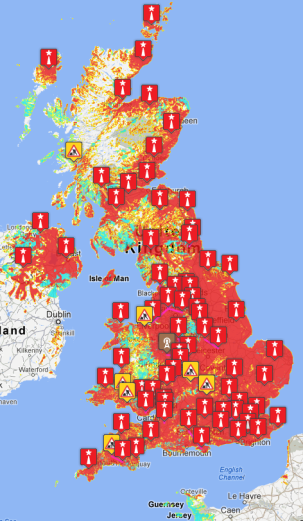 Ofcom
, now the regulator, decreed that the multiplex shared by Channel 3 and Channel 4 (called "Digital 3 and 4 Ltd") must also provide service to all homes that had analogue. This was because Channel 4 already provided this level of coverage, and as the licence holder for Channel 3 has "public service obligations", the broadcasting of multiplex 2 should also extend to all existing TV masts.
However, for the commercial multiplexes, Ofcom simply invited Crown Castle Ltd and S4C Digital Networks (SDN) to apply to extend their networks. Ofcom, having granted the multiplex licences already, felt it had no legal
power
of compulsion to insist more homes were served, and in
December 2006 announced that no application had been received
- at this point Ofcom no longer planned for additional frequencies for the commercial multiplexes.
Both commercial operators decided that the cost of providing the equipment, installation and ongoing operation of services from the 1,000 smaller transmitters would cost more than any additional revenue they could get from the TV
channels
that rent their broadcast capacity, as the work would only expand the actual number of homes broadcast to by 9%.
Since this time, S4C Digital Networks multiplex was bought by ITV plc, and Arqiva acquired the CCI multiplexes. For this reason the commercial multiplexes are known as SDN, ArqA and ArqB.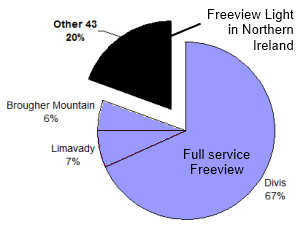 The map shows the locations where Freeview Light service is generally the only Freeview
reception
option.
See also:
Where are the public service (Freeview Light) transmitters?
Comments
Friday, 27 June 2014

Karen, Adam, et al:
The TV license is to allow you to watch live broadcast TV services that are available in your area. Even if you are watching live programmes via the Internet you still need a license. The fact that roughly the same capital as is collected by the license fee is paid to run the BBC is incidental, the BBC payments are made from general capital and the fees collected are not 'ring fenced' for the BBC nor the running of the transmitters.
Commercial broadcasters can only operate if they can make a profit after covering the costs of making programmes and transmitting them. That means they need a certain minimum audience able to receive their programmes from any particular transmitter. If there are not enough potential viewers they will not pay to serve just a few people at a loss. It costs them money to provide the transmitter and to broadcast from it (electricity costs and delivery of content to the transmitter as well as maintenance) so if no profit they don't chose to provide services. Someone has to pay and the costs are added to the price of the goods/services advertised.

MikeP's 3,056 posts
Saturday, 28 June 2014

Even if you have access to a full Freeview transmitter it's still worth while investing in Freesat as there are many more services that aren't carried on Freeview.

PJH's 75 posts
Friday, 27 February 2015

I live at SN84BX in Marlborough. I have a BT vision box and I am trying to get HD channels. I connected an HD ready screen to the BT vision box via a HDMI lead, rescanned for channels and still only get 19 TV channels. Should I do anything else?

Trevor Dobie's 1 post

Trevor Dobie: If you put your postcode in the site, you see the problem for yourself - Digital UK says your great for Marlborough (!), but not really any other transmitter. I'm sure one of the reception guru's can take you through it further. but , on Freeview, your basically stuck with what you've got.

Marlborough is a light transmitter, so it not going to get any better. Best suggestion is Freesat. Your TV might even have a sat. tuner built in, but I'm afraid that the BT box will need to be replaced by a Humax one. Around £170-199 for a PVR, and you'll need a dish. About £100 for a twin LNB one, but a quad would be more cost effective. See the Satcure website for more information.

MikeB's 2,579 posts
Saturday, 28 February 2015

Will Tintern ever get itv3

Davey's 1 post

Trevor Dobie: That said by MikeB with regards to your reception being limited to the Malborough transmitter certainly looks to be the case, a check made via the Megalithia terrain indicator indicating multiple blockages to the signal path between your particular location and the Hannington transmitter, and with any signal that is (if) received when in this type of situation being almost guaranteed to be of an unreliable nature.

However, looking at your posting from another angle, should you be meaning that you are unable to receive any HD transmissions? then what brand model of BT vision box are you using? as some of the slightly older BT boxes (e.g: Vision+) are unable to receive HD transmissions.

jb38's 7,179 posts

Trevor Dobie:

Your location in the Kennet Valley, just off George Lane is surrounded by the hills of the Marborough Downs. You do not have 'line of sight' views of any of the main transmitters, the nearer ones being at Mendip, Oxford and Hannington. Without your aerial being able to 'see' the transmitting site, the chances of getting usable or reliable signals is virtually nil. So it is to the Marlborough transmitter you have to turn - and that is a Freeview Lite type. That means it has very limited programme availability and as far as I know none of them are currently HD services.

Having friends in Marlborough I know they have the same problems, SD only and fewer programmes than other friends in Swindon and Bristol.

MikeP's 3,056 posts

MikeP: Well although Trevor is limited to reception from the Malborough PSB only transmitter, he should at least be able to enjoy HD reception from Malborough's HD service on C22.

jb38's 7,179 posts
Monday, 30 March 2015

the feeview signl quality sidown tv guied gone balank

James meekers's 1 post
Friday, 27 November 2015

we are living in talybont nr barmouth in north wales and we receive our programmes from the arfon transmitter. i would like to watch motors tv but we cant pick this up. any ideas?

gary's 1 post
Select more comments
Your comment please