Switchover starts in the Oxford area

Brian Butterworth published on UK Free TV
This week sees the first stage of the digital television switchover for 415,700 homes in the Oxford area - one year after the only true problem during the whole of the UK pre-switchover process, the Oxford transmitter fire.

From 6am Wednesday 14th September 2011, you must to a perform a "first time installation" retune (sometimes "Factory Reset" or "Shipping Condition") on your Freeview box or television set if you use the Oxford full service Freeview transmitter.

This is because the old low power "multiplex 1" BBC service (on C34) will be replaced by the high power BBCA multiplex on the old analogue Channel 4 frequency, C53. Analogue Channel 4 moves to C63 for two weeks. Also multiplex C will move from C48 to C34 for two weeks as well.

If you use the Ascott under Wychwood (3pm), Charlbury (noon), Guiting Power (9am), Icomb Hill (9am) or Over Norton (9am) relay transmitters from mid-morning on Wednesday 14th September 2011 you will be able to receive the BBC Freeview services (with the exception of HD) for the first time, and you will no longer be able to view BBC TWO on analogue.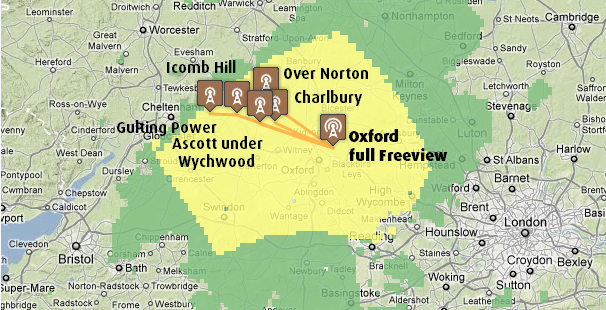 You MAY find that old equipment will no longer work - see TVs and boxes that do not support the 8k-mode

Another common problem at switchover is the ten-fold increase in signal from 10kW to 100kW will overload amplifiers and over-the-top aerial installations. If this is the case you will have to remove the booster or amplifier from the system, or perhaps fit an attenuator if you have no amplification.




On Wednesday 28th September 2011 will see the second stage of switchover, which provides the final Freeview configuration, including Freeview HD for all transmitters in this region.

On this date, you will need, once again, to do a "first time installation" as indicated above.

If you are over 75, you should already have been supplied new equipment by the Switchover Help Scheme.
Comments
Thursday, 15 September 2011

Since retune am now getting Cambridge local news. It appears we are now getting pictures from Sandy transmitter instead of Oxford. I live in MK18 area. Any suggestions as to what I should do or will it all go back to normal on 28th.

Dawn's 6 posts

Dawn:

I had exactly the same problem as you. Clear down everything your box/tv has stored (one way to do this is a full scan/install with the aerial lead removed - switch off all connected equipment before plugging/unplugging the aerial lead). Then put the lead back in and do a manual scan of the Oxford frequencies (the Oxford transmitter page on this website will tell you these)

Hope this helps,
Adam.

Adam B's 91 posts
Adam's:
map
A's Freeview map
terrain
A's terrain plot
waves
A's frequency data
A's Freeview Detailed Coverage

Following digital changeover yesterday - all seems OK but we do not now have Sky News available as a channel available on Freeview. Has it been withdrawn from freeview or will it become available at next switchover phase in the Aylesbury, Bucks region?

Stan Ball's 2 posts

New equipment, retune (many times) No ITV, ITV2, C5 yet ITV3, 4. Everything OK 13th, nothing 14th. It is not due to over amplification: I have checked. It is just the very low power
I know the power goes up on 28th but Rugby World Cup is on ITV and I will miss 2 England games due to switchover

Richard's 10 posts

Did the aerial out-full scan-aerial in-full scan but still cant get the C53cluster?
Any more ideas?

Barry's 8 posts

Richard: The best thing to do is wait and see what happens, if you have the BBCA full-power multiplex and can watch ITV1 OK on analogue, you have little to worry about.

Briantist's 38,905 posts

Stan Ball: Sky News is being broadcast as part of Multiplex C as it always has. If you are missing it check the 800-899 channel range or do this please - My Freeview box has no EPG, is blank on FIVE, ITV3, ITV4, ITV2+1, has no sound or the channel line up is wrong | ukfree.tv - independent free digital TV advice .

Briantist's 38,905 posts

Stan Ball: Note that Mux C has moved from C48 to C51 in order to let Sandy Heath have C48; in turn this allows Sandy Heath to release a channel that Sutton Coldfield will need next week.

It means you will need to delete and retune all Mux C channels as well as the BBC ones.

Mike Dimmick's 2,486 posts
Select more comments
Your comment please