Switchover starts in the Oxford area

Brian Butterworth published on UK Free TV
This week sees the first stage of the digital television switchover for 415,700 homes in the Oxford area - one year after the only true problem during the whole of the UK pre-switchover process, the Oxford transmitter fire.

From 6am Wednesday 14th September 2011, you must to a perform a "first time installation" retune (sometimes "Factory Reset" or "Shipping Condition") on your Freeview box or television set if you use the Oxford full service Freeview transmitter.

This is because the old low power "multiplex 1" BBC service (on C34) will be replaced by the high power BBCA multiplex on the old analogue Channel 4 frequency, C53. Analogue Channel 4 moves to C63 for two weeks. Also multiplex C will move from C48 to C34 for two weeks as well.

If you use the Ascott under Wychwood (3pm), Charlbury (noon), Guiting Power (9am), Icomb Hill (9am) or Over Norton (9am) relay transmitters from mid-morning on Wednesday 14th September 2011 you will be able to receive the BBC Freeview services (with the exception of HD) for the first time, and you will no longer be able to view BBC TWO on analogue.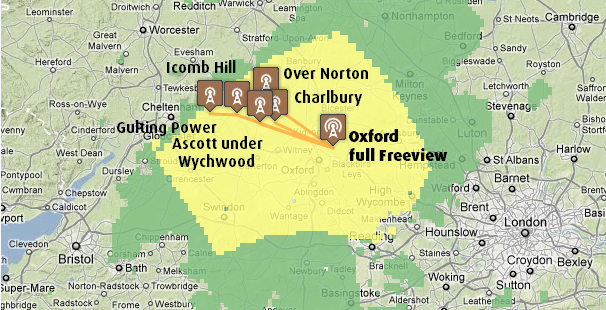 You MAY find that old equipment will no longer work - see TVs and boxes that do not support the 8k-mode

Another common problem at switchover is the ten-fold increase in signal from 10kW to 100kW will overload amplifiers and over-the-top aerial installations. If this is the case you will have to remove the booster or amplifier from the system, or perhaps fit an attenuator if you have no amplification.




On Wednesday 28th September 2011 will see the second stage of switchover, which provides the final Freeview configuration, including Freeview HD for all transmitters in this region.

On this date, you will need, once again, to do a "first time installation" as indicated above.

If you are over 75, you should already have been supplied new equipment by the Switchover Help Scheme.
Comments
Sunday, 13 November 2011

Please help, I have lost all signal / channels? I have used an indoor aerial with booster on my free view wharfdale television in my bedroom and has worked fine although did not receive all channels, but all of a sudden stopped working I have re installed, unplugged wiped etc..but to no avail. My postcode is OX11 7RL. Do I need a more powerful aerial or something??

Paula's 2 posts
Paula's:
map
P's Freeview map
terrain
P's terrain plot
waves
P's frequency data
P's Freeview Detailed Coverage

Paula: General advice is to use a roof-top aerial for best reception.

If you want to have a go at getting the set-top aerial to work, then you really need to get the TV tuned to the correct frequencies. This is because you're probably moving the aerial around to see where it works best, but in order to do so you need the TV to be tuned and in order to tune the TV you need the aerial in a position where it can get the signals. It's catch 22!

If I were you, I would take the TV to a room that has a fixed aerial such as the lounge with its roof aerial that I know works. You should then connect it up and tune it in.

Having tuned it in, take the TV back to the bedroom and connect it up and turn it on. Move the aerial to affect the best reception. Don't re-scan because you've already got it tuned to the correct channels (assuming it is as those shown for the Oxford transmitter).

The Oxford transmitter is to your north, so, if possible, put the aerial so that it is at that side of the building, or at least so that there isn't more than one wall between the aerial and outside in that direction. If you're not sure what direction this is, then look out the window at the direction that other aerials are pointing. In order to allow the aerial to be sited farther away from the TV it might be necessary to use an extension.

Dave Lindsay's 5,724 posts
Dave's:
map
D's Freeview map
terrain
D's terrain plot
waves
D's frequency data
D's Freeview Detailed Coverage

Thanks Dave, I have tried but its not having any of it, very strange as it worked until a couple of days ago? please can you tell me how to get free view if I don't have an aerial connection in my bedroom?
Many thanks


Paula's 2 posts
Paula's:
map
P's Freeview map
terrain
P's terrain plot
waves
P's frequency data
P's Freeview Detailed Coverage

Paula: Apart from the possibility of your actual TV having developed a fault, "if" the indoor aerial you are using has a separate booster try removing it, or if its one of these types with a variable control turn it down, as unless you are located in an area somewhat screened from the station, but by you being located at only 12 miles away from the transmitter you should (or could) be getting blasted with a signal from the main high powered muxes, and if reaching a bit "over the top" in signal strength it can block your TV's tuner killing all reception, even with an indoor aerial! because of it being of the boosted variety.

You will of course have to do as suggested by Dave Lindsay and retune the TV again, but after you have attended to what was mentioned, if though it is a boosted set top type with no control over its amplification then sit it on the floor to restrict its signal picking up properties.

This only being suggested to eliminate this always present possibility when problems of this nature occur relatively close to a high powered transmitter, but if it makes no difference and you have tried everything else as suggested by DL, then the reason for the problem is liable to point at your TV.

jb38's 7,179 posts
Select more comments
Your comment please