More Freeview capacity - COM7, COM8 and COM9 - in the 600MHz band

Brian Butterworth published on UK Free TV
Following on from More Freeview capacity coming 2012-2016 article I posted on 17th August 2011, Ofcom has now official announced the proposals for the 600MHz spectrum - Ofcom - 600 MHz band and geographic interleaved spectrum.

The new proposals will make for the provision of three new Freeview multiplexes, which I have provisionally called com7, com8 and com9 for the purpose of showing something on UK Free TV:





The proposals now suggest that the seven frequencies (C31 to C37) are split into three networks: two multiple-frequency networks and a national single-frequency network on C36.

The post-switchover UK Freeview comprises of two types of service - the public service multiplexes which are broadcast from all main and relay transmitters, and the so-called commercial multiplexes that broadcast from 80 "main" masts: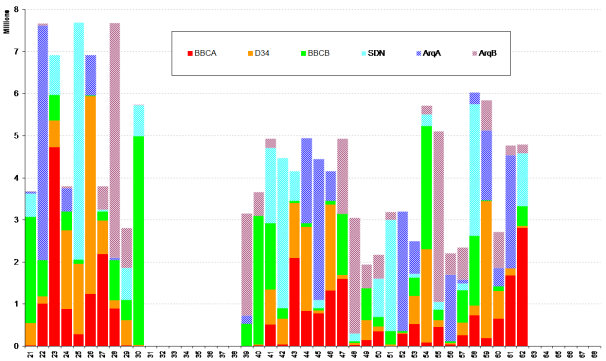 Arqiva, providing a solution to Ofcom have come up with a method of simplifying the 80-transmitter network plan to allow just three frequencies to be used to provide a further national multiplex. This is done by a number of techniques which include merging some areas into small single-frequency networks, as well as reducing the power level and using the DVB-T2 transmission system.

The reduced network configuration looks like this: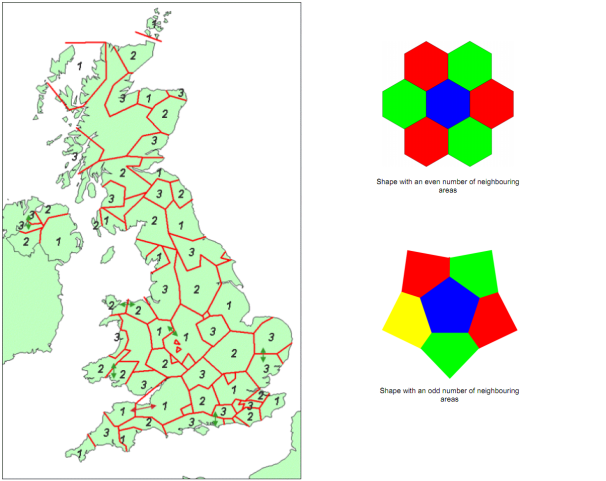 This allows for almost all homes that currently have access to the current commercial multiplexes (ArqA, ArqB and SDN) to be served by the two multiplexes. In addition C36 is configured for a national signle-frequency network. The provided level of coverage is shown on these maps: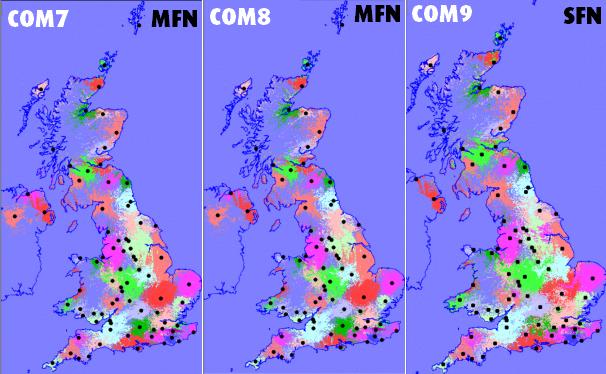 Comments
Saturday, 24 September 2011

Dave Lindsay: I think you have a strange idea of "politically-driven nonsense".

Briantist's 38,908 posts

Briantist: My thinking is that the Group system was devised for an engineering reason. I understood this to be because Group aerials are more sensitive than wideband ones, hence there is a trade-off.

The Group system has now been sacrificed. Is there really no engineering benefit to having it?

Dave Lindsay's 5,724 posts

So if all frequency's are to be used what do the thousands of people do with SKY linked to other TV's? Don't the powers that be care about that?

Ian Grice's 497 posts
Ian's:
map
I's Freeview map
terrain
I's terrain plot
waves
I's frequency data
I's Freeview Detailed Coverage

Ian Grice: Purely on the Sky RF output issue, it wont really matter if all the frequencies are going to be used, because in reality anyone that uses a Sky boxes RF modulator will still only have the multiplexes associated with the station they receive their Freeview from to contend with.

Should though anyone be in an area where more than one station can be picked up, then the actual signal strength received from the second station is not likely to be of a magnitude to cause a problem, although if it did, then at the very most it would only be from another six multiplexes.

I cant really see this particular issue as being a potential problem.

jb38's 7,179 posts

Briantst: As you say:
"Except that these signals are already down perhaps as much as -12dB as it is..."
I don't argue with that, but according to the graphs here: ATV Stock Aerial Tests (Frequently referenced!) an XB10B will have as much or more gain at channel 30 than any wideband aerial.

This is the solution I am looking at to receive Emley Moor where I live, as it has peak gain around channels 48-52 which is where the COM multiplexes are. A wideband would give me no better chance of receiving the new multiplexes when they appear.
It is of course quite likely that I won't get COM7, 8 & 9 whatever I do, due to the likely reduced power.

Chris (LS213PN)

ChrisW's 21 posts

Dave Lindsay: Grouped aerials do exist for an engineering reason.
For any given aerial type, there is a tradeoff between gain and bandwidth. This is particularly so with the conventional Yagi. It is possible to widen the bandwidth by adding extra elements - this is what the X beam does to some extent. Copare the Yagi 18 XB10 and XB16 at the ATV Aerial Tests, All have similar peak gain, but the two XBs are wider bandwidth.

The only "True" wideband TV antenna is the log periodic, but this sacrifices gain for bandwidth, only a few elements of a log periodic actively contribute to reception at a particular frequency. All other wideband TV aerials are a compromise, generally with peak gain at about Ch60 and gradually falling from there down.

ChrisW's 21 posts
ChrisW's:
map
C's Freeview map
terrain
C's terrain plot
waves
C's frequency data
C's Freeview Detailed Coverage

Dave Lindsay: Yes, the grouping system was introduced because no-one expected UHF television signals to go "over the horizon".

In the early days of UHF television, there was some surprise at what is called here "The Inversion Effect" - What is the Inversion Effect and why does it effect my Freeview TV reception?
| ukfree.tv - independent free digital TV advice .

So, to prevent interference during conditions that cause atmospheric ducting (because there are considerable problems with analogue and co-channel interference) the group system was introduced.

Co-channel interference is practicably eliminated by COFDM, the grouping system is is a redundant analogue legacy.



Briantist's 38,908 posts
David S.H.
8:43 PM


I'm all for it, if it increases the possible number of HD freeview channels and some new SD channels. But if it ends up being filled up with +1 channels, bidtv/qvc type channels and/or some topup tv style subscription channels then whats the point.

David S.H.'s 9 posts

Will this mean yet more re-tunes?

Ian Grice's 497 posts
Ian's:
map
I's Freeview map
terrain
I's terrain plot
waves
I's frequency data
I's Freeview Detailed Coverage

I wonder if it will be possible to sell all the extra multiplexes. There must come a point where increasing the number of channels becomes uneconomic as it has with DAB. As far as I can see the BBC are not going to want any extra space.

trevorjharris's 367 posts
Select more comments
Your comment please