Freeview modes - a simplified explanation

Brian Butterworth published on UK Free TV
As mentioned in How digital television works Freeview signals can be broadcast in a number of different "modes", which are a combination of five parameters. Some of these have changed over the years because the increase in computing power has made more efficient methods of broadcasting cheap enough to fit in a set-top box - it is now possible to broadcast high definition television or more standard definition services on the same physical wavelength.

As some of the ideas that are implemented would fill a text book by themselves, I have presented the concepts in a simplified way.


Sub-carriers
Each Freeview
multiplex
is broadcast within an 8MHz
channel
that was originally allocated to
analogue
television. Rather than being a single broadcast, the channel is split into a number of different signals that sit next to each other.
The original
digital
terrestrial
broadcasts (from the launch of ONdigital) used 1,705 sub signals (referred to as 2k
mode
) about 4,600 Hz apart. After
switchover
6,817 subcarriers (8k mode) means the signals are 1,170 Hz apart, with the high definition service using 27,841 (32ke) subcarriers just 280Hz apart.

It is possible to space carriers so close together because they are carrying digital information, in the analogue domain the problem with sidebands would render a similar system useless.
Symbol duration
For reasons detailed below, the information is not transmitted in single bits on each carrier, but as groups of bits which are referred to as "symbols". Each symbol is held in the transmission system for a given duration, 1024 us. The longer this time is, the less information is carried, but too short a duration for each symbol would not allow the
receiver
to detect the information correctly.
Guard interval
Each subcarrier also uses a guard interval, which turns off each carrier as part of the transmission cycle. With SD broadcasts, this is 1/32th of the symbol time (32us), on HD it is 1/128th (8us). The guard intervals start each symbol and exist to deal with the problems of multipath - where the
signal
is being received directly and also by reflections.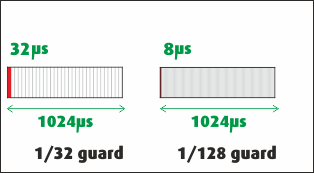 Forward error correction
In non-synchronous digital transmission systems, such as those used for the internet, the presence of data corruption between the sender and receiver can be signalled back to the source and the data resent.
However, a digital broadcast is a one-to-many unidirectional system, with no ability to ask for data to be resent.
For this reason, the transmissions use "forward error correction", which is a system that allows a certain level of errors to be detected.
The most basic form of a forward error correction (FEC) would be to transmit each bit twice - as long as each bit was sent along a separate subcarrier, then a single bit loss on one carrier could corrected by using the one sent on the other carrier. However, this is very inefficient, as it reduces the useful capacity of the system by half.

So, instead the DVB-T system uses a
Punctured Convolution coding system
. Instead of sending each bit twice, bits are grouped and then a code that describes the bits in a way that a single bit error can be detected and corrected most of the time.
Quadrature amplitude modulation
In the above descriptions, the word "symbol" was used to describe what is transmitted. You may have thought that a digital system would transmit information on the subcarriers as bits. However, doing this in a broadcast system is actually unproductive.
For this reason, quadrature amplitude modulation is used. This takes the incoming bits and encodes them in groups. The most basic form encodes bits two at a time, using sine (Q) and cosine (I) functions that are then added to the main carrier. In effect "00" is encoded as -Q-I, "11" as +Q+I, with "01" and "10" being +Q-I and -Q+I.

At the next level, as used for DVB-T, the bits are encoded in groups of four bits (16QAM) or eight bits (
64QAM
), with DVB-T2 being groups of 16 bits (256QAM).
UK Freeview modes
There are 10 modes defined for use in the UK, these are:
Mode 1: DVB-T 1705 (2K) carriers, 64QAM mode, FEC=2/3, 1/32 guard = 24.13Mbps
Mode 2: DVB-T 1705 (2K) carriers, 16QAM mode, FEC=3/4, 1/32 guard = 18.1Mbps
Mode 3: DVB-T 6817 (8K) carriers, 64QAM mode, FEC=2/3, 1/32 guard = 24.1Mbps
Mode 4: DVB-T2 6913 (8KE) carriers, 64QAM mode, FEC=4/5, 1/32 guard = 34.7Mbps unused
Mode 5: DVB-T2 27841 (32KE) carriers, 256QAM mode, FEC=3/5, 1/128 guard = 36.1Mbps unused
Mode 6: DVB-T2 27841 (32KE) carriers, 256QAM mode, FEC=2/3, 1/128 guard = 40.2Mbps
Mode 7: DVB-T 6817 (8K) carriers, QSPK mode, FEC=1/2, 1/32 guard = 6.0Mbps
Mode 8: DVB-T 6817 (8K) carriers, 64QAM mode, FEC=3/4, 1/32 guard = 27.1Mbps
"high capacity commercial multiplex mode".
Mode 9: DVB-T2 27265 (32KN) carriers, 256QAM mode, FEC=3/5, 1/128 guard = 35.2Mbps unused
Mode 10: DVB-T2 27265 (32KN) carriers, 256QAM mode, FEC=2/3, 1/128 guard = 39.2Mbps
Diagram showing capacity for each mode:
Comments
Saturday, 5 July 2014

Les Blakeman: Drama (20) is on the same multiplex as ITV3 (10), if you can view ITV3 but not Drama then rather than just retuning your TV you will need to carry out a "first time installation", this also called "manufacturers reset" - "default setting" or some similar sounding name dependant on the brand of equipment being used.

jb38's 7,179 posts
Sunday, 27 July 2014
J
Jamie Rose
5:39 PM
Slough

hi, before the Reduced quality as made the picture blurred a bit and I can see the white doted lines on the top left of the screen now. don't know what's happening. but it's only doing it on recorded programs on Freeview. can anything be done about this.?

Jamie Rose's 6 posts
Jamie's:
map
J's Freeview map
terrain
J's terrain plot
waves
J's frequency data
J's Freeview Detailed Coverage
Friday, 1 August 2014

When will the quality be increased again on the crystal palace transmitter.? Cause of the white doted lines on the top left of the screen I can see on recorded program's. (51.5142,-0.5710)

Jamie Rose's 6 posts
Monday, 3 November 2014

dear sir/madam
we live in bn3 and receive all freeview channels except those on Com5. Whenever we retune or rescan our HD disc recorder/freeview box fails to pick up Com 5 channels. Is there a reason for this? This problem is for both our TV's; one has an internal freeview box and did once get a signal whereas the second TV can never get a signal.
Yours faithfully
Pagets of Hove





erica's 1 post
erica's:
map
E's Freeview map
terrain
E's terrain plot
waves
E's frequency data
E's Freeview Detailed Coverage

erica: Try going to the manual tuning screen and enter UHF channel 56 (754MHz) - which is that of COM5 from Whitehawk Hill. Do this but don't press the button to scan/add services. Instead, wait and see what reading of strength and quality is given. Does it remain constant or is it varying?

Dave Lindsay's 5,724 posts
Friday, 9 January 2015

Can anyone confirm that there are some tuners that are not able to deal with the LW multiplex, 538 MHz, C29, at Crystal Palace, that contains local channel London Live? My Sony Bravia and a Medion freeview box have no problem, but a Goodman GDB3 box doesn't detect it. A couple of Samsung TV owners locally have also reported the same failure. I guess it may be that it's the mux's DTG-12 mode that's not being catered for.

IanR's 3 posts

IanR: Is this the problem?:

http://www.digitaluk.co.u….pdf

The London Live multiplex has a negative offset, C29-, meaning that its frequency is a bit below the centre of C29. However, COM6 from Crystal Palace also has a negative offset, but the other standard definition multiplexes don't.

Dave Lindsay's 5,724 posts
Saturday, 10 January 2015

Dave, that's a problem that I've long been aware of: it meant I lost a whole mux, then including Film4. Certainly if there is another mux offset it would explain at least the GDB3 deficit. But currently the only mux shown on Crystal Palace (Greater London, England) Full Freeview transmitter with an offset seems to be PSB3 at 545.8Mhz. London Live is still shown as LW C29 at 538MHz, ie on a regular 8MHz step.

One of the TV owners I mentioned refers to "my modern Samsung". Could be that he's not mastered retuning yet. But if he does have a problem, whether it's due to mux offset, mode, or whatever, I guess he should really be referring it back to them for comment and advice about a firmware update. I'm just a little surprised if a 'modern' set can't cope; though I've not found any other similar reports.


IanR's 3 posts

IanR: My assertion that C29 has a negative offset comes from Digital UK:

Coverage Checker - Detailed View

As for others not receiving C29, one reason is that they are using a communal aerial system which needs adjustment to allow the new channel through. Another reason is that the transmission power is lower than the other channels, so those in less than favourable areas "may" require extra power in order to receive. It is in now way "low", though, at 20kW!

Dave Lindsay's 5,724 posts
Monday, 12 January 2015

Dave: Thanks. One of the Samsung owners has since admitted success on retuning and the other is keeping shtumm. So I'll take a negative offset as the likely explanation, and assume it's relevant only to a few ancient boxes like my GDB3.

IanR's 3 posts
Select more comments
Your comment please