Freeview modes - a simplified explanation

Brian Butterworth published on UK Free TV
As mentioned in How digital television works Freeview signals can be broadcast in a number of different "modes", which are a combination of five parameters. Some of these have changed over the years because the increase in computing power has made more efficient methods of broadcasting cheap enough to fit in a set-top box - it is now possible to broadcast high definition television or more standard definition services on the same physical wavelength.

As some of the ideas that are implemented would fill a text book by themselves, I have presented the concepts in a simplified way.


Sub-carriers
Each Freeview
multiplex
is broadcast within an 8MHz
channel
that was originally allocated to
analogue
television. Rather than being a single broadcast, the channel is split into a number of different signals that sit next to each other.
The original
digital
terrestrial
broadcasts (from the launch of ONdigital) used 1,705 sub signals (referred to as 2k
mode
) about 4,600 Hz apart. After
switchover
6,817 subcarriers (8k mode) means the signals are 1,170 Hz apart, with the high definition service using 27,841 (32ke) subcarriers just 280Hz apart.

It is possible to space carriers so close together because they are carrying digital information, in the analogue domain the problem with sidebands would render a similar system useless.
Symbol duration
For reasons detailed below, the information is not transmitted in single bits on each carrier, but as groups of bits which are referred to as "symbols". Each symbol is held in the transmission system for a given duration, 1024 us. The longer this time is, the less information is carried, but too short a duration for each symbol would not allow the
receiver
to detect the information correctly.
Guard interval
Each subcarrier also uses a guard interval, which turns off each carrier as part of the transmission cycle. With SD broadcasts, this is 1/32th of the symbol time (32us), on HD it is 1/128th (8us). The guard intervals start each symbol and exist to deal with the problems of multipath - where the
signal
is being received directly and also by reflections.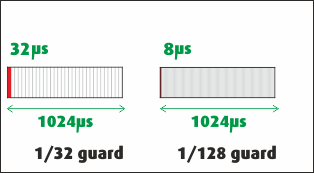 Forward error correction
In non-synchronous digital transmission systems, such as those used for the internet, the presence of data corruption between the sender and receiver can be signalled back to the source and the data resent.
However, a digital broadcast is a one-to-many unidirectional system, with no ability to ask for data to be resent.
For this reason, the transmissions use "forward error correction", which is a system that allows a certain level of errors to be detected.
The most basic form of a forward error correction (FEC) would be to transmit each bit twice - as long as each bit was sent along a separate subcarrier, then a single bit loss on one carrier could corrected by using the one sent on the other carrier. However, this is very inefficient, as it reduces the useful capacity of the system by half.

So, instead the DVB-T system uses a
Punctured Convolution coding system
. Instead of sending each bit twice, bits are grouped and then a code that describes the bits in a way that a single bit error can be detected and corrected most of the time.
Quadrature amplitude modulation
In the above descriptions, the word "symbol" was used to describe what is transmitted. You may have thought that a digital system would transmit information on the subcarriers as bits. However, doing this in a broadcast system is actually unproductive.
For this reason, quadrature amplitude modulation is used. This takes the incoming bits and encodes them in groups. The most basic form encodes bits two at a time, using sine (Q) and cosine (I) functions that are then added to the main carrier. In effect "00" is encoded as -Q-I, "11" as +Q+I, with "01" and "10" being +Q-I and -Q+I.

At the next level, as used for DVB-T, the bits are encoded in groups of four bits (16QAM) or eight bits (
64QAM
), with DVB-T2 being groups of 16 bits (256QAM).
UK Freeview modes
There are 10 modes defined for use in the UK, these are:
Mode 1: DVB-T 1705 (2K) carriers, 64QAM mode, FEC=2/3, 1/32 guard = 24.13Mbps
Mode 2: DVB-T 1705 (2K) carriers, 16QAM mode, FEC=3/4, 1/32 guard = 18.1Mbps
Mode 3: DVB-T 6817 (8K) carriers, 64QAM mode, FEC=2/3, 1/32 guard = 24.1Mbps
Mode 4: DVB-T2 6913 (8KE) carriers, 64QAM mode, FEC=4/5, 1/32 guard = 34.7Mbps unused
Mode 5: DVB-T2 27841 (32KE) carriers, 256QAM mode, FEC=3/5, 1/128 guard = 36.1Mbps unused
Mode 6: DVB-T2 27841 (32KE) carriers, 256QAM mode, FEC=2/3, 1/128 guard = 40.2Mbps
Mode 7: DVB-T 6817 (8K) carriers, QSPK mode, FEC=1/2, 1/32 guard = 6.0Mbps
Mode 8: DVB-T 6817 (8K) carriers, 64QAM mode, FEC=3/4, 1/32 guard = 27.1Mbps
"high capacity commercial multiplex mode".
Mode 9: DVB-T2 27265 (32KN) carriers, 256QAM mode, FEC=3/5, 1/128 guard = 35.2Mbps unused
Mode 10: DVB-T2 27265 (32KN) carriers, 256QAM mode, FEC=2/3, 1/128 guard = 39.2Mbps
Diagram showing capacity for each mode:
Comments
Friday, 15 June 2012
A
albert
3:17 PM
Bexhill-on-sea

Bexhill. After the June 13 retune I've lost the freeview channels in group 30. Before retune the signal was perfect, I've tried manual retuning.

albert's 3 posts
albert's:
map
A's Freeview map
terrain
A's terrain plot
waves
A's frequency data
A's Freeview Detailed Coverage

albert: May I ask you what the make and model number of your receiver is? There are some that have known issues that will prevent them from receiving this channel from Hastings transmitter.

If it turns out that you have an affected device, then I'll explain what the problem is.

Dave Lindsay's 5,724 posts
Sunday, 17 June 2012
A
albert
7:49 PM
Bexhill-on-sea

Dave JVC LT 32DE9BJ which worked fine on the Hastings transmitter before the June 13 retune

albert's 3 posts
albert's:
map
A's Freeview map
terrain
A's terrain plot
waves
A's frequency data
A's Freeview Detailed Coverage
Friday, 22 June 2012

Since the switchover we can't watch BBC channels! Dover transmitter LG tv with integrated freeview.

Paula's 1 post
Friday, 29 June 2012
I
Ian
11:28 AM
St. Leonards-on-sea

Before switchover all channels were 10/10 but after switchover, all BBC and ITV are still 10/10, but Sky and Yesterday et al are blocking and 7 or 8/10 signal quality. I noticed that during the auto scan it was picking up many TF1 etc channels. Its not been 'weather sensitive' pre-switchover. are the multiplexes shown as 'Low'/40kw due to be upgraded ? Regards

Ian's 1 post
Ian's:
map
I's Freeview map
terrain
I's terrain plot
waves
I's frequency data
I's Freeview Detailed Coverage

Ian: I gather that you're receiving from Dover.

The signals are as they will stay. In some cases the Commercial channels are lower power than the Public Service ones (see below).

See this page for the six multiplexes (those with a bullet in the "E"/England column apply):

DMOL Post-DSO Multiplex Channel Allocations

There are three Public Service Broadcaster (PSB) multiplexes and three Commercial (COM) ones.

Sky News and Yesterday are on COM5 and COM6 respectively. Is COM4 affected?

Do you know what UHF channel you have been picking up TF1 one? This information is usually given on the signal strength screen.

Maybe the problem is interference from another transmitter caused by the lift conditions.

-----

The plan is to have the PSBs cover the same areas as the former four-channel analogue. The COMs coverage is reported as being 90% of the population, versus 98.5% for the PSBs.

Even for transmitters like Dover which carry the COMs, their reach won't be as good as the PSBs from the same stations.

The COMs use a mode of signal that is less robust than the PSBs and this is so that they can squeeze more services in. By "less robust", think of sending a fragile package and a non-fragile package via a carrier that throws parcels around. Whilst the non-fragile package gets to its destination without damage, the same cannot be said for the bone china in the fragile one.

So where the signal (the carrier) isn't as good, the COMs are more likely to get broken whereas the PSBs aren't.

Dave Lindsay's 5,724 posts

what a bloody great find this was. Well done to you all on the outstanding advice you are giving.

I am getting a Freeview HD TV (Sony KDL 46ex653) next week. I currently have Sky Plus into my existing TV. My roof top aerial is very old.
I want to get rid of Sky and go with just the Freeview HD.
My question is what do I need to do to make this happen?
Thanks in anticipation
Mike

Mike B's 1 post
Mike's:
map
M's Freeview map
terrain
M's terrain plot
waves
M's frequency data
M's Freeview Detailed Coverage

Mike B: For Belmont you may need your old (Group A) aerial replacing with a wideband one because two of the six multiplexes are well out of that Group. A fuller explanation is below.

Whilst the cable might not be the double-screened stuff used for satellite installations, it may well be OK, or you may decide to replace it or have it replaced. It is the aerial the is most likely to be the difficulty.

I would try it and see. Digital reception requires sufficient signal strength to achieve reliable good quality. The objective is NOT to get the strength bar as close to 100% as possible.

Refer to this page for the six multiplexes (those with a bullet in the "E"/England column apply):

DMOL Post-DSO Multiplex Channel Allocations

You may find that COM5 and COM6 are unavailable or poor. The three PSBs and COM4 should be OK as they are all in Group A from Belmont. This means that your current aerial will be expected to receive the HD services.

I suggest that you focus on the first service from each multiplex, ensuring that they are good and tuned in correctly. They are (including UHF channel numbers for Belmont):

PSB1 | BBC One | C22
PSB2 | ITV1 | C25
PSB3 | BBC One HD | C28
COM4 | ITV3 | C30
COM5 | Pick TV | C53
COM6 | Yesterday | C60

For example, ITV3 is the first service carried on COM4. Go to it and bring up the signal strength screen and check that it is tuned to C30. These checks give you confirmation that your receiver is tuned to Belmont and not another transmitter.

-----

TV frequencies (known as channel numbers 21 to 69) are divided into three main Groups. Group A is the bottom third and the former four-channel analogue signals from Belmont were all in Group A. As a result aerials whose sensitivity was greatest on those channels were installed.

Channel 5 analogue from Belmont was lower power and therefore weaker and was also well out of Group, being on C56 which is the top third (Group C/D). After switchover, COM5 and COM6 are on 53 and 60 which may mean that your aerial isn't sensitive enough to pick them up.

For an explanation of aerial groups, see:

Aerials, TV Aerial and Digital Aerial

If you are looking at DIYing, or just want to be more informed before calling in a professional, see:

Belmont TV Transmitter


The obvious caveat that working on the roof or at height can be dangerous applies and the job should only be attempted by someone who is qualified and has the appropriate ladders.

Dave Lindsay's 5,724 posts

Hi guys,
My digital channels were working perfectly up until the two retunes in mid and late June, since which my BBC channels have become jerky. I had a new aerial and booster fitted a short while ago so I do not think it is an equipment problem, just something to do with the retuning. Any ideas? Am I stuck with poor reception now? Many thanks for any advice.
Adam

Adam's 1 post
Adam's:
map
A's Freeview map
terrain
A's terrain plot
waves
A's frequency data
A's Freeview Detailed Coverage

Adam: Which transmitter is your aerial pointing to? Is it Bluebell Hill?

If so, check that it is tuned to it for all channels. It could perhaps have tuned to the Faversham transmitter for BBC and ITV1 (this transmitter does not carry the Commercial channels ITV3, Pick TV, Yesterday etc). Or maybe it has tuned to Crystal Palace which is a few degrees off beam of Bluebell Hill.

For each of the following, bring up the signal strength screen and check they are correct (this assumes Bluebell Hill is the desired transmitter):

BBC One = C46
ITV1 = C43
BBC One HD = C40 (if applicable)
ITV3 = C45
Pick TV = C39
Yesterday = C54

BBC One could perhaps be tuned to Faversham on C21, Crystal Palace on C23 or maybe Rouncefall on C44.

If you find that it is tuned to one in the 20s, then the solution is simple; just run the automatic tuning scan with the aerial unplugged for the first 30% of the scan. This is because, as shown above, Bluebell uses those in the 40s and 54.

The scan runs from 21 to 69 so if it only gives a percentage as it progresses, then you can get a rough conversion to find out where to plug in the aerial.

Dave Lindsay's 5,724 posts
Select more comments
Your comment please