Switchover starts in Norfolk

Brian Butterworth published on UK Free TV
This week sees the first stage of the digital television switchover for 387,500 homes in Norfolk.

From 6am Wednesday 9th November 2011, you must perform a "first time installation" retune (sometimes "Factory Reset" or "Shipping Condition") on your Freeview box or television set if you use the Tacolneston full service Freeview transmitter.

This is because the old low power "multiplex 1" BBC service (on C63) will be replaced by the high power BBCA multiplex on the old analogue BBC TWO frequency, C55.

On Wednesday 9th November 2011 if you use the Aldeburgh at 10am, Bramford at 6am, Burnham noon, Bury St Edmunds at 6am, Creake at 3pm, Gorleston on Sea at 6am, Great Yarmouth (new transmitter) noon, Kings Lynn at 9am, Linnet Valley at 6am, Little Walsingham at 6am, Lowestoft (new transmitter) at 8am, Norwich Central at 9am, Overstrand noon, Thetford at 6am, Wells next the Sea at 3pm or West Runton at 9am relay transmitters you will be able to receive the BBC Freeview services (with the exception of HD) for the first time, and you will no longer be able to view BBC TWO on analogue.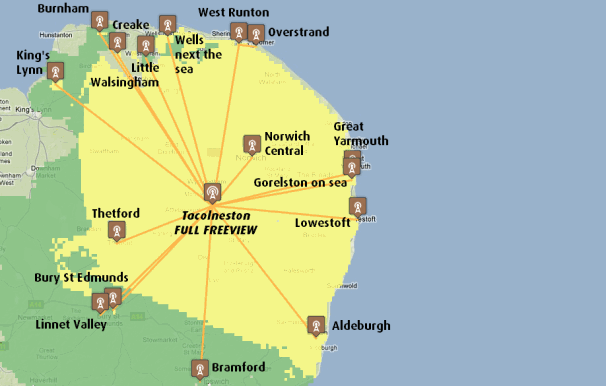 You MAY find that old equipment will no longer work - see TVs and boxes that do not support the 8k-mode

Another common problem at switchover is the ten-fold increase in signal from 10kW to 100kW will overload amplifiers and over-the-top aerial installations. If this is the case you will have to remove the booster or amplifier from the system, or perhaps fit an attenuator if you have no amplification. - see Freeview signals: too much of a good thing is bad for you.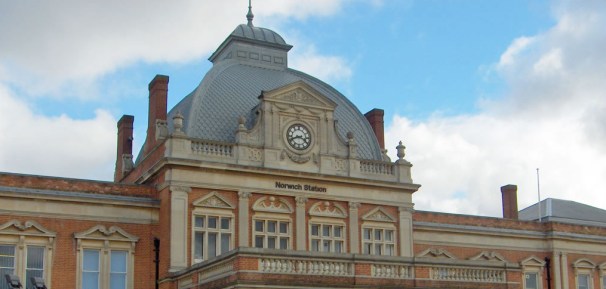 On Wednesday 23rd November 2011 will see the second stage of switchover, which provides the final Freeview configuration, including Freeview HD for all transmitters in this region.

On this date, you will need, once again, to do a "first time installation" as indicated above.

If you are over 75, you should already have been supplied new equipment by the Switchover Help Scheme.
Comments
Tuesday, 8 November 2011

Rich: Many of the North Norfolk relays exist only to provide the 'correct' local news to viewers otherwise covered perfectly well by the Belmont main transmitter in Lincolnshire. If you provide a full postcode we can check whether this is possible.

The transmitter sites, masts and aerials are owned by Arqiva but they are simply contracted to transmit the six licensed multiplexes. The commercial multiplexes are SDN (owned by ITV plc) and ArqA and ArqB, owned by a different division of Arqiva. In turn they're operating on a commercial basis and would have to increase their prices a lot to cover the increased costs of transmission. It's expected to be about a 70% increase in costs to transmit from all relays, even if frequencies could be found, which they probably couldn't.

Digital UK know the answer to that question, as an organization, but I'd expect it wasn't in the call centre's script.

Mike Dimmick's 2,486 posts
Wednesday, 9 November 2011

Mike Dimmick: How easy is it to connect two aerials, each for different transmitters?

Presumably there has to be a diplexer (or some sort of filtering). You can't simply connect via a splitter (in reverse).

I was looking at these here:
Online TV Splitters, Amps & Diplexers sales

So if, say, I wanted to receive Group A channels on one and Group B on another, I could use the first diplexer on that page (Channels 21 to 35 combined with 37 to 68 (i.e. split at CH36)). Simple. (OK, so a spanner could go in the works if a new mux goes on C36. Let's assume it will be rubbish and that I won't be interested in it!)

Now what if the UHF channels used by each transmitter aren't split so nicely?

Let's suppose I'm in King's Lynn. From the local relay I want 43, 46 and 49 (49 to be swapped for 39 at a later date). From Belmont I want 30, 53 and 60. How can this be made to work? (DN31NJ)

Dave Lindsay's 5,724 posts

If you wanted to select which channels you wanted from which aerial (using upto 3 aerials) the optimum solution would be to use a notch filter, much like the fracarro option below: -

Fracarro UK

OK these are a bit pricey for the domestic market, but will do exactly what is say on the tin. Given that most commercial filtering systems are £300+, this comes in quite nicely. (NN171QG)

Dave Reason's 1 post
M
Mike Kew
12:56 PM
Thetford

I am still unable to get Sky News.

Mike Kew's 5 posts
Mike's:
map
M's Freeview map
terrain
M's terrain plot
waves
M's frequency data
M's Freeview Detailed Coverage

Mike Kew: You will probably have to wait another two weeks until it is boosted to full DSO power. Only the BBC channels increased strength last night.

Dave Lindsay's 5,724 posts
Dave's:
map
D's Freeview map
terrain
D's terrain plot
waves
D's frequency data
D's Freeview Detailed Coverage

since this morning cannot get good signal for bbc 1 and 2 on my sony 503kdl (9 month old)though always had great signal before ,now both channels constantly break up, any ideas ?

john's 2 posts

Hi,

I've lost BBC and ITV channels, live in HA3 area Harrow, been down for 2 weeks.

Any Ideas please?

Frank's 1 post
Frank's:
map
F's Freeview map
terrain
F's terrain plot
waves
F's frequency data
F's Freeview Detailed Coverage

What is the exact frequency of '55-'?

John Figgis's 1 post

John Figgis: It says on the Tacolneston page that it is 745.8MHz

Dave Lindsay's 5,724 posts
Dave's:
map
D's Freeview map
terrain
D's terrain plot
waves
D's frequency data
D's Freeview Detailed Coverage

John.4:55PM above.First of all provide your full postcode as without this none of us will be able to assist you as such.

Mark Fletcher's 673 posts
Select more comments
Your comment please