Switchover starts in Norfolk

Brian Butterworth published on UK Free TV
This week sees the first stage of the digital television switchover for 387,500 homes in Norfolk.

From 6am Wednesday 9th November 2011, you must perform a "first time installation" retune (sometimes "Factory Reset" or "Shipping Condition") on your Freeview box or television set if you use the Tacolneston full service Freeview transmitter.

This is because the old low power "multiplex 1" BBC service (on C63) will be replaced by the high power BBCA multiplex on the old analogue BBC TWO frequency, C55.

On Wednesday 9th November 2011 if you use the Aldeburgh at 10am, Bramford at 6am, Burnham noon, Bury St Edmunds at 6am, Creake at 3pm, Gorleston on Sea at 6am, Great Yarmouth (new transmitter) noon, Kings Lynn at 9am, Linnet Valley at 6am, Little Walsingham at 6am, Lowestoft (new transmitter) at 8am, Norwich Central at 9am, Overstrand noon, Thetford at 6am, Wells next the Sea at 3pm or West Runton at 9am relay transmitters you will be able to receive the BBC Freeview services (with the exception of HD) for the first time, and you will no longer be able to view BBC TWO on analogue.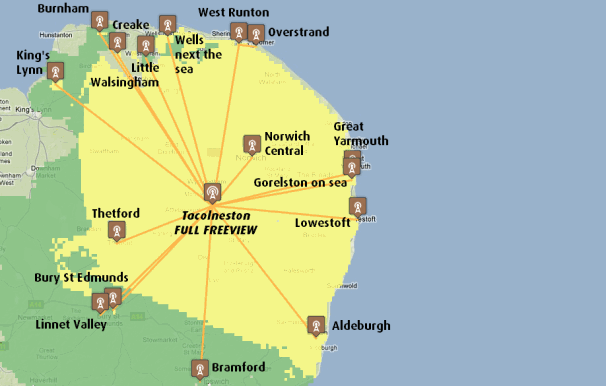 You MAY find that old equipment will no longer work - see TVs and boxes that do not support the 8k-mode

Another common problem at switchover is the ten-fold increase in signal from 10kW to 100kW will overload amplifiers and over-the-top aerial installations. If this is the case you will have to remove the booster or amplifier from the system, or perhaps fit an attenuator if you have no amplification. - see Freeview signals: too much of a good thing is bad for you.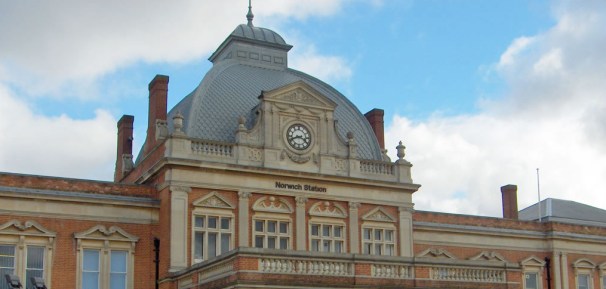 On Wednesday 23rd November 2011 will see the second stage of switchover, which provides the final Freeview configuration, including Freeview HD for all transmitters in this region.

On this date, you will need, once again, to do a "first time installation" as indicated above.

If you are over 75, you should already have been supplied new equipment by the Switchover Help Scheme.
Comments
Thursday, 10 November 2011

Richard Baguley: The list is on the Freeview on Tacolneston TV transmitter | ukfree.tv - independent free digital TV advice page.

Briantist's 38,903 posts

Chris Dunlop: Yes, the power measurement at the actual aerial is minute it usually calucalted in dBuA which are decibels, relative to 1 microampere, where

dBuA = 20 * log10( I ) + 120

Briantist's 38,903 posts

ok, found your xmitter RF/mux list.

Odd:-
No CH22 on your list but it's showing here
53 - yes, this is showing at 35 & 100
55 - OK, as prev post
58 - NS
60 - as prev post
61 - NS
64, 66, 68 - as prev post

Given that I should only be getting 5 RF channels and am getting up to 7 then I assume that I am receiving a relay?

Also, you say BBC4 etc is on 58 but this is NS yet these stations are all available & OK.

In summary, the only stations not in the post 9.11.11 EPG are CH61 Dave etc (but these were all OK pre 17.8).

Awaiting comments with interest!


Richard Baguley's 85 posts
R
Richard Baguley
2:37 PM
North Walsham

According to this page - Digital UK - Postcode checker - Results for Conifers, Mill Road, Dilham, North Walsham, NR28 9PU - Dave etc is on RF68.

Unable to receive RF68 except very intermittently since 17.8 which is why the 9.11.11 retune dropped it from the EPG.

Which leaves RF66 which is fairly good but is not on your list or the above and 22 ditto albeit that one is virtually NS.

I may have answered my question about Dave etc but still interested in Brian's comments.

Richard Baguley's 85 posts
Richard's:
map
R's Freeview map
terrain
R's terrain plot
waves
R's frequency data
R's Freeview Detailed Coverage

Richard Baguley: C22 could be any of these - Find a Freeview transmitter by frequency | ukfree.tv - independent free digital TV advice but is actually BBCA from Belmont.

As Belmont also uses C25, C28, C30-, C53, C60- I think you can probably guess.

During switchover, BBC FOUR (and also the radio services) in on BBCA C55- and MuxB C66.


Briantist's 38,903 posts

Richard Baguley: I would just wait until 23rd November 2011 and the final power levels will probably render your services back to normal...

Briantist's 38,903 posts

Having done a full retune on My Sony TV the BBC channels are breaking up, DSO yesterday from Norwich Central Transmitter. I work for a TV Manufacturer in their call centre and we have had numerous customers having the same issues. I help them do a factory reset which should work but it doesnt. DSO has been a complete didaster even the DSO helpline cannot even help the customer that end up calling me, so why does the helpline exist when all they say is call the manufacturer

Che Bramley's 1 post

Che Bramley: You have not provided a postcode, but for general advice see the Freeview signals: too much of a good thing is bad for you | ukfree.tv - independent free digital TV advice page.

Briantist's 38,903 posts

Thanks, Brian.

Apart from the glitches mentioned, my plan was to wait until Nov 23 as you say.

Richard Baguley's 85 posts

Richard Baguley: I hope everything is OK then.

Briantist's 38,903 posts
Select more comments
Your comment please