Switchover starts in Norfolk

Brian Butterworth published on UK Free TV
This week sees the first stage of the digital television switchover for 387,500 homes in Norfolk.

From 6am Wednesday 9th November 2011, you must perform a "first time installation" retune (sometimes "Factory Reset" or "Shipping Condition") on your Freeview box or television set if you use the Tacolneston full service Freeview transmitter.

This is because the old low power "multiplex 1" BBC service (on C63) will be replaced by the high power BBCA multiplex on the old analogue BBC TWO frequency, C55.

On Wednesday 9th November 2011 if you use the Aldeburgh at 10am, Bramford at 6am, Burnham noon, Bury St Edmunds at 6am, Creake at 3pm, Gorleston on Sea at 6am, Great Yarmouth (new transmitter) noon, Kings Lynn at 9am, Linnet Valley at 6am, Little Walsingham at 6am, Lowestoft (new transmitter) at 8am, Norwich Central at 9am, Overstrand noon, Thetford at 6am, Wells next the Sea at 3pm or West Runton at 9am relay transmitters you will be able to receive the BBC Freeview services (with the exception of HD) for the first time, and you will no longer be able to view BBC TWO on analogue.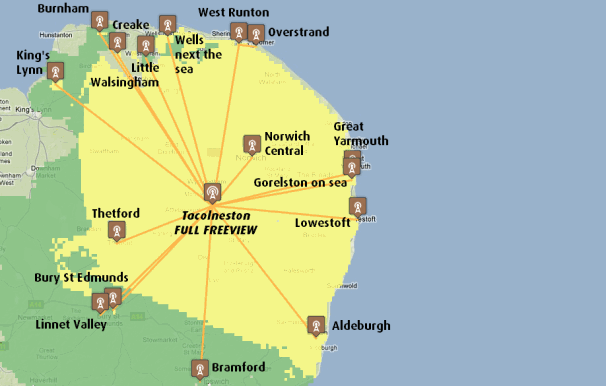 You MAY find that old equipment will no longer work - see TVs and boxes that do not support the 8k-mode

Another common problem at switchover is the ten-fold increase in signal from 10kW to 100kW will overload amplifiers and over-the-top aerial installations. If this is the case you will have to remove the booster or amplifier from the system, or perhaps fit an attenuator if you have no amplification. - see Freeview signals: too much of a good thing is bad for you.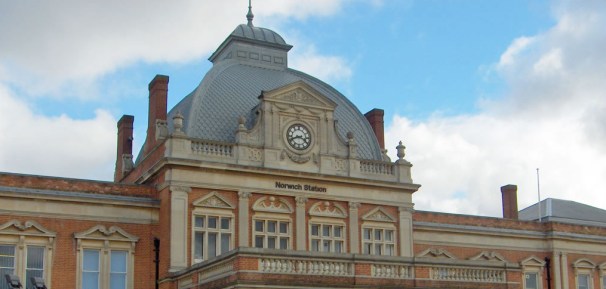 On Wednesday 23rd November 2011 will see the second stage of switchover, which provides the final Freeview configuration, including Freeview HD for all transmitters in this region.

On this date, you will need, once again, to do a "first time installation" as indicated above.

If you are over 75, you should already have been supplied new equipment by the Switchover Help Scheme.
Comments
Monday, 14 November 2011

Hi Richard Baguley

I think we have a booster on the ariel!

I did a factory reset on the big TV in the living room,it ended up picking up more stations than ever before (96 stations in total) BUT.....Dave,Film 4, 4 music,Pick TV etc etc cannot be watched even though the tv picked them up.

Weve never been able to get Film 4 or 4 Music before,do you think this is because of the work going on at Tacleston?

After the 23rd of November do you think Film 4 ,4 music etc will be watchable?

Chuck_Norris's 4 posts

I believe that the best thing is to wait until Nov 23 and a full retune when Tacolneston will be on full power on all muxes. The muxes on chs 66 and 68 are dire at the moment. If you can get a good reception on Ch 55 now receiving the remainder of the muxes on Nov 23rd should not be a problem.

Mike Smith's 19 posts
Tuesday, 15 November 2011

Chuck_Noris: It is likely that you will be unable to receive some channels from Sandy Heath due to them being on low power.

On 23rd November COM5/ArqA which carries Pick TV, Dave, E4+1, Challenge and others will move to its final UHF channel (frequency) and its final power. If you can't pick it up then, then you will not be able receive it.

COM4/SDN which carries ITV3, QVC, 5* and others will move onto its final UHF channel and power in 2012.

COM6/ArqB which carries Yesterday, Film4, 4Music went on to full power and final UHF channel on 14 September this year.

COM

Dave Lindsay's 5,724 posts
Dave's:
map
D's Freeview map
terrain
D's terrain plot
waves
D's frequency data
D's Freeview Detailed Coverage

mike: Who told you "operating at 88 percent power now" out of interest, as this is a totally fictional piece of information?

Briantist's 38,908 posts

Lee Donaghy: Many viewers will still be using 4:3 television sets with Freeview boxes, even though switchover is complete. HD services assume 16:9.

Briantist's 38,908 posts
Wednesday, 16 November 2011
F
Frances Hornor
12:09 PM
Norwich

I seem to have lost BBC1 BBC2 completely on my digibox and cannot get BBC2 reception on television, whilst BBC needed retuning manually ie. didn't appear on the auto-tune list. Is this to do with the switchover?

Frances Hornor's 1 post
Frances's:
map
F's Freeview map
terrain
F's terrain plot
waves
F's frequency data
F's Freeview Detailed Coverage

Frances Hornor: Yes, the BBC digital channels have changed frequency. BBC2 analogue signal has been switched off for good.

Dave Lindsay's 5,724 posts
Dave's:
map
D's Freeview map
terrain
D's terrain plot
waves
D's frequency data
D's Freeview Detailed Coverage

I currently have a modest loft aerial (2 storey house) feeding a Labgear 4-way booster in the loft - feeding 3 TVs. We are just 9.5 miles from the Tacolneston transmitter with direct line of sight from bedroom across fields.

Since phase 1 of the changeover, I'm getting full signal strength (10) on all channels on my Panasonic plasma. After phase 2, I'm concerned (having read posts and links above) that one or more of my TV receiver circuits are going to get overloaded. I see that I can get a variable coax attenuator from Maplin... What is the most appropriate course of action - put it on the aerial feed to the Labgear, or put one on each output to the TVs? I guess fixed attenuator(s) would be better - but tricky to judge what level of attenuation would be required...

All help/advice gratefully received.

Richard Harrison's 7 posts

Richard Harrison: See this site's explanation:

Usage and abusage of DTT TV booster amplifiers

It is possible that there will be too much signal going into your booster. So the problem isn't necessarily too much signal into your TV; it could be one or the other or both.

*Perhaps* you could remove it all together and replace with a four way splitter:

Online TV Splitters, Amps & Diplexers sales

As you can see, there is 8dB attentuation on each output when a 4-way is used.

Whether you can do away with the powered amplified obviously depends on the signal level from your aerial.

Bear in mind that there will be a certain amount of loss in the cables, so the longer they are, the more attenuation they give.

As a non-professional myself, I suggest that you have a look at the information on www.aerialsandtv.com (DN31NJ)

Dave Lindsay's 5,724 posts

Richard Harrison: Does your booster have a variable amplification control on it? If so, then it wants turning down.

Attentuation is the opposite of amplication. So if you decide to keep the booster, and you (for example) put -6dB attenuators on each output, then that is the same as reducing its amplification level by 6dB (assuming that the device allows reduction of its level).

What I would do (and I remind you I'm not a professional) is do some experimentation. Remove the booster and connect the aerial straight through to one of the outlets. The one with the longest cable would be the best as it is going to be the one with the least signal. You could try doing the same to others and see what you get.

If the TV still shows 100% strength, then you can be pretty sure that the -8dB attentuation will not put it below what the TV needs to work.

I say this because I have 90% strength from my loft aerial (at 25 miles from Emley Moor) and when I insert my variable attenuator and turn it to max attenuation (-20dB), all muxes are still receivable (strength 40-odd percent). So I know that with my 10m of WF100 coax, the signal level is still at least 20dB over what the TV needs to start to work.

More info on splitters here:
Television Aerial Boosters / Amplifiers, Splitters, Diplexers & Triplexers

Also see the page on cable types:
Satellite, Television, FM, DAB, Aerial, Coaxial Cable, Plugs, Sockets, Connectors & Leads (DN31NJ)

Dave Lindsay's 5,724 posts
Select more comments
Your comment please