Sudbury Arqiva multiplex B changes 16 November - retune required

Brian Butterworth published on UK Free TV
After 6am 16th November 2011, viewers in Suffolk and Essex who receive the full Freeview service from the Sudbury transmitter will need to do a full retune of their Freeview boxes - you must perform a "first time installation" retune (sometimes "Factory Reset" or "Shipping Condition") to ensure you can watch the all the available Freeview channels on the correct channel numbers.

The ArqB multiplex is moving from C50 to C63 for seven months. There will be no changes to the power level or transmission mode parameters of the service. C50 is required for the ArqB at the Tacolneston transmitter digital switchover next wednesday.

Sudbury not see the commercial multiplexes operating at their final power levels until 27th June 2012. On this date SDN will move to C58, ArqA to C60 and ArqB to C56. Until this time some viewers on the edges of the service area for the transmitter will be unable to receive the commercial services.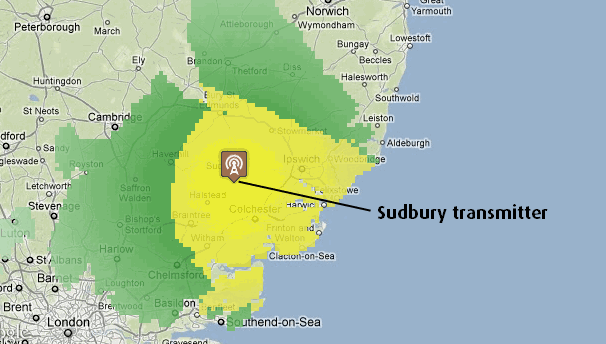 Comments
Wednesday, 16 November 2011

I'm in the middle of Sudbury, 3 miles NNW of the Sudbury mast and have now lost Yesterday etc with the switch to Channel 63 on one of my boxes, so the radiation direction could be less of the issue.

This box is connected to the original aerial (not sure how long its been there but long before we moved in) but has been fine for all channels/frequencies over the last 6 years. Removing the booster makes no difference, nor does replacing the Humax 9200 with a cr@ppy Tesco HD box. Humax shows signal strength at 34% max and quality at 10% max. Tesco box says no signal when attempting to tune to a missing channel.

The other box(es), connected to a wide-band in the loft and through a booster/splitter are fine. So I'm thinking it's now a lower power output and/or maybe the old aerial is no good for ch.63 which wouldn't make much sense as it was fine for ch.68. Is there a simple to way to tell, just by looking at an aerial on the top on a chimney, whether it is wide-band or not??

Hopefully someone will nail this issue soon!





Aaron's 11 posts

Plus one for the issues raised. My 2011 Panasonic GT30 tv no longer picks up Film4, ITV4, yesterday etc. I have lost alot of channels after the switch and after trying all the methods suggested i can still not pick up the channels i could until midnight last night.
I live in Colchester in postcode co4 3yp, very annoyed!

Nick's 1 post

Never mind about the wide-band identification - found out how! Just can't see what colour the bung is in the dark! Pretty sure its black though.



Aaron's 11 posts

Aaron you should take either your humax box or your hd box to one of the bedroom points that you know work and do a re tune if everything works fine take the box back to your main point if it comes up no signal or poor signal it is your aerial so call out a good local aerial man if it doesnt tune in upstairs and your other boxs do it could be your box. Just remember with the humax box you have to do a factory reset befor you retune hope this helps

Mazbar's 384 posts
M
Mark Fletcher
6:07 PM
Halifax

Aaron,Sudbury.Hard to say without a full postcode.In relation to one of yer two aerials,the loft antenna (group W wideband) is fine,no problem there.The other external antenna you mentioned check the coloured tip of yer aerial where it is pointing to,if the tip is coloured black then it is a group W wideband aerial,if the tip is coloured yellow it's a group B aerial,if the tip is coloured brown it's a group E semi-wideband aerial optimised for the middle-higher frequencies normally fr's 35-68 although superior group E aerials can pick up between fr's 31-34.If you feel your outdoor aerial is too old then the easy remedy is replace it with a group W wideband Log periodic as you mentioned you reside 3 miles from the main Sudbury mast using black or brown coloured satellite grade copper-copper co-ax cable and fitted importantly with a brass co-ax aerial plug,not alloy or worse still plastic plugs,they're useless.If you did follow the above advice (yer free to do as ya please) and you end up with too much signal fit an attenuator.I hope my advice is of use to you,feel free also to advice from fellow regulars on here too.The more advice on here whether its the same or different advice as such,the more better the options that are available for you to opt for !

Mark Fletcher's 673 posts

@Mazbar: Thanks. I was trying to avoid taking the Humax out of the TV unit - absolute b@st to get to but much easier to hang another box by the side. Have now pulled it, plugged it into the other aerial and now have a signal strength of 61% and quality of 100%. Will finish the scan and then go plumb it all back in again and hope that it can lock-on to the poorer signals. Can't help but think Arqiva are outputting 63 on a lower strength than they were on ch.50.

@Mark: Thanks for your input. The existing aerial is old but believe it is wideband as was picking up analogue 39-51 and digital 38-68. Can only think the output is now lower hence a lot of peeps having probs. If the Humax can't lock then I'll just get up a ladder and replace the aerial with an identical wideband to the one in the loft. Loft aerial is using PF100 cable and will use that again if I have to replace external aerial. No plastic plugs here but note your comment about using brass ones.


Aaron's 11 posts
M
Mark Fletcher
6:53 PM
Halifax

Aaron,Sudbury.I'm glad to be of some assistance to ya.Happy viewing !

Mark Fletcher's 673 posts

Aaron mark is right use a log aerial they are not the strongest for signal but they offer a flat frequency responce offer low interferance and low windage so great in high winds if you live near the coast

Mazbar's 384 posts

we are in Ramsey essex co12 4TJ and our signal strength goes from 100% 1min to nothing the next and all breaks up. We have retuned twice today!!

Jo's 1 post

Aaron: I suggest that you stop using the booster for a start off. Read this page:

Freeview signals: too much of a good thing is bad for you | ukfree.tv - independent free digital TV advice

Get yourself a variable attentuator from eBay.

Tune the devices in using the loft aerial as it's known to work. Then take them to the rooftop aerial.

Bear in mind that, as explained on that page, that receivers that indicate "no signal" or "low signal" could in fact be being fed too much signal which effectively blinds them. (DN31NJ)

Dave Lindsay's 5,724 posts
Select more comments
Your comment please