Sudbury Arqiva multiplex B changes 16 November - retune required

Brian Butterworth published on UK Free TV
After 6am 16th November 2011, viewers in Suffolk and Essex who receive the full Freeview service from the Sudbury transmitter will need to do a full retune of their Freeview boxes - you must perform a "first time installation" retune (sometimes "Factory Reset" or "Shipping Condition") to ensure you can watch the all the available Freeview channels on the correct channel numbers.

The ArqB multiplex is moving from C50 to C63 for seven months. There will be no changes to the power level or transmission mode parameters of the service. C50 is required for the ArqB at the Tacolneston transmitter digital switchover next wednesday.

Sudbury not see the commercial multiplexes operating at their final power levels until 27th June 2012. On this date SDN will move to C58, ArqA to C60 and ArqB to C56. Until this time some viewers on the edges of the service area for the transmitter will be unable to receive the commercial services.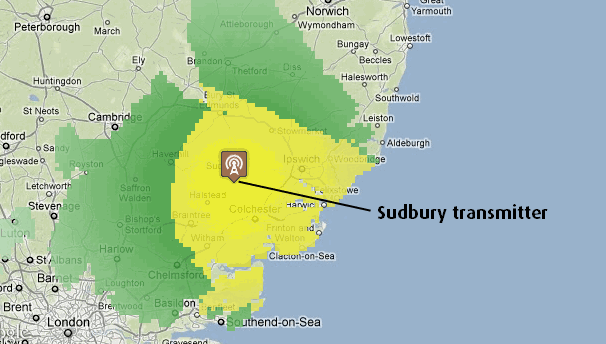 Comments
Thursday, 17 November 2011

I Garrod: lost film 4 music channels,no matter what you do you cant get them ,wasted upteen £s phoning a 0845 number for help , why dont they leave the fecking frequencys as they was , i bought a free view tv which was ok up untill yesterday,muppets

john's 10 posts

Dave, interesting points. The question is, if they have dumped ArqB on a sub-standard mast, will they leave it there, and/or will they be moving other muxes to that mast at the final situation?

John: I agree they're useless, they tried to get me to phone an 0845 number too but I was wary of doing so as I guessed I'd just be told standard stuff about retuning. Looks like I was right not to phone up judging by your experience!

yes's 13 posts

Digital UK are claiming it's an "individual reception issue" on their facebook site "http://www.facebook.com/digitalukanglia

Chris's 2 posts

Probaly done a deal with sky so that a lot of customers stay with them lol,what a shambles dave, ps on my main tv the 1st connection its ok all the previous channels are there,but the other 2 have completely gone,i got a brand new aerial so il suppose the say i need a new gadget ie booster or something for the other 2 tvs, they was fine on tuesday no problems at all , at the end of the day i think its a rip off, j essex

john's 10 posts

yes: The plan is to move the COM muxes to the main mast as well (this will happen in June).

Dave Lindsay's 5,724 posts
Dave's:
map
D's Freeview map
terrain
D's terrain plot
waves
D's frequency data
D's Freeview Detailed Coverage
Tim
12:20 PM
Walton On The Naze

Mark Fletcher: My postcode is CO14 8AW (that info sometimes disappears from my posts!) Anyway, the Look North problem seems to have been short-lived, probably more to do with the regional link, but maybe Mux 1 was temporarily weak at Sudbury at that time of the day. Today I still have no ArqB channels, and no ArqA (Ch54 was good before yesterday). Signal strength on Ch41 & Ch44 is around 82%, and Ch49 is 75%. No idea why my Goodmans box won't find any channels as of yesterday. It worked perfectly till then, and was unaffected by the July switchover (some boxes couldn't handle 8k).
I'm not convinced that yesterday's frequency switch was all they tinkered with ;-(

Tim's 34 posts
Tim's:
map
T's Freeview map
terrain
T's terrain plot
waves
T's frequency data
T's Freeview Detailed Coverage

I live near Manningtree and am on the Sudbury transmitter, until Tuesday I had a full range of channels, yesterday I lost around 30 including Film4

I called the Switchover helpline and they said I probably need a wideband aerial now, as does the post code searcher on the website

I'm pretty sure I already have a wideband aerial but then you don't always keep the bloody great box they come in, so I can't be sure until I can get up in the loft

Apparently wideband aerials have a black stud on the front and grouped aerails have colours?

My aerial is only 6 months old so it could turn out to be costly every time they decide to change something ....

Jamie's 1 post

no doubt your need to buy something new jamie ,just a money scam ,(

john's 10 posts
R
Ray
2:16 PM
Clacton-on-sea

Since the retune yesterday reception from the Sudbury Transmitter has been poor, even the normally reliable bbc channels are braking up. Also have lost some channels ie Yesterday on no 12,can you help on this matter and what was the reason for the retune ? I live at co16 8ul

Ray's 1 post
Ray's: ...

Have just looked at Digital UK webpage (they think all is well, of course!) and noted they said that the MUX changed from CH50 to CH63 but that there were 'no aerial implications' ..... notwithstanding the fact that they have clearly stuffed up in some way at the mast, anyone who still has a Group-B aerial would have picked up CH50 fine, but won't get CH63. So their statement is as wrong as a statement can be!
I have a wideband aerial, as previously stated, and now can't get the channels on ArqB.

Dale's 78 posts
Dale's:
map
D's Freeview map
terrain
D's terrain plot
waves
D's frequency data
D's Freeview Detailed Coverage
Select more comments
Your comment please