Sudbury Arqiva multiplex B changes 16 November - retune required

Brian Butterworth published on UK Free TV
After 6am 16th November 2011, viewers in Suffolk and Essex who receive the full Freeview service from the Sudbury transmitter will need to do a full retune of their Freeview boxes - you must perform a "first time installation" retune (sometimes "Factory Reset" or "Shipping Condition") to ensure you can watch the all the available Freeview channels on the correct channel numbers.

The ArqB multiplex is moving from C50 to C63 for seven months. There will be no changes to the power level or transmission mode parameters of the service. C50 is required for the ArqB at the Tacolneston transmitter digital switchover next wednesday.

Sudbury not see the commercial multiplexes operating at their final power levels until 27th June 2012. On this date SDN will move to C58, ArqA to C60 and ArqB to C56. Until this time some viewers on the edges of the service area for the transmitter will be unable to receive the commercial services.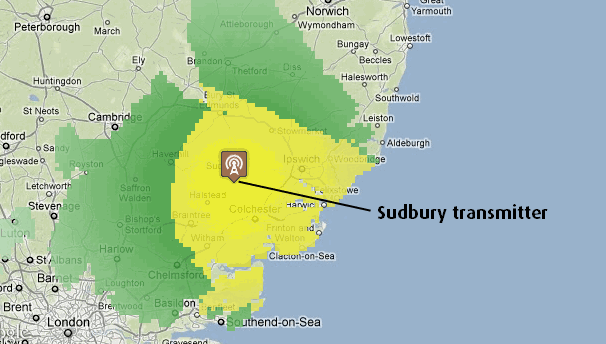 Comments
Thursday, 17 November 2011

Low power multiplexes have been a challenge here in Bildeston (12 miles from Sudbury) but prior to Wed 14th Ch50 had 100% signal quality and about 75% 'strength' (ch. 41 etc were 100%). Could also get ch68 about 50% before DSO.
Channel 63 now? nil, nada, SFA! Have manually tuned my PVR to 63 and there's not a whiff. Will get my spectrum analyser out later and have a look.
(ex satellite TV systems designer).

nigel's 1 post
Friday, 18 November 2011

Digital UK Anglia on their Facebook page say that the Sudbury transmitter is working as expected. Either that is a untrue or the expectation was set much too low. Whichever, heads need to roll.

What are they going to say when over the coming days and weeks the professional aerial installers start confirming our findings?

drgeoff's 22 posts

From CM9 (Maldon)
Changed from Crystal Palace to Sudbury a few weeks back, all well and no errors including the channel 54 MUX with a new band E & amp in the loft.

Now no sign of Ch63 MUX, pretty much as everyone else here !
Retune stops at Ch63 but picks up nothing (based on the other MUX data is it ?).

Looks like I'd better go back to running Crystal Palace a while longer. At least I can get at it in the loft.

Bill's 1 post
Bill's:
map
B's Freeview map
terrain
B's terrain plot
waves
B's frequency data
B's Freeview Detailed Coverage

I posted a note yesterday to say I had lost Aljazeera and Russia Today. It`s far worse than that, after multiple scans I can only now receive 60 tv channels and 10 radio
I used to have 80 TV channels and some of the smaller radio`s like Premier have gone.
I have two TV`s both with separate 36 element aerials pointing towards Lt Cornard which according to their postcode finder (Bures) is 2.3km away.
Look as though "Digital UK" need to get this sorted

alan's 9 posts
alan's:
map
A's Freeview map
terrain
A's terrain plot
waves
A's frequency data
A's Freeview Detailed Coverage

alan: Unless you are located in some horrendous black spot for reception, but with you being at only 2 miles away from Sudbury its a wonder you can receive anything with the aerials you are using without them being fitted with in line attenuators, as the tuners in your TV's are liable to be on the verges of being completely blocked for reception due to excessive signal strength.

Try a test retune using a set top aerial, or even a short piece of wire pushed into the middle of the aerial socket.

I will say though, that because of the temporary use of low power on the multiplexes used by Russia today etc many people are having severe problems in trying to receive them, but you shouldn't have this problem unless its because your tuners are being affected by receiving an excessively strong signal.



jb38's 7,179 posts

alan: Just to add, that the problem many are having in areas such as Sudbury or Oxford etc is in general terms basically due to the massive differential in power between the main multiplexes and the rest, as excessive signal strength on some channels is liable to desensitize some tuners of their capability in receiving weaker signals on other channels.

jb38's 7,179 posts

I live in the Felixstowe area and receive from Sudbury. On re-tune, Yesterday, Film4 and ITV4 vanished; however, after re-tuning my hard-disc recorder, those channels are available [I recorded from each one overnight]. Afraid I do not understand the technical jargon of many of your correspondents so, in simple terms, why is my TV less able than my recorder?

Dave Simmons's 1 post

Have just found out that my dad can get the channels on some boxes, but not others : he lives near me (IP2) but is a bit higher and has always had slightly better reception, and when he had his new aerial fitted they installed a mast-head amp. This has actually caused problems since DSO as the signal is now too strong on the PSB MUXes and I had to fit an attenuator in one room, but I'm guessing that it is managing to boost CH63 just enough for him to get it. Think I'll put my set booster back in the circuit and see if it changes anything ... though the industry bods on here have always said that set boosters don't help digital channels, so expecting nothing positive! Full report on this experiment later.

Dale's 78 posts
Dale's:
map
D's Freeview map
terrain
D's terrain plot
waves
D's frequency data
D's Freeview Detailed Coverage

And here is that 'full report' :
So ... reinstated the Labgear booster that I had used for analogue for many years.
(All the information I've read from the experts here, and elsewhere, is that these old set boosters don't help with digital channels, and in fact are more likely to degrade the signal by boosting the 'noise'...)
I now have a full set of channels on ArqB on CH63 : quality 90% on my TVs and 60% on my PVR. The quality on ArqA has also improved from 50% to 100% : the full-power MUXes are still working OK, so are not now too strong.
Would you Adam & Eve it, as they say!
Don't get me wrong : clearly this change of frequency has drastically reduced power, maybe on a directional basis, even though power levels were supposedly unchanged, BUT it may be worth other people digging their old boosters out of the cupboard like I did, and giving it a go.


Dale's 78 posts
Dale's:
map
D's Freeview map
terrain
D's terrain plot
waves
D's frequency data
D's Freeview Detailed Coverage

I already use a booster with my aerial as I've found it always has made a good difference to digital channels, but no luck with ch63. Also tried it with no booster and no luck again. I'm in mid-Essex, so probably in the wrong direction from the mast or the signal's too weak. Joke and Digital-mUKup don't care.

yes's 13 posts
Select more comments
Your comment please