Sudbury Arqiva multiplex B changes 16 November - retune required

Brian Butterworth published on UK Free TV
After 6am 16th November 2011, viewers in Suffolk and Essex who receive the full Freeview service from the Sudbury transmitter will need to do a full retune of their Freeview boxes - you must perform a "first time installation" retune (sometimes "Factory Reset" or "Shipping Condition") to ensure you can watch the all the available Freeview channels on the correct channel numbers.

The ArqB multiplex is moving from C50 to C63 for seven months. There will be no changes to the power level or transmission mode parameters of the service. C50 is required for the ArqB at the Tacolneston transmitter digital switchover next wednesday.

Sudbury not see the commercial multiplexes operating at their final power levels until 27th June 2012. On this date SDN will move to C58, ArqA to C60 and ArqB to C56. Until this time some viewers on the edges of the service area for the transmitter will be unable to receive the commercial services.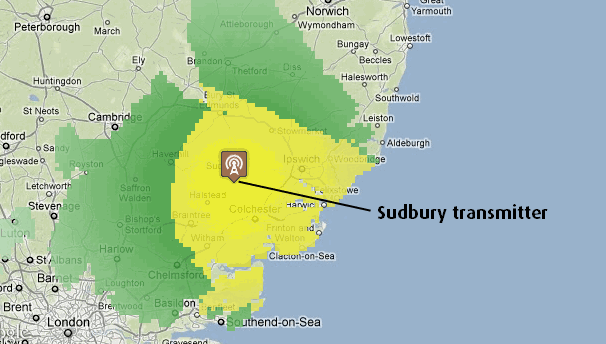 Comments
Friday, 18 November 2011

Btw, where's the info where you can see what strength (in Watts) the signal is and will be? I found some stuff on the Sudbury page on here, but it just says the current situation and not what the situation will be (or indeed has been).

yes's 13 posts

Im on the west side of Colchester and have exactly the same problem with the COM6 mux as everybody else since the 16th. 1% signal quality and either no reception or extreme pixellation at this location (and thats with a signal amp). COM6 is transmitted at a very low 1100W yet I have no reception problems with COM5 which is transmitted at 1500W. Why cant they boost the COM6 transmission power by a few hundred Watts to match COM5? Its still very low and unlikely to cause interference with adjacent areas.

CC's 1 post

Location: CM77 Rayne, Essex - ArqB/63 OK !

A modern wideband aerial on a high mast with modern cable finds 100+ channels including ArqB on Channel 63.

An old aerial on old style aerial cable, which did receive ArqB on Channel 50 now receives 76 channels, and no ArqB/63.

So, I conclude, that old style, non-broadband aerials are not designed for channels as high as 63, and it is not helped by the old cable and the low/lower-power transmission from Sudbury.

Trevor Wright's 7 posts

My tv aerial points to Sudbury, although being in Rayleigh I should get Bluebell like a train! Unfortunately, as I'm just below a high ridge up on Crown Hill - Bluebell is not an option, even with boosters, etc.
So this morning, after following yesterday's new Freeview retuning instructions (as for tuning from scratch), all we are now left with is just BBC TV channels!
My tv is a newish 42" Panasonic Plasma HD, and up til now has received loads of channels. Can anyone throw any light on what's happened. My last resort is to reposition the aerial to Crystal Palace, but @ 65, I don't fancy tackling my two storey roof! Thanks.

Shrimper's 14 posts
S
Shrimper
2:03 PM
Rayleigh

Shrimper: BTW, I still have my Humax HDR FreeSat box - so all is not lost :)
It's just that I have not "piped" my Freesat to other rooms with TVs :(

Shrimper's 14 posts
Shrimper's:
map
S's Freeview map
terrain
S's terrain plot
waves
S's frequency data
S's Freeview Detailed Coverage
Tim CO14
2:16 PM
Walton On The Naze

Dale: I agree, an old booster does make a difference to some users, but not me (I've got an Antiference A1100R) - I suffer a 20% LOSS of signal if the cable goes through that!
Trevor Wright: Yes, you're right about old equipment, but mine's all bang to up date, and I still can't get Ch63!

Tried another re-tune today, and my Samsung HDD/DVD recorder shows a 55% signal strength when trying to tune in to Ch54 (ArqA), but doesn't find any TV channels on that frequency. So as posted previously, I now no longer receive either Arqiva muxes. A substantial power output increase is what's needed. Or is that out of the question?

Tim CO14's 34 posts
Tim's:
map
T's Freeview map
terrain
T's terrain plot
waves
T's frequency data
T's Freeview Detailed Coverage

I posted earlier to say that I have lost a multitude of channels.
Its not me, the rest of my road in Bures are all moaning.
Just had a knock at the door stating same problem
And Yes "Dale" both my aerials ( two sets)have powered mast head amps

alan's 9 posts

Trevor: Was your old aerial a narrowband/grouped one or a wideband one? I'm assuming the former?

yes's 13 posts
S
Shrimper
4:08 PM
Rayleigh

Some freeview digital channels are returning, ITV etc., but not @ full bore. So I checked signal condition of BBC1 & 2, and they are down by 66%, but pic not breaking up or any sound probs. This smells of a transmitter power reduction @ Sudbury? Or are there adverse weather conditions?

Shrimper's 14 posts
Shrimper's:
map
S's Freeview map
terrain
S's terrain plot
waves
S's frequency data
S's Freeview Detailed Coverage

Dale: Speaking as an engineer, I can tell you that boosters such as you have described used in the correct circumstances "do" in most instances make a large difference in the positive sense as to whether or not a signal is received at a level that can resolve a reasonably glitch free picture, that is high enough above the so called "digital cliff" level effect so that the usual slight fluctuations in signal strength that's always in evidence (due to reflections etc) keep it from intermittently dipping down into the cut off zone, albeit this being a tall order in some areas where vegetation (trees etc) or other movable objects exists.

I would therefore respectfully suggest that any comments that you may have seen to the contrary are liable to originate from sources that are inclined to dwell too much along theoretical lines, because as any experienced engineer of the longer term variety knows, when dealing with RF signals whether it be for transmission or reception, theory of what's liable to happen compared to the reality of actual practice, can (and is!) in many instances quite altogether different.

jb38's 7,179 posts
Select more comments
Your comment please