Sudbury Arqiva multiplex B changes 16 November - retune required

Brian Butterworth published on UK Free TV
After 6am 16th November 2011, viewers in Suffolk and Essex who receive the full Freeview service from the Sudbury transmitter will need to do a full retune of their Freeview boxes - you must perform a "first time installation" retune (sometimes "Factory Reset" or "Shipping Condition") to ensure you can watch the all the available Freeview channels on the correct channel numbers.

The ArqB multiplex is moving from C50 to C63 for seven months. There will be no changes to the power level or transmission mode parameters of the service. C50 is required for the ArqB at the Tacolneston transmitter digital switchover next wednesday.

Sudbury not see the commercial multiplexes operating at their final power levels until 27th June 2012. On this date SDN will move to C58, ArqA to C60 and ArqB to C56. Until this time some viewers on the edges of the service area for the transmitter will be unable to receive the commercial services.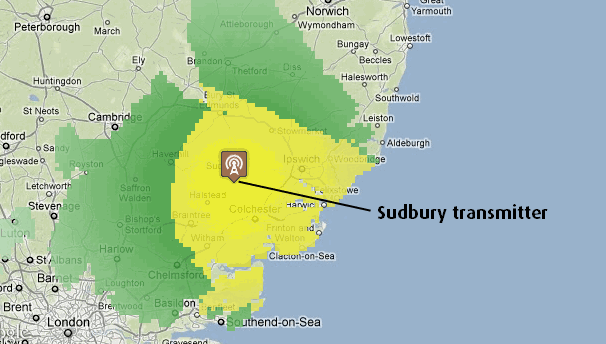 Comments
Saturday, 19 November 2011

[tounge-in-cheek]Perhaps somewhere very near the transmitter there is a metallic structure which is resonant at 810 MHz and "sucking up" the transmitted energy![/tongue-in-cheek]

Is that any less believable than the helpline's explanation that all of us have rubbish aerials?

drgeoff's 22 posts
D
drgeoff
8:59 PM
Felixstowe

@ Dale
Radio waves can be reflected by objects of size greater than their wavelength. At UHF TV frequencies that is about 0.5 metres. If the aerial picks up both a direct signal and a reflected one of significant strength then the reflection will reinforce or reduce the sum, depending on the relative phase. The relative phase depends on both the difference in path length and the wavelength. So different channels will be affected differently.

The path length difference also determines whether the reflection is visible as a ghost on analogue TV. 2% of screen width corresponds to 1 microsecond which is 300 metres path difference.

drgeoff's 22 posts
drgeoff's:
map
D's Freeview map
terrain
D's terrain plot
waves
D's frequency data
D's Freeview Detailed Coverage
Sunday, 20 November 2011

@drgeoff
The COFDM transmission layer used by DVB-T (as well as DAB and several other transmissions) mitigates against multipath issues to some extent.
I'm line-of-sight to Sudbury transmitter (9km away in Colne Engaine) so suffer no blockage, yet after 16th Nov I too have no ArqB channels. It's unlikely to be the frequency change as free-space path loss difference between 738MHz and 810MHz is only just under 1dB.

Carlos's 1 post
S
Shrimper
3:26 PM
Rayleigh

Shrimper: Regarding Tacolneston's transmitter maintenance @ Sudbury's expense ........... I did a "shipping condition" tuning exercise yesterday on my fairly new Panny Viera Plasma(HD)42". Got to say that when I did a new scan for all Freeview channels, I got a far better result with the strength of signal registered for all BBC, plus ITV, Ch4 & 5, and all the other lesser channels except Film 4. Also still no SKY News, but that used to be shaky b4 the latest transmitter antics. However, that's why I got my Humax Freesat box in 2010, to ensure reception of more channels (incl. Film 4), and improved signal strength - well most of the time ;)

Shrimper's 14 posts
Shrimper's:
map
S's Freeview map
terrain
S's terrain plot
waves
S's frequency data
S's Freeview Detailed Coverage
D
drgeoff
4:37 PM
Felixstowe

@ Carlos
Yes, I know about COFDM being resilient to multipath. My answer to dale was really in respect of his 1970s analogue reception.

I'm also following a discussion on a digitalspy forum. A poster in Clacton says he is getting Arq B with an 14 element Grp E contract aerial pointing out of his first floor bedroom window!

drgeoff's 22 posts
drgeoff's:
map
D's Freeview map
terrain
D's terrain plot
waves
D's frequency data
D's Freeview Detailed Coverage

BBC Radio Suffolk was today carrying a news story about someone just outside Ipswich (Kesgrave) losing ArqB : Digital UK's representative informed listeners that people had been warned that they would need to re-tune on 16th Nov, and the reason they had lost channels was that they had not bothered to do so!

I have since been in touch with the station newsdesk (Steve Blower) pointing out that this was a scurrilous response, pointing him towards this forum, and making sure he realised that many people HAVE re-tuned, HAVE got new aerials, DID have all ArqB channels when it was on CH50, and now have lost them on CH63. The following is his reply :

"Dale,
Thanks very much for getting in touch with us.
I am pleased to have someone of your expertise contacting me.
I would like to return to this story in a couple of weeks.
So I will be in touch with you.
Like you everything was fine for me at home before Nov 16th.
Have you heard if they re going to do any tweaks.or will there be nothing else until next summer?
Many thanks
Steve Blower"

(I have email'ed back pointing out that I don't actually have any expertise, before anyone else points this out! I've also told him that nothing now will change until June 2012)

Clearly the fact that he himself is one of the people affected has evoked a response that is different from other parts of the media that I have contacted!

Dale's 78 posts
Dale's:
map
D's Freeview map
terrain
D's terrain plot
waves
D's frequency data
D's Freeview Detailed Coverage

Dale: I think that local media is the way to go WRT raising awareness. You could always brief local newspapers once the BBC piece has gone ahead as they might be more interested.

Dave Lindsay's 5,724 posts

Have 'listened again' to some of the Suffolk output from this morning, and apparently the Digital UK manager for this region (Megan someone?) also told the local BBC that the guy in Kesgrave (who is on the Sudbury transmitter) should get all his channels back after 23rd November - when Tacolneston completes switchover. So either :
a) There IS a further change to CH63 (Arqb) power etc next Wednesday, which is not documented, and this is a temporary state of affairs : in which case, why have they been telling people to re-tune and buy new aerials? ; or
b) She is talking out of her bottom.

Place your bets ...

Dale's 78 posts
Dale's:
map
D's Freeview map
terrain
D's terrain plot
waves
D's frequency data
D's Freeview Detailed Coverage

Dale: I believe that the lady's name is Megan Lewis and she is "Assistant Regional Manager".

The Regional Manager for Anglia is Peter Monteith:

Digital UK - Anglia TV region

E-mail addresses appear to be of the form firstname.lastname@digitaluk.co.uk

Dave Lindsay's 5,724 posts

Dave : thanks, I sit corrected!
And I should have known that the manager was Peter Monteith, as I've seen him talking tripe on the local TV news, and writing tripe in the local rag, before now!

Dale's 78 posts
Dale's:
map
D's Freeview map
terrain
D's terrain plot
waves
D's frequency data
D's Freeview Detailed Coverage
Select more comments
Your comment please