Switchover ends in Berkshire and North Hampshire

Brian Butterworth published on UK Free TV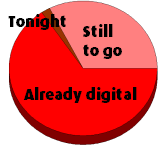 Tonight, the first
switchover
of 2012 will see the number of homes with digital-only
terrestrial
reception
in the UK goes up by 483,600 from 65.6% to 67.4%.
Viewers in the
Berkshire and North Hampshire area
who use the
Hannington
transmitter
(and 8
relay
transmitters) will have no
analogue
television from Wednesday 22nd February 2012. Unless you use
cable
or
satellite
to watch television, if you don't use a
Freeview
box or set, your screen will be blank.
Most people need only perform a "full retune" on their Freeview box or TV, but it would be impossible with 483,600 homes covered by the transmitters, for no-one to have a problem.

From Wednesday 22nd February 2012 you MUST have a digital television device to watch TV. If you do not have a digital receiver, from Wednesday will have a blank screen.
Do not expect a terrestrial television service from midnight until 6am - or a late as 3pm on relay transmitters (see below for timetable)
.
Switchover help scheme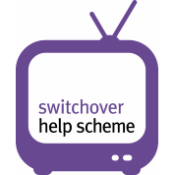 If you are over 75, get (or could get) Disability Living Allowance, Attendance Allowance, Constant Attendance Allowance or mobility supplement; or have lived in a care home for six months or more; or are registered blind or partially sighted and need assistance, please see
The Switchover Help Scheme
.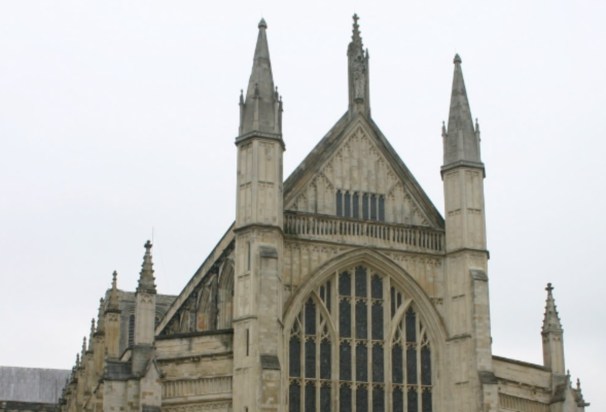 Cable and satellite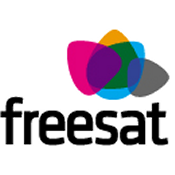 Cable (Virgin Media) and satellite (
Sky
,
Freesat
,
fSfS
) viewers are not affected by the changes. Remember, however, that you may be using analogue TV to watch on a second or third set and it might need a Freeview box.
Existing "full" Freeview users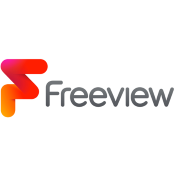 If you already use Freeview, and can receive all the
channels
now, check your TV or box is not listed here -
TVs and boxes that do not support the 8k-mode
. If it is, you will need a new Freeview box.
If you are not on the list, you should
scan
your box from around 6am.
When you now rescan, you MUST do a "first time installation" or "factory reset" scan (sometimes called "shipping state"), not a simple "add channels"
. Do the procedure you did on "national retune day", September 30th 2009, see
Freeview Retune - list of manuals
.
If you can't recall the procedure or find the manual, please see
generic clear and rescan procedure
.
If you scanned during the first phase of switchover on Wednesday 8th February 2012 - you will have to do it again on Wednesday 22nd February 2012.
Using Freeview with Windows Vista
Please see
Switch over and PC-based systems
because you need some
updates
for your system to work.
Boosters and amplifiers
If you live close to the transmitter, you may have to disconnect any "boosters" from your
aerial
system.
The new, more powerful digital signals may overload any amplifiers and result in no reception!
When looking for them include a check for distribution amplifiers,
loft
boxes, set back amplifiers, bypass Amplifiers, hidden
masthead
amps in a loft space and any dodgy active splitters.
For full details, see:
Freeview signals: too much of a good thing is bad for you
.
Homes without Freeview now have Freeview Light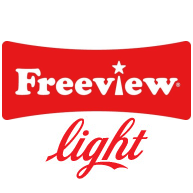 If you had no Freeview service before, you will have the BBC channels digitally from Wednesday 8th February 2012. This is a single
multiplex
of the BBC channels (radio, television and text) for most people.
However, if you were on the fringes of reception from one of the main
Freeview transmitters
, you will now get all the Freeview channels.
If you didn't get this limited Freeview service on Wednesday 8th February 2012 then you may need a new aerial.
If you are served by a public service (relay) transmitter, which are:
Aldbourne
(6am),
Alton
(9am),
Chisbury
(noon),
Hemdean
(9am),
Hurstbourne Tarrant
(3pm),
Lambourn
(12:30pm),
The Bournes
(noon),
Tidworth
(9am)
...you now need, from around from 6am (unless shown otherwise) on 22nd February 2012 to rescan, and you will get a second Multiplex with ITV 1,
ITV 2
, ITV 1 +1,
Channel 4
,
Channel 5
, Channel 4+1, E4 and
More4
.
And that's your lot if you have a
standard
Freeview
receiver
, see
Freeview retune - poor public service transmitters
.
You may wish to
install
Freesat for more channels, see
Compare Freeview Light and Freesat TV
.
Everyone who has digital-only terrestrial TV now has the ability to receive
Freeview HD
, see below.
Digital regional overlap
The old analogue TV signals provided lots of nations and regions for the public service channels, and these have large areas of overlap.
The old low
power
digital TV signals were at very low levels and reception of signals from more than one transmitter was a rare event.
All Freeview boxes automatically scan the available broadcast frequencies looking for channels, and they do this from
C21
to C69. Older Freeview boxes will, if a duplicate version of a channel is found whilst scanning, such as another BBC One
region
, placed it in the 800-899 channel range.
Some of the latest Freeview boxes will
pick
the strongest signals for the "primary" number positions, and some will detect the different regions providing a choice when you perform a "scan for channels".
The 800-899 is easy to access by pressing CH- from 1, and in most programme guides is just a single scroll up.
For more details, see:
Digital Region Overlap
Freeview HD
Freeview HD will start on Wednesday 22nd February 2012 from Hannington and all 8 relay transmitters. You will need a Freeview HD - DVB-T2 receiver to watch the channels.
An HD "Ready" TV set with Freeview is not enough
.
Comments
Wednesday, 22 February 2012

HI BRIANTIST,Ihave connected sky to tv and dvd recorder,all with your help.I have one more problem,the dvdr will not record.I only have one scart on tv and that is in use,is there any way i can get the dvdr to record?The dvdr manual states "this set does not have a modulated channel output it loops through the RF output".Other than this problem I can watch sky and play a dvd no problem.Many thanks

maureen williams's 3 posts

Maureen,

Have you ensured the DVD recorder has an aerial feed into it??

Adrian's 56 posts
Thursday, 23 February 2012
M
maureen williams
12:06 AM

ADRIAN,I have just connected it with scarts,i have no clue how to get aerial feed,is it possible?

maureen williams's 15 posts

maureen williams: The normal procedure is to have the Sky box connected into the TV's scart socket and the DVD recorder connected into the Sky boxes AV2.(might be called called VCR)

In operation, as soon as you take the DVD recorder out of standby it should automatically pass through the Sky box and appear on the screen as though only it was connected directly into the TV, this enabling you to play back a previous recording or even set it to record something from the Sky box.

The only thing to remember is that you will have to make sure that when setting the recorder to record anything from Sky that you have selected AV1 on the recorders
"input selector" or it will try to record from its own internal tuner, which of course you may want to do as well if it can receive a signal via the aerial, which of course should be connected to the DVD recorder's aerial input socket then looped into the TV.

It would have been of assistance to know what model of DVD recorder you are referring to plus your location (pref: post code) this for signal checking purposes.

jb38's 7,179 posts

maureen williams: Another little point I accidentally omitted, when devices are connected his way its basically the "last" device taken out of standby that can be seen on the TV, so if the DVD recorder seems to be hogging the TV just switch the Sky box into standby then back out of it again and it will take control of the TV, likewise the same thing being done if the Sky box doesnt seem to be allowing the DVD to pass through it, i.e: switch the latter into standby then back out of it again, or of course just leave the Sky box in standby unless you are recording from it.

Also the statement seen about modulated output just means that it doesnt have the same facility to that of a Sky boxes RF1/2 modulated output signal like what you would get from an analogue TV transmitter, as the DVD recorders aerial just loops through the box as well as going into its internal tuner.

jb38's 7,179 posts

jb38,Thanks for info.The dvdr in question is a Panasonic TU-DSB30,the statement about modulated output,made me think i had a problem,and it would not record.Thanks for help,much appreciated.

maureen williams's 15 posts

jb38,Sorry post code ir nr317ne.We seem to get pretty good signals.

maureen williams's 15 posts

maureen williams: Thanks for the update! and which indicates that Tacolneston (@ 25mls) is your main station, you must though be in a bit of an iffy reception area as Gt Yarmouth is located at only 2 miles away and yet its reception is indicated as being variable on that code, likewise is Lowestoft @ 6 miles although both stations are transmitting on 400watts, the main station Tacolneston being 100Kw.

The test of where you are actually receiving from (irrespective of the reception predictor) is whether or not you can get ITV3, as its only transmitted from Tacolneston and not from either of the other two mentioned as they are PSB only relays.

jb38's 7,179 posts
Friday, 24 February 2012

jb38,think i must have got lucky,i can get itv3,so it must be taclolneston,the reception is great.Thanks again.

maureen williams's 15 posts

Can someone tell me why, after the boost in signal strength, of two days ago I can no longer get film4, yesterday, dave, sky news, and several other programs that were fine before switch over? I have retuned and can get the main BBC and ITV channels very well. Is this as good as it is going to get or are further increases in signal strength in the pipeline? Will I have to install a dish for the now non-existent channels. Postcode RG456HN

Roger Spinks's 2 posts
Select more comments
Your comment please