East Sussex and Southwest Kent switchover completes on Wednesday 13th June 2012

Brian Butterworth published on UK Free TV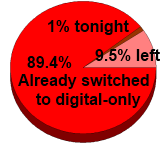 Starting just after midnight on Wednesday 13th May, the next
switchover
of 2012 will see the number of homes with digital-only
terrestrial
reception
in the UK go up by 277,500 from 89.4% to 90.5%.
Viewers in East Sussex and Southwest Kent who use the
Hastings
,
Heathfield
or
Tunbridge Wells
"full Freeview" transmitters (and about 15 smaller
relay
transmitters) will have no
analogue
television from Wednesday 13th June2012. Unless you use
cable
or
satellite
to watch television, if you don't use a Freeview box or set, your screen will be blank.
Do not expect ANY FREEVIEW television service from midnight until 6am - or a late as mid-afternoon on some relay transmitters (see below for timetable). This means you will not be able to record Freeview programmes overnight. --- but you can watch online here - Watch live UK TV channels and listen to live radio now.
Most people need only perform a "full retune" (or "factory reset" or "shipping condition") on their Freeview box or TV, but it would be impossible with five million homes covered by the transmitters, for no-one to have a problem.

Single Frequency Network
The Heathfield and Tunbridge Wells transmitters will, for the first time, provide a "single
frequency
network
". This means that the two transmitters will use the same frequencies for each Freeview
multiplex
- the signals at the
receiver
will combine to provide excellent coverage. The calibration of a SFN may take some time to perfect on switchover day.
Coverage Maps
On these maps, the full-service six-multiplex transmitters are shown with the "red star" Freeview logo. The public service three-multiplex masts are shown with a brown indicator. The green areas on the maps, are the areas where the strongest
signal
is from the shown
transmitter
region
, with the light blue showing overlap areas where signals from other regions are stronger.
From Wednesday 13th June 2012 you MUST have a digital television device to watch TV. If you do not have a digital receiver, from Wednesday will have a blank screen.
You will be served by the
Freeview HD
service from Wednesday, but please see this six-point checklist to ensure you
really
are watching in high definition:
Are you really watching free TV in high definition?
Switchover help scheme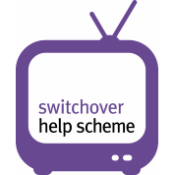 If you are over 75, get (or could get) Disability Living Allowance, Attendance Allowance, Constant Attendance Allowance or mobility supplement; or have lived in a care
home
for six months or more; or are registered blind or partially sighted and need assistance, please see
The Switchover Help Scheme
.
Cable and satellite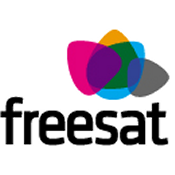 Cable (Virgin Media) and satellite (
Sky
,
Freesat
,
fSfS
) viewers are not affected by the changes. Remember, however, that you may be using analogue TV to watch on a second or third set and it might need a Freeview box.
Existing "full" Freeview users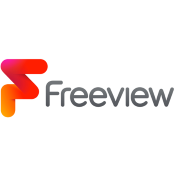 If you already use Freeview, and can receive all the
channels
now, check your TV or box is not listed here -
TVs and boxes that do not support the 8k-mode
. If it is, you will need a new Freeview box.
If you are not on the list, you should
scan
your box from around 6am.
When you now rescan, you MUST do a "first time installation" or "factory reset" scan (sometimes called "shipping state"), not a simple "add channels"
. Do the procedure you did on "national retune day", September 30th 2009, see
Freeview Retune - list of manuals
.
If you can't recall the procedure or find the manual, please see
generic clear and rescan procedure
.
If you scanned during the first phase of switchover on Wednesday 30th May 2012 - you will have to do it again on Wednesday 13th June 2012.
Using Freeview with Windows Vista
Please see
Switch over and PC-based systems
because you need some
updates
for your system to work.
Boosters and amplifiers
If you live close to the transmitter, you may have to disconnect any "boosters" from your
aerial
system.
The new, more powerful digital signals may overload any amplifiers and result in no reception!
When looking for them include a check for distribution amplifiers,
loft
boxes, set back amplifiers, bypass Amplifiers, hidden
masthead
amps in a loft space and any dodgy active splitters.
For full details, see:
Freeview signals: too much of a good thing is bad for you
.
Homes with no Freeview at all will now have Freeview Light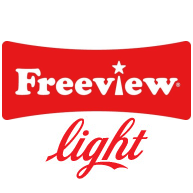 If you had no Freeview service before, you will have the BBC channels digitally from Wednesday 30th May 2012. This is a single multiplex of the BBC channels (radio, television and text) for most people.
However, if you were on the fringes of reception from one of the main
Freeview transmitters
, you will now get all the Freeview channels.
If you didn't get this limited Freeview service on Wednesday 30th May 2012 then you may need a new aerial.
If you are served by a public service (relay) transmitter, which are:
Bexhill
(new) (noon),
East Dean
(9am),
Eastbourne
(noon), Eastbourne (Old Town) (3pm),
Ham Street
(noon), Hastings (Old Town) (9am),
Haywards Heath
(2pm),
Hollington Park
(noon),
Lamberhurst
(noon),
Lewes
(11am),
Mountfield
(9am),
Newhaven
(9am),
Rye
(9am),
Sedlescombe
(noon),
St Marks
(9am),
Wye
(9am)
...you now need, from around from 9am (unless shown otherwise) on 13th June 2012 to rescan, and you will get a second Multiplex with ITV 1,
ITV 2
, ITV 1 +1,
Channel 4
, Channel 5, Channel 4+1, E4 and
More4
.
And that's your lot if you have a
standard
Freeview receiver, see
Freeview retune - poor public service transmitters
.
You may wish to
install
Freesat for more channels, see
Compare Freeview Light and Freesat TV
.
Overlap with other regions
Because of the location of the transmitters, some viewers will find that they can
pick
up the signal from other BBC and ITV 1 regional studios.
Those viewers with "Freeview HD" (or other so called D-Book 7) receivers will find they are presented with a menu to allow them to pick which BBC One region is shown on "button 1", and which ITV 1 regions appears as channel 3.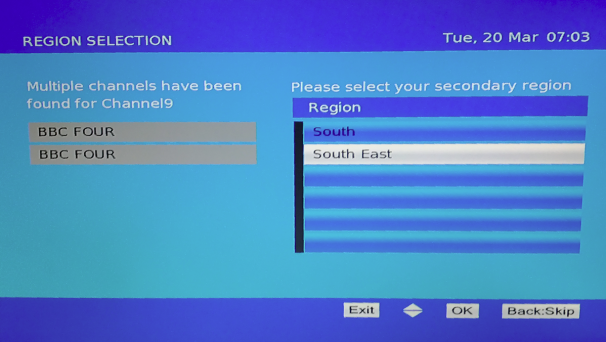 Viewers with older equipment may have to resort to doing a manual to get the correct signal for the desired transmitter.
All Freeview boxes automatically scan the available broadcast frequencies looking for channels, and they do this from
C21
to C69. Older Freeview boxes will, if a duplicate version of a channel is found whilst scanning, such as another BBC One region, placed it in the 800-899 channel range. br>
Some Freeview boxes will pick the strongest signals for the "primary" number positions, and some will detect the different regions providing a choice when you perform a "scan for channels".
For more details, see:
Digital Region Overlap
Comments
Friday, 15 June 2012

Debby: See my posting immediately before yours which answers your question.

ITV3, 5* and 5USA are all carried on COM4 multiplex.

Dave Lindsay's 5,724 posts
Saturday, 16 June 2012
R
Robert lovatt
11:03 PM
Eastbourne

I am in Eastbourne BN21 4HR and have received all the channels on 13th June indicated but not any HD channels. I have a modern TV.

Retuning doesn't seem to find them

Robert lovatt's 1 post

Robert lovatt: The HD service from the very local Eastbourne transmitter is on Ch23 or if the old town Ch43, if though you are receiving from the full service (all 3 comms) Heathfield transmitter then its Ch47.

If you are using Eastbourne PSB only station then you are indicated as being located very close to it, so if you use any form of booster then it has to be by-passed or it will overload your tuner blocking reception, HD always being affected first.

Another aspect is ensure that your TV or box is actually capable of HD reception, meaning that it is NOT an HD ready model, as these devices are not fitted with DVB-T2 tuners which are necessary for HD reception.

If you go into the manual of whatever you are using have a look in the specifications / tuner section to make sure that DVB-T2 is indicated and NOT DVB-T, the latter only being capable of SD reception.

jb38's 7,179 posts
Sunday, 17 June 2012

I re-tuned my mother-in-laws TV for updates only on the 16th, but note I do not have any Free view HD channels as yet. The re-tune as an update fixed BBC1 & BBC 2 lost on the 13th.

Is Freeview HD now working is East-Sussex (Hasting) after the predicted 13th June HD delivery?

Or do I need to make a full re-tune, and/or considr aerial direction?

The TV is a Panasonic TX-L32E30B, and DVB-T2 capable.

Thanks,

Mick's 3 posts

Mick: The Hastings mux transmitters are not shown on the predictor, and which might be because reception from there is not considered possible or its just an error, but whatever go into the Panasonics DVB tuning menu / manual tune and using the up / down arrows on the large round button on the remote control select Ch22 which is Hastings HD channel, noting if anything is indicated and giving an update on results, although if a signal with a quality indication of higher than 50% is seen then try a scan anyway.

Another point to note being, that its possible the HD transmitter was down when you tried the retune, as the service had two breaks in transmission on the 13th and notifications are always after the event.

I will say though that Heathfield is indicated as giving a good signal across all six multiplexes, and even although the aerial would require to be realigned try that same test on Ch47 which is Heathfield's HD service, as the results of that test will give an idea of what kind of reception would be possible if the aerial was group changed (if necessary) and realigned to face 280 degrees, that is as well as being turned to its horizontal mounting position from what should be presently vertical.

jb38's 7,179 posts

jb28 - thanks for the reply and ideas. I now need to wait until next Sunday 24th when I next visit. I'll reply once I've tried a few of the tuning ideas.

Thanks again.

Mick's 3 posts

Mick: Yes, please do, and I will keep a look out for your posting.

jb38's 7,179 posts
Tuesday, 19 June 2012
S
Steve T
12:44 PM
Eastbourne

Mick/jb38 - Just to confirm what you're seeing & saying, and the digital UK coverage predictor, there does seem to be some issue with coverage of the COM muxes from Hastings in the Eastbourne area.

My parents live at BN21 2SE which is line of sight to the Hasings transmitter, and their digital reception pre-switchover was reasonably good, albeit with a mashead amplifier. Post switchover and with the removal of the masthead amp to avoid overload on the PSB muxes, two of the 3 COM muxes are not present and one is very poor quality. A realignment (and changing to horizontal polarisation) of the aerial towards Heathfield resulted in 4 Heathfield SD muxes coming in at 90%+ signal strength, with one at about 60% as it's not due to be at full power until 27th June. This is even though Heathfield is slightly hidden behind a hill and trees and analogue reception has always been rather poor from that transmitter.

I can't check the HD mux as the TV is not compatible, but have no reason to suspect that it's not equally good.

Steve T's 3 posts

Steve T: Thanks for the report regarding reception at your parents location, and the fact that being located behind a hill / trees doesn't always mean that a signal is completely blocked as other factors come into the equation, the main one really being the distance that a person might be located from the hill as this can have quite a large effect on the signal strengths received, as well as being the type of situation where if comprehensive experiments are carried out with aerial positions its frequently found that higher is not necessarily better, with much lower down (gutter levels) usually being found to give superior results.

Of course another odd thing is found to apply with reception when in this type of non line-of-site situation, being, that if an aerial is perfectly aligned in one season and a further alignment check is carried out in a few months time when the season has changed, the outcome will usually be that the aerial will require to be trimmed a few degrees to the left or right to regain the perfect signal, this effect caused by the reflective properties of the terrain having changed.

This is in most cases is neither here nor there, but can be an issue when dealing with reception from a station where its commercial muxes operate on about 50% less power than the main PSB transmitters.

Of course the effect mentioned occurs in lots of non line-of-sight situations, but is something that's generally not realised as happening, albeit in some cases that a viewer might be noticed to have made a comment on having observed seasonal variations in the signal strength they receive, and which in many instances is caused by the aforementioned.

jb38's 7,179 posts
Monday, 25 June 2012

An update to the Icklesham (near Winchelsea) situation. Sunday I updated the auto tunining. Still no Freeview HD channels (from Heathfield). I manually searched Channels 22 and 47 both returned no channels, Signal Quality 0, Signal Strength 60%.

I then checked external aerial position, and noted is was NOT pointing towards Heathfield @ 280 degrees, but was ~ 100 degrees to what I believe is Dover direction. I walked to the street and noted 30-40 houses all pointed same Dover direction. 2-3 houses only where pointed towards Heathfield or maybe Hastings. It seems therefore the histotical best analogue reception was Dover direction for this area.

Given the poor wind and rain wether yesterday, I decided to leave the aerial as is for the moment. But will wait and see what happens after the 27th June when a) Heathfield I believe goes to full power and b) if this are is cabable and is actually recieving digital signals from Kent based relays, wait and see also what occurs after the same 27th update when Kent has Freeview HD available.

My next investigation however will not be until the week 8th-15th July.

Thanks,

Mick's 3 posts
Select more comments
Your comment please