Northern Ireland RTE1, RTE2, TG4 special mini-multiplex from 24 October

Brian Butterworth published on UK Free TV
Following on from the 1st February 2012, article Northern Ireland "mini multiplex" (NIMM), here is a summary of the services that will be available to most Freeview homes in Northern Ireland.

It is VERY IMPORTANT to note, however, that you MUST have Freeview HD (DVB-T2) equipment to receive RTE1, RTE2 and TG4 - even though the services are NOT provided in high definition from the Northern Ireland transmitters.

Many homes in the province will be able to get a special "Northern Ireland" mini-multiplex from one of three transmitters - Brougher Mountain (Enniskillen AND Omagh) , Black Mountain and Carnmoney Hill (both Belfast). This very special service is broadcast using the latest standards, which are called DVB-T2 and MPEG4. In the UK, these are used to provide high definition, but only in Northern Ireland are they used to provide three standard definition services from RoI.

The NIMM coverage from these transmitters is shown here:




If you get the NIMM, you will find channel 51 is TG4, 52 is RTE ONE, and 53 is RTE TWO.

This is shown on the transmitter pages like this (Carnmoney Hill) example:





If you can't get the NIMM, you will probably be able to get the extra channels directly from transmitters in the RoI. The following map shows the transmitters: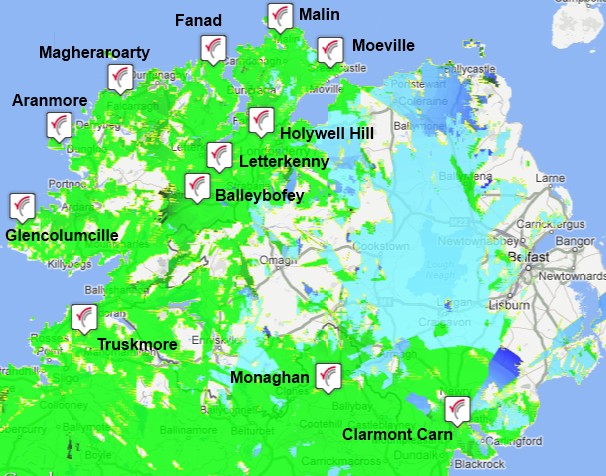 Your existing aerial may not be the right "group", or be pointing in the correct direction.

The RoI service is called Saorview (which is Irish for "Freeview") - see Saorview interactive map.

However, even though Saorview broadcasts in DVB-T mode, it uses the MPEG4 "compression" system - most UK non-HD boxes use MPEG2 (apart from BT Vision boxes, which support MPEG4). So, again, you will need a Freeview HD box.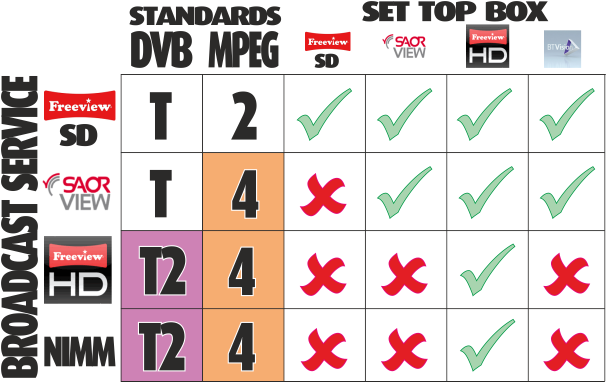 The services broadcast on Saorview at the time of writing are:

1 RTE One, 2 RTE Two HD, 3 TV3, 4 TG4, 5 RTE News Now/Euronews, 6 3e, 7 RTE jr, 8 RTE One +1, 200 RTE Radio 1, 201 RTE Radio 1 Extra, 202 RTE 2FM, 203 RTE Lyric FM, 204 RTE Raidio na Gaeltachta, 205 RTE Pulse, 206 RTE 2XM, 207 RTE Choice, 208 RTE Gold, 209 RTE Chill, 209 RTE Junior,

It is possible that the Freeview HD box will not place the channels on these numbers, but in the 800-899 range.

The Saorview trasmitter pages show the information like this:





Multiplex Broadcasting Services N I Ltd is the not-for-profit joint venture formed by RTE and TG4 to operate a new additional multiplex from a small number of transmission sites in Northern Ireland. The UK and Republic of Ireland Governments Memorandum of Understanding of February 2010 confirmed their intention to make TG4 available on digital terrestrial TV to much of Northern Ireland and to also facilitate the provision of RTE One and RTE Two through NImux or overspill from Saorview (the Republic of Ireland digital TV service).

Ofcom predicts that NIMM services will reach 76% of the population in Northern Ireland and that Saorview overspill will reach 56% of Northern Ireland viewers. Ofcom also predicts that the combined NIMM and Saorview coverage will reach 93.3% of Northern Ireland viewers.
Comments
Thursday, 18 July 2013

Paddy: It is impossible to give guidance on reception issues without knowledge of your location, preferably in the form of postcode or one of a nearby property such as a shop.

It would also be useful to know what aerial(s) you have pointing where (and which polarisation - horizontal or vertical).

If you have been receiving RT Two in HD and TV3 then you must have been picking it up directly from one of the Saorview transmitters in the South. Black Mountain transmits RT One, RT Two and TG4 only, all three of which are in standard definition but require a Freeview HD receiver.

Dave Lindsay's 5,724 posts

Paddy: It would also be useful to know which UHF channel your TV is receiving these services on, this information usually given on the signal strength screen. My guess is it will read C52 if you have TV3 on the TV.

Dave Lindsay's 5,724 posts
Sunday, 28 July 2013

Hi
I first got a humax hd box just after Christmas and found rte channels on first scan. As the reception was a bit 'flicky' we retuned but lost all rte channels.
We bought a brand new aerial, put it on the roof and bought new coaxial cable to try and improve the reception. Nothing has worked.
I would like to get an aerial installer out but will it be worth the cost or is something else wrong.

Sinead's 2 posts

Sinead: Without knowledge of your location it isn't possible to assist.

If you have an aerial for Freeview and are also using it for RT you could potentially be receiving the latter from a different transmitter. Without knowledge of your location, preferably in the form of postcode or nearby postcode such as that of a shop it is an open ended question.

Dave Lindsay's 5,724 posts
Monday, 29 July 2013

Don't forget Sinead, you can check coverage in your area on Digital UK's postcode checker:

Digital UK - Coverage checker

PJH's 75 posts
Tuesday, 6 August 2013

Thanks for the reply. We live at bt7 2ax.

Sinéad's 2 posts
Sinéad's: ...

Hi Sinead!

If you email me directly I may be able to assist you with your RTE problem.

Kieran
(kieranward@hotmail.com).

P. Kieran Ward's 89 posts

Sinad: The bearing to Divis, which carries Freeview is 289 degrees.

The bearing to Black Mountain, which carries RT One, RT Two and TG4 is 265 degrees.

Therefore turn the aerial anti-clockwise in the hope that you can strike a balance where you can still receive all Freeview channels from Divis and RT/TG4 from Black Mountain. So have it pointing somewhere between the two.

For Freeview, check one service on each multiplex: BBC One, UTV, BBC One HD (if applicable), ITV3, Pick TV and 4Music.

Dave Lindsay's 5,724 posts
Wednesday, 7 August 2013

BT7 should have no problems receiving the NI Mux Sinead.

Make sure the "antenna power" menu in the Humax box is set to the "off" position. It's possible that could be the problem.

PJH's 75 posts
Saturday, 10 August 2013

Hi there...I have two freeview hd boxes connected to the same antenna in my house, which is within three miles from Brougher Mountain (BT943LU). One of the boxes picks up RTE etc in the 50's, which is grand except for some problems with rights etc. The other box puts the RTE channels in the 800's, but the picture quality is very poor and keeps cutting out. Is there a way of giving additional preference to putting them in the 50's or getting my signal from Brougher instead of the south? Would appreciate any help...

Jim's 1 post
Select more comments
Your comment please