Have a Freeview HD or Freesat HD high definition Christmas 2012

Brian Butterworth published on UK Free TV
For the first time this year, everyone can enjoy the benefits of free-to-air high definition television. Freeview HD is broadcast to all homes in the UK, and Freesat HD beams the same services to everyone with a dish


Four high definition channels of first-run UK programmes
Which are:
BBC One HD. This channel shows high definition versions of most programmes on BBC One, with a commitment to move towards 100% high definition output over the coming years.
BBC HD. All the programmes on this channel are in high definition, and comprises mainly a simulcasts of BBC TWO (with some BBC three and BBC FOUR shows added in). The channel will become BBC TWO HD in 2013.
ITV 1 HD (or STV1 HD in Scotland or UTV1 HD in Northern Ireland). As with BBC One HD, this is a high definition version of the most popular commercial channel.
Channel 4 HD. Again, a simulcast of the main Channel 4 channel in high definition.
What programmes can I watch at Christmas in high definition?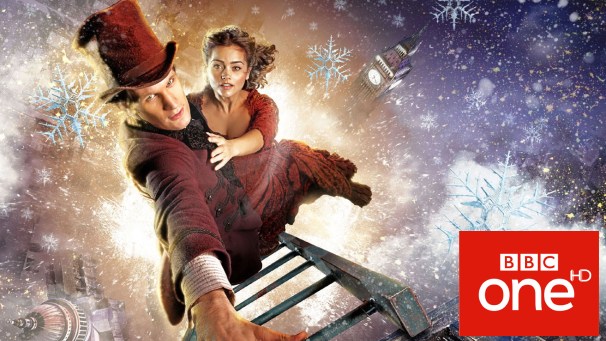 Doctor Who
: Matt Smith, Jenna-Louise Coleman, Richard E Grant and Tom Ward feature in a Christmas 1892 tale - will the Doctor
really
abandon humankind or will he fight to
save
the world from the icy clutches of this mysterious menace?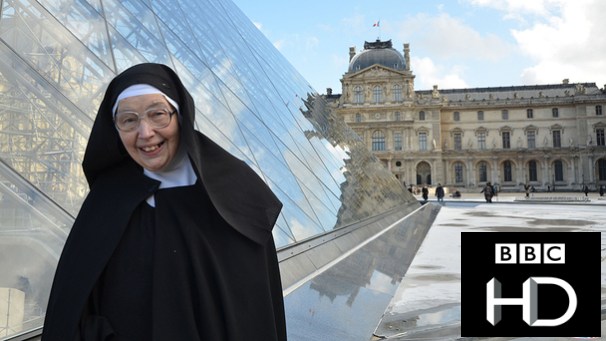 Arena: Sister Wendy And The Art Of The Gospel
: An instant 1990's star, she glided around the world in her habit telling us the story of painting. But she revealed nothing of her own, extraordinary story.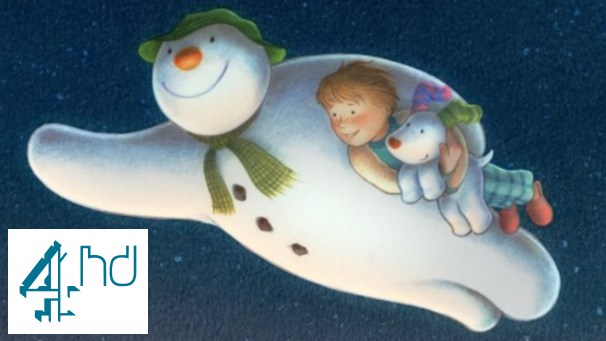 The Snowman and The Snowdog
: the brand new charming sequel to the Christmas classic The Snowman which will be at the centrepiece of Channel 4's Christmas schedule this year celebrating a magical end to a special year.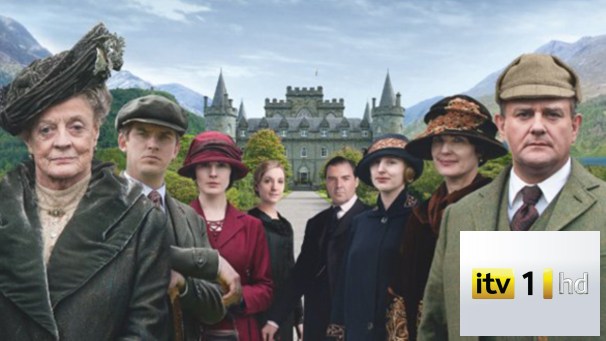 The
Downtown Abbey
family receive a warm welcome at Duneagle Castle, visiting Rose and her parents in the Highlands. But there is no disguising the tensions between their hosts. Carson is determined to keep the servants back at Downton working hard, but with a country fair coming up, will some be tempted to push their luck? Could romance be on the cards for Mrs Patmore?
Why would I want to upgrade to HD?
High definition pictures are much better for sport
One of the main improvements in high definition is the ability to provide much better motion for sport compared to
standard
digital
television.
Clearer pictures for documentaries and drama
Many of the most popular high definition shows are documentaries and
drama
where the clarity of the
picture
gives a distinct edge to the viewing experience.
Movies
As movies have always been created on 35mm film (rather than videotape), this means that any movie created since the 1920s can be shown in high definition.
All existing Freeview services
In addition, you also get all of the existing Freeview
channels
(see
Freeview channels listed
) with Freeview HD or Freesat channels (
Freesat channels listed
).
Better overlap handling on Freeview HD
Another benefit of Freeview HD boxes is that they deal much better than standard boxes when you live in an area served by more than one
transmitter
. These boxes now prompt you to select your BBC and ITV
region
, older boxes just guess.
Christmas installing
You may be able to watch in HD by pressing some buttons on your remote control - but you might need a new (HDMI)
cable
, or a Freeview HD or Freesat HD box. You have to ask yourself five questions:
Q1 Do you have a high definition television set?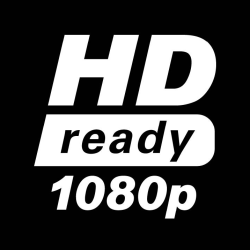 You need to check that your television is actually high definition. Almost all HDTVs are flat screen, but it does not follow that all flat screen televisions are high definition.
The best two clues to look for are the "
HD Ready
" or "Full HD Ready" logos, and also that the television set has HDMI connectors.
If you have the manual for your television set, it may describe HD as "720 line" or "1080 line". If these are not mentioned, you don't have HD and you will need a new television set.
See also
What does "Full HD Ready" actually mean? - ukfree.tv - independent free digital TV advice
Q2 Does your HDTV have built in Freeview HD or Freesat HD?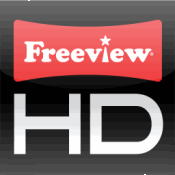 Most HD televisions sold in the UK are "HD Ready", which means that they are capable of showing high definition pictures, but only from an external box.
Some, more expensive, TV sets have Freeview HD or Freesat HD built in.
If your TV set has the Freeview HD logo, it can receive what are known as "DVB-T2" transmissions, which means you get HD direct from the TV
aerial
connection. If this is the case, see Q4. If the set is "HD Ready with Freeview" it means you can't.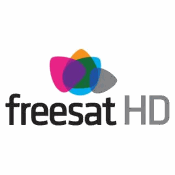 Some high end sets have Freesat HD built in, where you can watch the free high definition channels from
satellite
. For this to work you will have to use the satellite connection on the set. Remember that set will also have standard definition Freeview, so pictures from the normal TV aerial will not be in high definition.
Q3 If your HDTV doesn't have built-in reception - do you have a Freeview HD or Freesat HD box and the correct cables?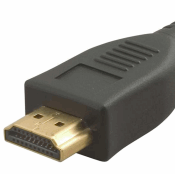 If you have an HD Ready television, you can connect it to an external set-top box to receive either Freeview HD or Freesat HD.
You must make sure that you connect the box to the television set using an HDMI cable. If you use a
SCART
lead you won't have HD.
Q4 Do you remember to switch to the HD versions of BBC One, ITV 1 or Channel 4?
You do not automatically get to watch BBC One, ITV 1 (or STV/
UTV
) or Channel 4 in HD.
You must select the special channel numbers for these services, as the usual channel numbers (1, 3, 4 and 8 on Freeview, 101, 103, 104 on satellite) will only show in standard definition.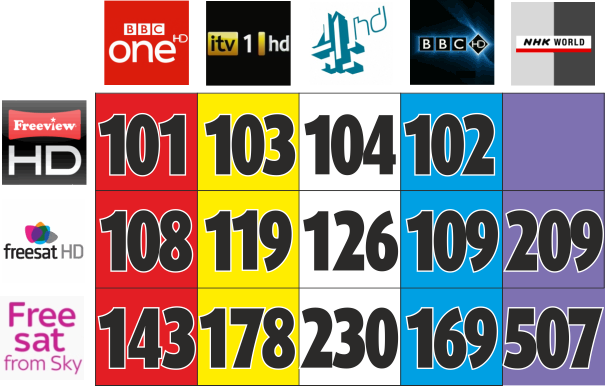 Q5 Is the HD channel actually showing an HD programme?
Only the BBC HD channel has a HD-only schedule. On BBC One HD,
ITV 1 HD
and
Channel 4 HD
non-HD programmes are shown "upscaled" to HD resolutions and look better than the pictures on the SD version of the channel.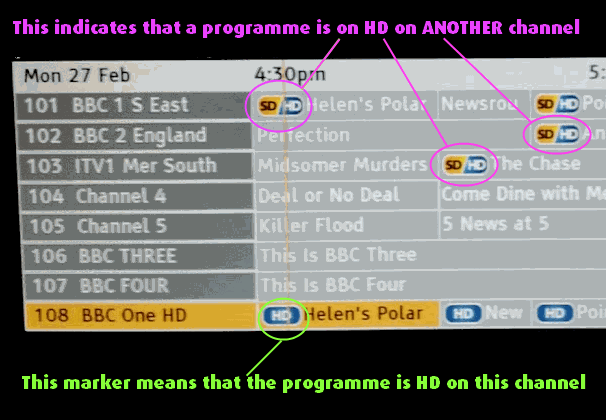 Check in the EPG (usually the INFO or GUIDE button on the remote) to see if the programme that is being shown has an HD marker in the listings.
Recording and live pausing with Freeview+HD or Freesat+HD

As well as the basic Freeview HD and Freesat HD boxes, you can also purchase Freeview+HD and Freesat+HD boxes, which contain a hard disk drive (as found in computers) and two digital tuners. This allows, much like the popular
Sky
+ and Freeview+ boxes you to:
Record a whole series of a show with a single button press
Record one show whilst watching another one live
Record two shows while you watch a recording from the drive.
Set a show to record by pressing a button when you see a trailer for it.
Freeview+ record/play/pause devices DO NOT require a special aerial to work. However the satellite recorders, Freesat+ DOES require a special double-cable to connect to a quad-LNB on the dish.
Where will it work?
Freeview HD and Freesat HD work everywhere in the UK. You need only a rooftop aerial for Freeview HD or a satellite dish for Freesat HD.
Comments
Thursday, 13 December 2012

briantist is that a radio station launching on freeview?

sharealam's 225 posts

sharealam: It's on the DMOL list of stations...

Briantist's 38,906 posts

Freesat and freeview need more hd channels before christmas eg channel 5 hd or film 4 hd do any body agree with me on that

conor's 60 posts

conor: That simply won't happen. They might appear on the Freeview "low budget" service in due course to encourage the purchase of Freeview HD receivers, but ultimately I would only expect them to be available on more transmitters as replacements for the standard definition service. Satellite is more complicated, with contracts with Sky and Virgin Media to take into account. Furthermore due to the large number of standard definition satellite receivers currently in use requiring continuation of the SD services it is likely that most commercial HD channels will opt to remain as subscription services on satellite in common with the German commercial networks.

KMJ,Derby's 1,811 posts
Saturday, 22 December 2012

When we watch in HD we lose the sync between sound and vision. Is this normal? Is there anything that can be done to resolve this?

David Mitchell's 1 post
Sunday, 27 January 2013

Freesat is set to get more hd R T hd and arise hd and Might get QVC hd in the next two months and few more also the people of freeview you were coned into buying freeviewhd because by 2018 al freeview will have is 20 channels due to 5g no more no less another digital switch over from freeview to freesat

Conor's 60 posts

Conor: The proposal is for the existing COM muxes to work as SFN on C22, C25 and C28. Freeview HD tuners will be required to view the service. There is also the possibility of additional COM services using the C31 to C37 frequencies, although whether such services would be national or limited to a handful of transmitters would depend on frequency availability and economics at the time.

KMJ,Derby's 1,811 posts
Select more comments
Your comment please