Freeview interference from 4G-at-800 London tests start Monday 15th April 2013

Brian Butterworth published on UK Free TV
At800, who are tasked with preventing interference to Freeview from the new 4G mobile internet signals, will move this week to the second stage testing.

About 170,000 household and businesses in Southwark, Lewisham, Greenwich and Tower Hamlets have already been mailed to tell them to call the at800 hotline - 0333 3131 800 if they experience problems.

The approximate test area is: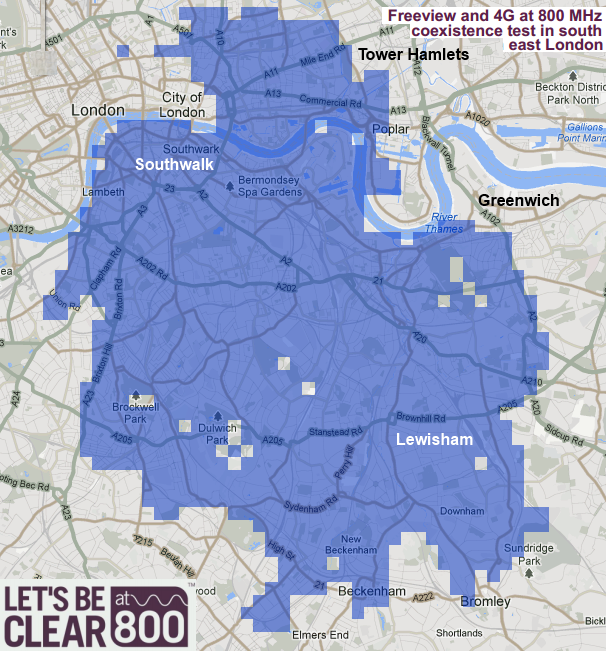 At800 has a team of professional aerial installers and testing units in the area that will respond to calls from viewers, visit addresses reporting problems and will restore Freeview viewing.

Callers to the helpline will be asked for your postcode, the type of interference and the time the interference occurred. This will allow at800 to restore your service as soon as possible.
Comments
Sunday, 14 April 2013

Lost signal strength in Bromley. Down to 34%.Pixelating on BBC, no reception ITV/Ch4. Only 22 channels found with re-tune. AS 4G tests begin tomorrow it seems too much of a coincidence. Perhaps someone just couldn't wait to get started?

Chris's 1 post

Chris: There is another possibility, which is that it's a coincidence.

Please see Freeview reception has changed? | Freeview Interference | ukfree.tv - 10 years of independent, free digital TV advice for help.

Briantist's 38,844 posts
Friday, 19 April 2013

I find it quite unacceptable that legitimate Freeview viewers who have paid for their TV licence should be inconvenienced in this way. Surely both Ofcom and the BBC have a statutory duty to ensure that this part of the spectrum does not suffer from unwanted interference. The spectrum auction has raised a very considerable amount of money which should be used to solve the problem.

Dave Randles's 2 posts
Monday, 22 April 2013
M
Ms C Ashley
9:33 PM
London

just got home and put on tv - nothing. No signal on any of the tv or radio freeview.

Ms C Ashley's 1 post

Ms C Ashley: There are currently no problems reported with any of the transmitters in your area, and if there were it is likely that many comments would have appeared by now! Try checking cables and connectors feeding the receiver, also that the aerial is still in place if mounted outside. If the signal is routed via other equipment such as DVD recorder or VCR, check that such equipment is powered up.

KMJ,Derby's 1,811 posts

Ms C Ashley: I think you might just be in the London 4G test area. Did you get a leaflet through the door?

Briantist's 38,844 posts

Ms C Ashley: Even if you aren't affected by the current 4G test, the Ofcom Sitefinder site indicates that there is a O2 3G base station on the corner where the Blythe Hill Tavern is.

A look on Streetview and it can quite clearly be seen. It may appear as if it were a flag-pole attached to the rear of the building. At the bottom of the "flag pole" is a black box and black trunking running downwards...this looks like a base station to me.

If this doesn't currently host 4G services then it "may" do soon.

Dave Lindsay's 5,724 posts
Monday, 29 April 2013

I get my TV signal from the crystal palace transmitter. I noticed that there is a EE mobile phone mast 0.59km away from where I live does this mean that this phone mast will affect my freeview signal in the future?



Hayley's 1 post
Sunday, 5 May 2013

i live in post5code ch616ua when i tune in i keep getting welsh stations can you help

alanhughes's 1 post

alanhughes: The Storeton transmitter broadcasts, in the direction of Wales, Welsh regional channels. I suggest that it might be these transmissions which you are picking up.

If there is manual tuning, use it. Winter Hill's channels are:

PSB1 | BBC One etc = C50
PSB2 | ITV etc = C59
PSB3 | BBC One HD etc = C54
COM4 | ITV3 etc = C58
COM5 | Pick TV etc = C49
COM6 | Film4 etc = C55

You may have to run the automatic tuning scan through with the aerial unplugged in order to "blank" what is currently stored. If this doesn't work you may have to look for an option such as first time install, or on some models you can delete individual channels.

Dave Lindsay's 5,724 posts
Select more comments
Your comment please