Freeview interference from 4G-at-800 London tests start Monday 15th April 2013

Brian Butterworth published on UK Free TV
At800, who are tasked with preventing interference to Freeview from the new 4G mobile internet signals, will move this week to the second stage testing.

About 170,000 household and businesses in Southwark, Lewisham, Greenwich and Tower Hamlets have already been mailed to tell them to call the at800 hotline - 0333 3131 800 if they experience problems.

The approximate test area is: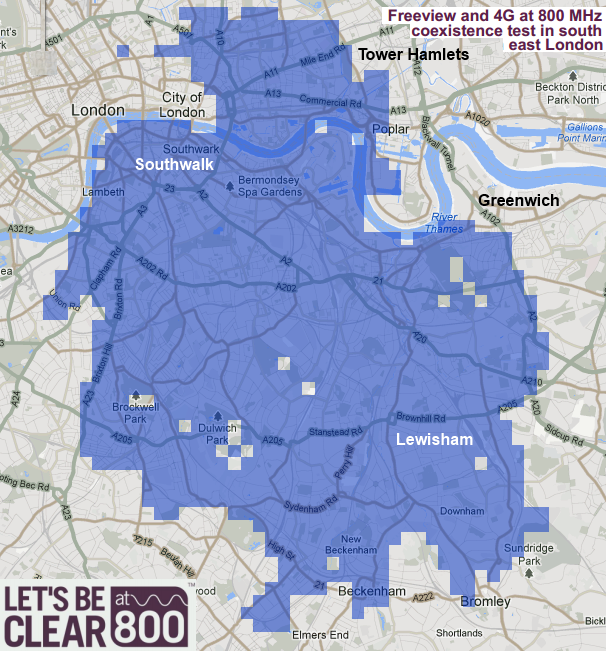 At800 has a team of professional aerial installers and testing units in the area that will respond to calls from viewers, visit addresses reporting problems and will restore Freeview viewing.

Callers to the helpline will be asked for your postcode, the type of interference and the time the interference occurred. This will allow at800 to restore your service as soon as possible.
Comments
Sunday, 5 May 2013

alanhughes: The Storeton transmitter broadcasts, in the direction of Wales, Welsh regional channels. I suggest that it might be these transmissions which you are picking up.

If there is manual tuning, use it. Winter Hill's channels are:

PSB1 | BBC One etc = C50
PSB2 | ITV etc = C59
PSB3 | BBC One HD etc = C54
COM4 | ITV3 etc = C58
COM5 | Pick TV etc = C49
COM6 | Film4 etc = C55

You may have to run the automatic tuning scan through with the aerial unplugged in order to "blank" what is currently stored. If this doesn't work you may have to look for an option such as first time install, or on some models you can delete individual channels.

Dave Lindsay's 5,724 posts
Sunday, 21 July 2013

Hi
A problem:
Our TV reception is now breaking up on all channels. Re-tuning gives a different number of channels each time. Manual tuning doesn't even show missing channels as available.
Have fitted supplied filter from @800 - doesn't help in any way.
Have checked connections, aerial.
What do you suggest?
We live in SE6, next to the Crystal Palace transmitter.

peter
peter

peter's 1 post
Monday, 22 July 2013

peter: Check your signal quality and strength - unfortunately you havn't given an exact postcode, but if you are that close to the transmitter, you might well be able to pick up a decent signal with only the aerial wire, rather than the aerial itself!

If strength is on 100%, its far too high, and should be around 75% (search for: too much of a good thing on the website). If you have a booster, bypass it.

Although you say you've checked aerial connections, it might be that your aerial has a fault where the cable connects to the aerial istelf - perhaps water or rust?

You can always try a cheap portable aerial, it might give you an idea of where the problem lies, and frankly, might be fine anyway!

MikeB's 2,579 posts
Sunday, 4 August 2013
K
Kate Brown
11:27 PM
London

Did Peter from SE6 ever sort out his problems? We've just started having similar in the last few days: very bad pixellation indeed and loss of sound tonight on all BBC channels. We also have Virgin cable so can watch like that, but the facility to switch over to Freeview is quite useful and we miss it. Aerial seems OK (will check tomorrow), all TV connections are OK. Crystal Palace signal used to be 10, is now 6 or below, depending on station. Postcode is SE13 7ED, just below Blackheath.

Kate Brown's 1 post
Friday, 23 August 2013

Dear DTG,
We live in Southwark in SE1 and share communal antennae and we have been suffering randomn picture pixelation and loss of sound on some of the BBC, ITV and other channels. The communal antennae were recently upgraded but the issue persists.

Quite often the message "No signal" or "Poor signal strength" is shown. This occurs on the TV in the living room as well as the one in our bedroom. I have checked the connection from the wall to the TV and all looks to be in perfect working order. The bedroom TV is fed via a splitter from the living room and quite a length of coaxial cable.

For the most part I can watch programmes however things deteriorate as night approaches.

As I watch TV mainly in the bedroom (the kids having taken over the living room TV) I thought it was the cable length but it doesn't appear to be the case.

I have previously used a booster but was advised by a TV serviceman that it didn't really help.

Any ideas what I could do to improve signal strength in the bedroom?

Many thanks.

Trevor's 6 posts

Trevor: Anyone experiencing reception problems when their TV or box is connected directly into the wall socket of a communal aerial system and with the jumper lead between both known to be in perfect condition, then this in effect places the problem outwith their control.

I would advise you to try and find out if any of your neighbours are also experiencing similar difficulties with reception as they most likely will be, although this "might" possibly be to a lesser extent than you are dependant on the brand of equipment they are using as tuners do vary in sensitivity.

In order to give a better idea as to the cause of your problem you should carry out a signal test on both ITV and also the BBC whilst reception is OK, noting the strength / quality being indicated, then repeat the test when the problems occur and once again jotting down that seen, the idea being to check if the signal strength is stable but the quality is seen to intermittently dive downwards.

Giving an update on the results.

jb38's 7,179 posts
Wednesday, 28 August 2013

Hi jb38,

Many thanks for your advise.
How does one carry out a signal test as you mention?
Is this hidden somewhere within the TV settings? Or do I need to use some other type of equipment for this?

Thank you.

Trevor's 6 posts

Trevor: It would be easier to know your TV model and make, but for most TV's, try 'setup', then go to 'digital tuner' (your manual will show you how).

A basic one (like my Goodmans digibox) will show signal strength and signal quality, probably as bars going across the screen, as well as a percentage. Since your only 7km from Crystal Palace, I bet your 'quality' is going up and down a lot, and strength will be 100%, whereas it should be really around 75%.

MikeB's 2,579 posts
Friday, 30 August 2013

Hi MikeB

Mine is a Sony Bravia TV KDL-26EX553.
I found the digital tuning settings. Accessed the Manual Tuning setting. Details taken between 15:20 - 15:45.

BBC (Ch 23) quality: 24 - 27; strength: 26 - 30

ITV (Ch 26) quality: 26 - 39; strength: ~26

C4(+1) (Ch 26) quality & strength: like ITV

C5 (Ch 26) as per ITV & C4

E4(+1) (Ch 26) quality: up to 31, strength: ~26

I saw LNA within the settings and it was on for all. What is this?

Thanks.

Trevor's 6 posts

Trevor: This tells you about LNA http://www.sony.com.ph/su…6491

The Imanual does not give much info about what your readings mean, and since my Sony shows info in a different way....

However, where is the strength/signal in relation to the most/least? In other words (unless some kind soul has this TV and can advise), can you see if the strength is in the middle, low or high, and if it is, how much?

MikeB's 2,579 posts
Select more comments
Your comment please