Why have I been sent a filter for my Freeview?

Brian Butterworth published on UK Free TV
At800, the people who are going to stop interference from the new mobile internet services (4G) when they start in the old analogue TV frequencies (called the 800MHz band) are performing a third test in the Isleworth area.

The test area is approximately:




Homes which are thought to be at risk from the interference will be sent a special filter before the test signals are broadcast.

This is to allow at800 to find out if sending filters out first is the most effective way of preventing people having problems. This is to compare to the second-phase trail in south west London, where leaflets are sent, but each householder has to call in to be sent a filter (and possibly an engineer).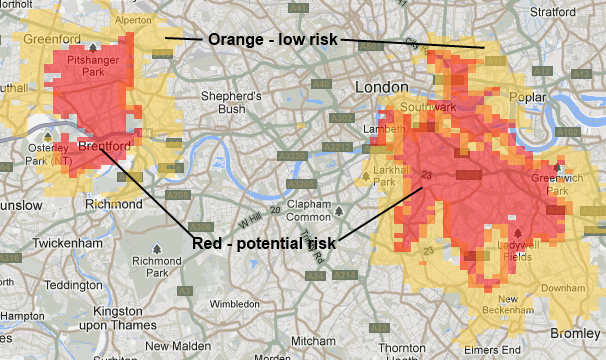 The filter looks like this: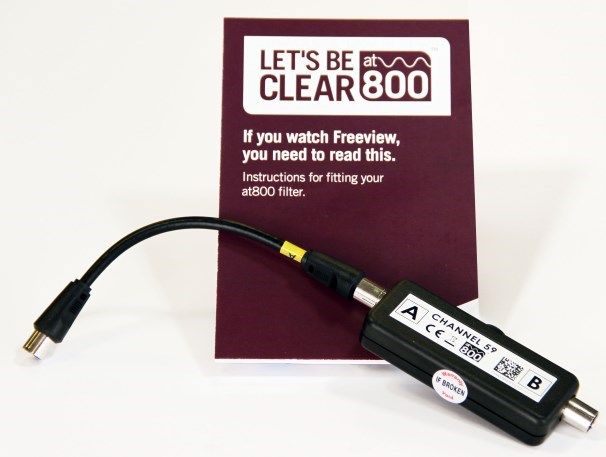 This will need to be fitted to the back of the Freeview box (if there is only one in use) or to the aerial side of an amplifier, if one is in use.
Comments
Friday, 19 April 2013

What do they do wait to see if they get interference then fit it and report if it cured it?
If they fit it right away they may never know.

David's 306 posts

David: From their website

Simon Beresford-Wylie, chief executive of at800, said, This test will help us assess any problems viewers may have with fitting filters and whether receiving one in advance improves awareness and understanding of the potential issue. We will have professional testing units and aerial installers in the area to help get Freeview services back to normal if they are affected by our test.

You don't have to call in if you fit a filter and then have no problems.

Briantist's 38,905 posts
Saturday, 20 April 2013
I
ian from notts
9:12 AM
Nottingham

Will them filters work if an outdoor mast amp is fitted ?

ian from notts's 253 posts
ian's:
map
I's Freeview map
terrain
I's terrain plot
waves
I's frequency data
I's Freeview Detailed Coverage

ian from notts: Yes, but with the filter having to be fitted in line between the aerial and the mast head amplifier.

jb38's 7,179 posts
Monday, 22 April 2013
I
ian from notts
6:44 AM
Nottingham

jb38- they dont look waterproof ?
if they're sent through the post who will fit them onto the mast ?

ian from notts's 253 posts
ian's:
map
I's Freeview map
terrain
I's terrain plot
waves
I's frequency data
I's Freeview Detailed Coverage

ian from notts: "In some properties, an amplifier or TV signal booster is connected to the aerial to distribute a TV signal to multiple television sets. These are often fitted directly to the antenna on the roof known as a masthead amplifier or in the loft. The at800 filter that prevents 4G signals reaching TV tuners should always be connected between the antenna and the amplifier in these systems. If you are a private tenant, you may need to ask your landlord for permission for an aerial installer to have access to these areas of the building."

Installation support for households | at800

Briantist's 38,905 posts

..."If you have a masthead amplifier attached to the antenna on your roof, a weatherproof at800 filter will need to be installed. We will arrange for a professional aerial installer to do this for you. You will need to call our contact centre to book an installer appointment. We will want to know what interference problems you are having, and get more details about your amplifier. There may be another solution to the problem that doesnt involve sending out an aerial installer."

Briantist's 38,905 posts

In the last week or so we have lost a few of our free view channels and some reception problems on channel 4 and 5.is this the 4g problem. Who should be contacted to sort it out.

Mo's 1 post

Have you tried a re scan?

David's 306 posts
Wednesday, 24 April 2013

I am quite nervous about this impending risk of interference. I live in Bracknell on the borders of the London (Crystal Palaace) and Southern (Basingstoke) Freeview transmission areas. I have two tunes aerials and a specific masttop signal combiner. Then an indoor signal booster. Internal signal distribution via coax to TVs and recorders in various rooms. Generally works fine, but signals are weak and we get occassional interference from CB users.

I have tried a filter to avoid CB interference but it cuts signal strength to unuseable levels. Hence my concern if future local 4G transmissions need a filter. Do I not have a right to interference-free Freeview reception?

Graham Ruddock's 3 posts
Select more comments
Your comment please