Why have I been sent a filter for my Freeview?

Brian Butterworth published on UK Free TV
At800, the people who are going to stop interference from the new mobile internet services (4G) when they start in the old analogue TV frequencies (called the 800MHz band) are performing a third test in the Isleworth area.

The test area is approximately:




Homes which are thought to be at risk from the interference will be sent a special filter before the test signals are broadcast.

This is to allow at800 to find out if sending filters out first is the most effective way of preventing people having problems. This is to compare to the second-phase trail in south west London, where leaflets are sent, but each householder has to call in to be sent a filter (and possibly an engineer).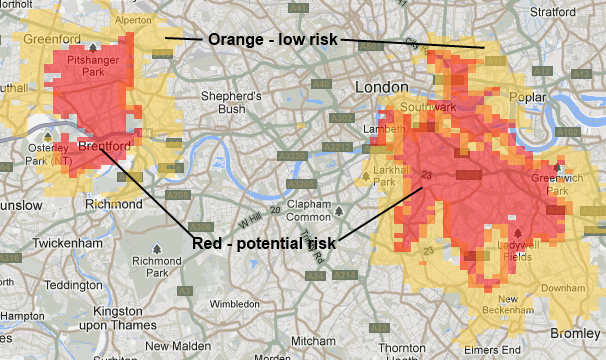 The filter looks like this: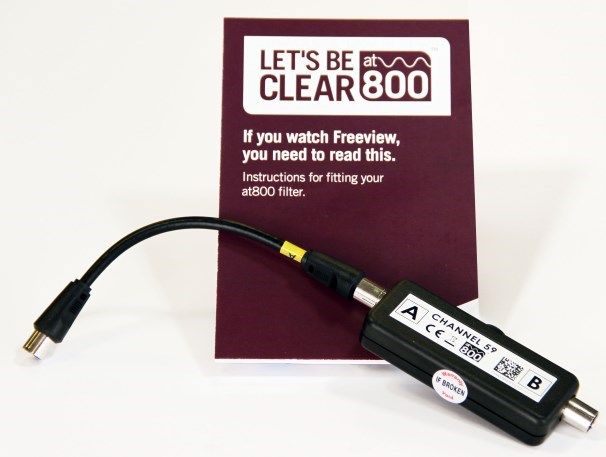 This will need to be fitted to the back of the Freeview box (if there is only one in use) or to the aerial side of an amplifier, if one is in use.
Comments
Wednesday, 24 April 2013

I am quite nervous about this impending risk of interference. I live in Bracknell on the borders of the London (Crystal Palaace) and Southern (Basingstoke) Freeview transmission areas. I have two tunes aerials and a specific masttop signal combiner. Then an indoor signal booster. Internal signal distribution via coax to TVs and recorders in various rooms. Generally works fine, but signals are weak and we get occassional interference from CB users.

I have tried a filter to avoid CB interference but it cuts signal strength to unuseable levels. Hence my concern if future local 4G transmissions need a filter. Do I not have a right to interference-free Freeview reception?

Graham Ruddock's 3 posts

The aerial in my loft splits to service more than 1 TV, i guess this will be the case in many homes, can I fit the filter between the aerial and split

jeff's 1 post
Friday, 26 April 2013

jeff: If you need a filter, between the aerial and split is the correct place to fit it.

Briantist's 38,902 posts
E
Eric Brightwell
6:26 PM
Marlow

I live in Marlow, Bucks. and have been experiencing occasional freeview picture and sound interference in the last few weeks - eg on BBC1.
How can I discover what is causing this please? ie is it the Crystal Palace transmission, 4G 800, or other interference?

Eric Brightwell's 7 posts
Eric's:
map
E's Freeview map
terrain
E's terrain plot
waves
E's frequency data
E's Freeview Detailed Coverage
Sunday, 28 April 2013
C
Chris Green
8:31 AM
Hounslow

If I have 'daisy-chained' equipment, i.e. more than one PVR with the aerials passed in sequence finally to the TV, I take it that I only need to fit one singular filter to where the aerial enters the lounge. I have an outdoor aerial with no need for a masthead or distribution amp as I only have one TV and very good reception from CP, so good in fact that my LG TV's tuner doesn't like it, and so I've added an attenuator!.

As an aside, my mother lives in the west London trial area and I've fitted her filter for her. Pity it had to be one with a 90 degree entry angles between input and output - in-line like illustrated on this site would have been much neater.

Chris Green's 2 posts
Chris's:
map
C's Freeview map
terrain
C's terrain plot
waves
C's frequency data
C's Freeview Detailed Coverage

Chris Green: Irrespective of what type of installation is involved, the main thing to remember is that a 4G filter has to be the first thing in line from the aerial, anyone using a mast head amplifier (which you don't) obviously having to fit it between the aerial and the amplifier so that the latter is not amplifying the offending signal.

This is a link to a straight through type, although there are numerous sources of these.


4G TV Filter : Aerial Amplifiers & Distribution : Maplin Electronics


jb38's 7,179 posts
C
Chris Green
5:22 PM
Hounslow

jb38. Thanks for confirming what I thought.

Chris Green's 2 posts
Chris's:
map
C's Freeview map
terrain
C's terrain plot
waves
C's frequency data
C's Freeview Detailed Coverage

Chris Green: No problem! as I did realise that all I was doing was in effect confirming your own thoughts on the matter, but with an additional element of clarification which may be of assistance to anyone else who might be reading the posting and be considering fitting similar to yourself.

jb38's 7,179 posts
Monday, 29 April 2013

This wouldn't be good for my aerial/amp connection as I use F connectors which are much better than these UHF connectors.

Kevin Holley's 2 posts

I've been out of the UK for a few days on business... so looking forward to a lazy night in front of the television...but no signal!!! N16 london..indoor antenna - has worked for last 10 years no problem. I didn't see any information that this was potential problem ...what is so free about TV you can't get!

Lee Paterson's 1 post
Select more comments
Your comment please