Why have I been sent a filter for my Freeview?

Brian Butterworth published on UK Free TV
At800, the people who are going to stop interference from the new mobile internet services (4G) when they start in the old analogue TV frequencies (called the 800MHz band) are performing a third test in the Isleworth area.

The test area is approximately:




Homes which are thought to be at risk from the interference will be sent a special filter before the test signals are broadcast.

This is to allow at800 to find out if sending filters out first is the most effective way of preventing people having problems. This is to compare to the second-phase trail in south west London, where leaflets are sent, but each householder has to call in to be sent a filter (and possibly an engineer).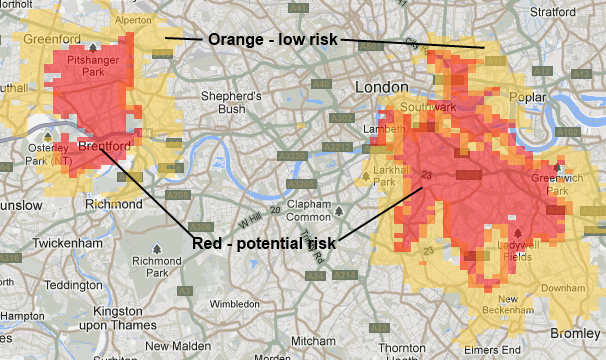 The filter looks like this: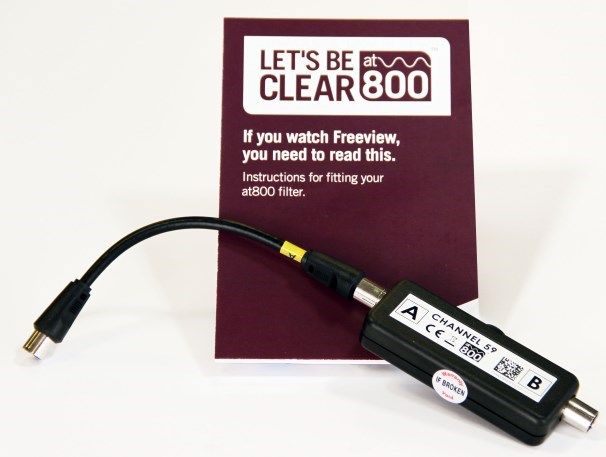 This will need to be fitted to the back of the Freeview box (if there is only one in use) or to the aerial side of an amplifier, if one is in use.
Comments
Saturday, 3 August 2013

Do I need a Freeview filter NG16 If so will you please send me one,Thank you
We watch Freeview.

W.J.Roberts's 1 post

W.J.Roberts: Undermentioned is the phone number to contact at800, they will advise as to whether or not you are likely to be affected by the 4G signal as they have all the info on the location of the proposed transmitters, and if by any chance you are liable to be affected then they will send you a filter free of charge.


at800 contact centre - 0333 31 31 800



jb38's 7,179 posts
Sunday, 1 September 2013

Hiya I received a filter and working fine but were can I get another one from for my bedroom tv Fiona Liverpool

Fiona's 2 posts

Fiona: The contact number for at800 is 0808 13 13 800 and is stated as being free from landlines, the other number is 0333 31 31 800 and is charged at the national rate for landlines.

However these filters are obtainable from numerous sources, one example seen on the link.


Amazon.co.uk: Low Prices in Electronics, Books, Sports Equipment & more

jb38's 7,179 posts
Monday, 2 September 2013

Fiona: I'm not surprised your filter works well, since as far as the at800 website is concerned, there are no 4G tests in Liverpool! In other words, its filtering nothing.

Have a look at the 4G page, where Brianist has pointed out the likelihood of you needing a filter - its probably quite low; the one you've been sent is 'just in case', not 'you will need it'.

Personally, I'd wait and see if you need to spend money on one. There does seem to be an air of panic about 4G, but its probably going to be better than many think - the 4G filtering aerial I saw the other day for sale (there was indication as to how that was supposed to work) makes me think that there is a fair amount of cashing in.

MikeB's 2,579 posts

MikeB: Although what you have mentioned is perfectly correct as things presently apply, but the reason I did not question what was said is because I look at it from the point of view that at800 is likely to have the No1 hotline from the powers that be, and such could well be privy to bang up to date information on the various phone companies intentions before any planning applications have been made for a licence to operate the service.

The other point being, that although Fiona might well have been sent a filter in error, I cant really see at800 dishing out these filters in the off chance that they might be required unless they know something we do not.

However, it would be interesting to know if Fiona is aware of anyone else in her area having been supplied with a filter, because if not then it could indeed have been sent in error.

jb38's 7,179 posts

Well O2 started 4G in my area last week and so far not noticed any difference in Freeview of course one does not know if anyone is actually using it.

David's 306 posts

David: The disturbance to Freeview is actually at the worst it can be when it is not being used.

Briantist's 38,906 posts

Hiya a lot of people in my area have them we got them sent in the post

Fiona's 2 posts

jb38:

Although Ch 59 filters are available from some retail outlets, Ch 60 filters are not. Given that some large coverage transmitters (Belmont, Oxford, etc) use Ch 60, this could be a problem for many households if at800 only sends one filter per household. For retail customers, at800 on their website only advises where to buy Ch 59 filters. I have been told that Ch 60 filters could be three times more expensive when available due to LTE issues. I phoned at800, and they didn't really have an answer, although the contact I spoke to said she would inform at800 management. Unless this issue is soon resolved, households with more than one TV could have problems.
Just wondered if you had any thoughts on this

Cheers,
Adam.

Adam B's 91 posts
Select more comments
Your comment please