Want to better understand the current TV faults? See the all new UK Free TV page

Brian Butterworth published on UK Free TV
See: All transmitters with faults and engineering

Following from your suggestions, I have made changes to the icons used to show which Freeview transmitters have fault or engineering status associated with them.

Previously, you had to look quite hard to see which transmitters had current faults, and which had faults listed for the last few days.

The new format for the page looks like this.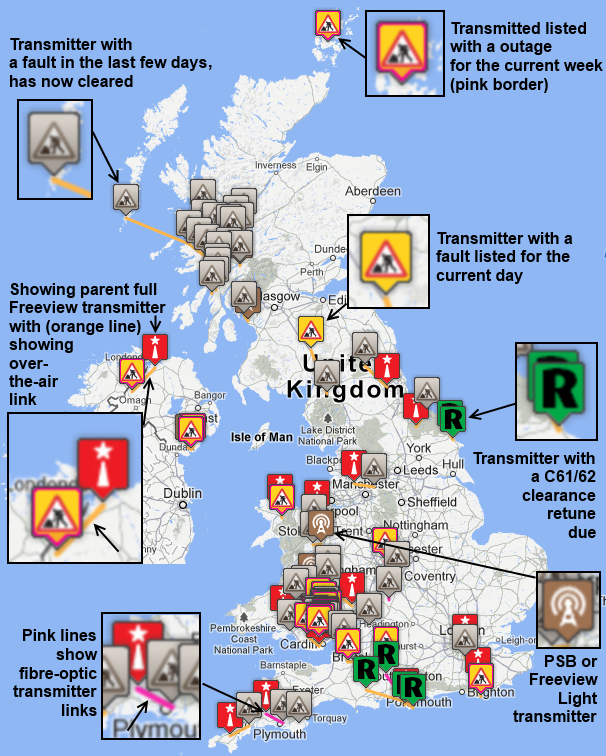 Only the sites with "live" faults are shown with the yellow symbol (those with Digital UK's "this week" status, a pink border).

I hope the above listed changes will help you to understand where the current faults and system outages are.

The new symbols carry though to other pages that shows transmitter symbols.
Comments
Tuesday, 13 March 2018

No channels available in Dursley area . Your map says BBC channels only are affected. When do you expect normal service to resume please?

bill's 1 post

bill: The engineering notice mentions BBC channels because it comes from a feed provided by BBC engineering. Normal service will be resumed when the engineering work is finished, which will usually be by the time it gets dark. Do not attempt to retune.

StevensOnln1's 3,553 posts
Saturday, 17 March 2018

I live in hove and did a manual retune but suddenly c48 690mhz has no signal the rest is fine have I missed something?

Ivan's 1 post

Ivan: Please provide a full postcode so that we can see which transmitter you're using and your predicted signal strength etc.

StevensOnln1's 3,553 posts
Friday, 22 June 2018

No single at all all day in North Nottinghamshire is thier a problem ?????

Bob dayy's 1 post
Friday, 29 June 2018

I use a free view set sometimes I loose my station and have to do a reatune.
I in joy watching the arms foces chanale now its gone.
I live in the SS131TB town.
Thanks. Matthew Savage.

Matthew savage's 1 post

Matthew savage: You are predicted to have variable reception of COM (the multiplex which carries Forces TV) from Crystal Palace and it is only set to get worse in a few weeks time when frequency changes take place at other transmitters. You would be better off looking at Freesat to get reliable reception of Forces TV.

StevensOnln1's 3,553 posts
Saturday, 28 July 2018

My BBC 1 and 2 reception on lounge tv regularly pixelated and broken sound, aerial has been checked and cables are new. Strangely other Tvs in house are ok ( they are all fed from a booster in loft), Tried different ports on booster and still get same outcome, Any advice woul.d be appreciated

Ronnie McGuire's 1 post

Ronnie McGuire: Have you checked the cable between the amplifier in the loft and the socket in the lounge? Unscrew the socket and check the outer screening braid of the cable isn't touching the inner conductor and causing a short.

StevensOnln1's 3,553 posts
Wednesday, 7 November 2018

Hi. My freeview is not working (it says 'no service is available'. My postcode is HA55NX. Can you check if it works in my area?

Kavin's 1 post
Select more comments
Your comment please